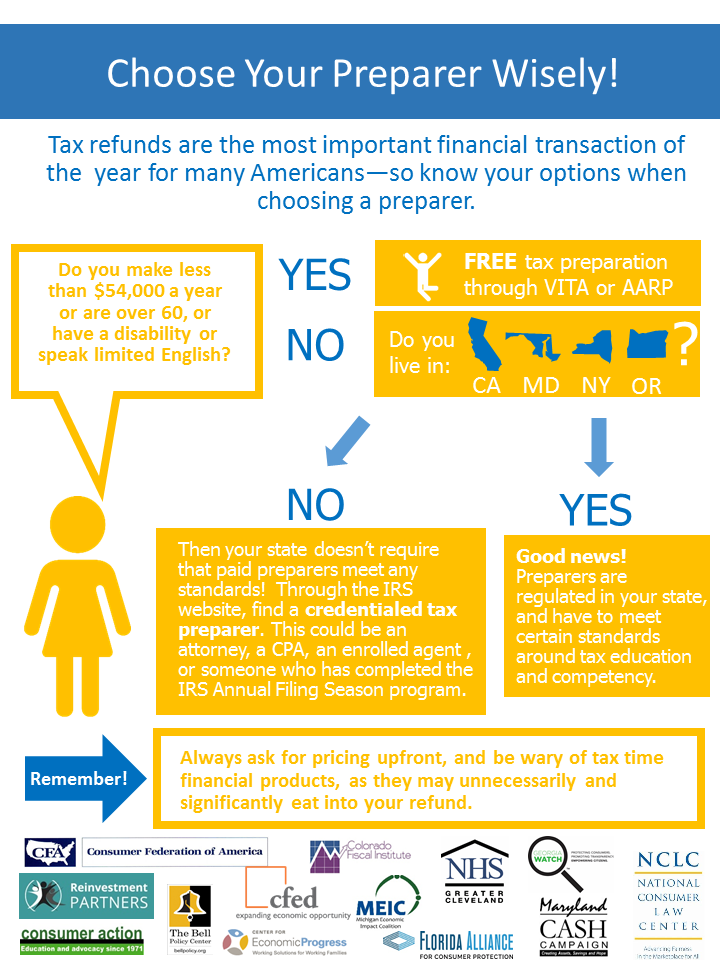 Click Here to Download the Flyer
Consumer Federation of America
"For many families their tax return is the largest financial transaction of the year and we want to provide some basic questions to ask when they choose who will do their taxes," said Michael Best, Senior Policy Advocate at Consumer Federation of America.  "Consumers may not realize that most paid tax preparers are not required to meet any kind of training or competency standards or that they may qualify to have their taxes prepared for free by volunteers certified by the IRS."
The Bell Policy Center
"Coloradans that we talked to want to be sure that their taxes are prepared accurately and professionally.  It is important that they use tax preparers who are properly trained and know what they're doing." – Rich Jones, Director of Policy and Research, The Bell Policy Center.
Center for Economic Progress
"As one of 46 states that does not regulate tax preparers, we are concerned that Illinois taxpayers face undue risks in determining whether their tax preparer is qualified to prepare their return." – David Marzahl, President & CEO, Center for Economic Progress.
CFED
"Paid preparer regulations, like the training and certification process VITA programs use to achieve a 94% accuracy rate, is critical to ensuring that low and moderate income taxpayers are not at an elevated risk for unscrupulous and uncertified tax preparation services" – Jeremie Greer, Vice President, Policy & Research, CFED.
Consumer Action
"Unqualified tax preparers can do more than cost you hundreds in excessive fees, they can also subject you to costly errors and even tax fraud," said Linda Sherry, Consumer Action's director of national priorities. "Savvy taxpayers can avoid being taken advantage of by understanding what, if any, regulations exist in their state and the resources available to research preparer credentials."
Florida Alliance for Consumer Protection
"We advise all consumers to use caution in hiring a paid tax preparer and whenever possible to visit their local VITA or AARP tax sites." – Alice Vickers, Director, Florida Alliance for Consumer Protection.
Michigan Economic Impact Coalition
"Choosing the right person to prepare and file your taxes is about more than just getting your refund back quickly. You want to make sure you find an honest and reputable tax professional who is credentialed and maintains a set of ethical standards; one who strives to prepare an accurate return, protect your personal information and educates on ways to improve your tax situation in future years. Protect yourself and choose wisely because just one unethically or incompetently prepared return can create a mess that will last for many years." – Ross H. Yednock, program director of the Michigan Economic Impact Coalition
National Consumer Law Center
"Consumer groups have seen extremely disturbing levels of errors and fraud in the mystery shopper testing we've conducted," stated Chi Chi Wu, staff attorney at the National Consumer Law Center, who co-authored four reports on this testing. "When you use a paid preparer, you're placing your financial well-being in preparer's hands."
Reinvestment Partners
"Taxes affects almost all Americans and yet in most states the responsibility is still on the taxpayer to choose their preparer wisely. Tax returns prepared in error are bad for everyone from the individual taxpayer to state and federal government. The taxpayer is on the hook for the errors of the preparer, and the government could be taking a hit due to an improper return amount. We need a better system." – Amelia O'Rourke-Owens, Staff Attorney, Reinvestment Partners
Contact: Consumer Federation of America, Michael Best, 202-939-1009, mbest@consumerfed.org
The Bell Policy Center, Rich Jones, 303-297-0456, ext. 224, jones@bellpolicy.org
Center for Economic Progress, David Marzahl, 312-217-2412, dmarzahl@economicprogress.org
CFED, Jeremie Greer (jgreer@cfed.org) or Kristin Lawton (klawton@cfed.org), 202-408-9788
Colorado Fiscal Institute, Ali Mickelson, 720-379-3019 ext. 222, mickelson@coloradofiscal.org
Consumer Action, Linda Sherry, 202-544-3088, linda.sherry@consumer-action.org
Florida Alliance for Consumer Protection, Alice Vickers, 850-556-3121, alicevickers@flacp.org
Georgia Watch, Elise Blasingame, 404-525-1085, eblasingame@georgiawatch.org
Maryland CASH Campaign, Robin Mckinney, 443-692-9422, robin@mdcash.org
Michigan Economic Impact Coalition, Ross Yednock, 517-485-3588, yednock@cedam.info
National Consumer Law Center, Chi Chi Wu (cwu@nclc.org) or Jan Kruse (jkruse@nclc.org), 617-542-8010
Neighborhood Housing Services of Greater Cleveland, David Rothstein, 440-668-7178, drothstein@nhscleveland.org
Reinvestment Partners, Amelia O'Rourke-Owens, 919-667-1000, amelia@reinvestmentpartners.org
_____________________________________________________________________________________
The Consumer Federation of America is an association of more than 250 nonprofit consumer groups that was established in 1968 to advance the consumer interest through research, advocacy and education. www.consumerfed.org
The Bell Policy Center is committed to making Colorado a state of opportunity for all. We seek to reinvigorate the debate on issues affecting the well-being of Coloradans and to promote policies that open gateways to opportunity.  www.bellpolicy.org
Founded in 1990, the Center for Economic Progress (CEP) helps low-income, working families as a trusted provider of tax and financial services. Everything we do, from direct service to informing public policy, improves the financial stability of those we serve. Operating one of the largest and oldest tax preparation programs in the country, CEP has been on the forefront of turning tax time into an opportunity for 300,000+ families to get ahead–returning more than $500 million in refunds to Illinois communities. For more information, visit www.economicprogress.org
As a leading source for research and ideas about household financial security and policy solutions, CFED understands what families need to succeed. We provide policymakers with research and ideas; we offer data, training and technical assistance to hundreds of nonprofits across the country; and we invest in social enterprises that create pathways to financial security and opportunity for millions of people. Established in 1979 as the Corporation for Enterprise Development, CFED works nationally and internationally through its offices in Washington, DC; Durham, North Carolina; and San Francisco, California. www.cfed.org
Through multilingual consumer education materials, community outreach and issue-focused advocacy, Consumer Action empowers underrepresented consumers nationwide to assert their rights in the marketplace and financially prosper. http://www.consumer-action.org/
Colorado Fiscal Institute is a nonprofit, nonpartisan organization tha provides credible, independent and accessible analyses of fiscal and economic issues facing Colorado in order to inform policy debates and foster greater economic prosperity for all.  www.coloradofiscal.org
Florida Alliance for Consumer Protection is a nonprofit, nonpartisan enterprise whose mission is to advance consumer protection and tenants rights through research, education and advocacy.  www.flacp.org
Founded in 2002, Georgia Watch is a statewide consumer advocacy organization working to empower and protect Georgia consumers on matters that impact their wallets and quality of life. Through education, advocacy and policy development, Georgia Watch focuses on safeguarding consumer protections in personal finance, as well as ensuring lower utility bills, cleaner energy, access to quality, affordable healthcare, protecting the right to trial by jury and promoting access to the courts.  www.georgiawatch.org 
The Maryland CASH (Creating Assets, Savings & Hope) Campaign™  is a statewide network of organizations that promotes programs, products and policies to increase the financial security of low-to-moderate income individuals and families across Maryland, advocating on their behalf, as well as providing financial education programs such as the Maryland CASH Academy. www.mdcash.org
The Michigan Economic Impact Coalition unites individuals, organizations and local initiatives committed to supporting tax credit and asset building opportunities for Michigan families through improved access to free, quality, income tax preparation assistance.  www.meic.cedam.info/ 
Since 1969, the nonprofit National Consumer Law Center® (NCLC®) has worked for consumer justice and economic security for low-income and other disadvantaged people, including older adults, in the U.S. through its expertise in policy analysis and advocacy, publications, litigation, expert witness services, and training. www.nclc.org
NHS of Greater Cleveland is a 40 year old housing and financial counseling group – providing programs and services to help families achieve, preserve, and sustain the American dream of homeownership. www.nhscleveland.org
Reinvestment Partners' mission is to advocate for economic justice and opportunity. The agency is active in housing counseling and community development, and is a Volunteer Income Tax Assistance site that provides job development training and employment to workers providing free tax preparation service.  www.reinvestmentpartners.org