Washington, D.C. – Today's fuel efficiency standards are saving a record breaking 41 million[i] Americans money at the pump this Independence Day as they hit the roads for the holiday. Consumer Federation of America's latest research shows that – using today's gas prices, which are up 20% since January 1st – consumers are already saving an average of over $200 a year compared to 2011, the year before the current fuel efficiency standards were put in place.[ii]
Unfortunately, the government is currently trying to roll back money saving miles-per-gallon standards, which will only increase costs for holiday travelers in the future.
"This July 4th, people want independence from the pump and independence from gas-guzzling vehicles. Current standards are delivering that – right now – for American families. It's insane to backtrack on these immensely popular standards that are saving people money," said Jack Gillis, Executive Director for the Consumer Federation of America and author of The Car Book. "Everyone gets how gas prices work, they go up and they go down, like a roller coaster. People want off the ride. Our nation's fuel efficiency standards save people money every time they fill up. If the Trump Administration rolls back these standards, and gas prices do what they do best – go up, families will simply end up needlessly paying more for future 4th of July trips."
If the nation's fuel efficiency standards, which car companies, consumer advocates, environmentalists, and unions agreed to, stay in place, consumers buying 2025 models will save an additional $632 a year in gas costs. With consumers typically keeping their vehicles for 6 years, an American who buys a 2025 vehicle will save over $5,100 in gas costs during those 6 years, compared to buyers of a pre-standard 2011 vehicle. As gas prices will inevitably rise, these savings will grow even larger.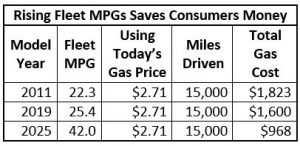 "Americans are voting with their pocketbooks by buying today's fuel efficient vehicles in record numbers," said Gillis. "We want to see families continue to benefit from standards that are designed to save them money no matter what car they drive, whether it's a beefy pick-up, a family-sized SUV, or a sporty compact."
A national survey commissioned by CFA found that increasing federal fuel economy standards for cars and light duty trucks to 42 MPG by 2025 is supported by 78 percent of Americans and opposed by only 22 percent.
[i] According to AAA.
[ii] Based on driving 15,000 miles a year and gas prices at $2.71 per gallon according to AAA (7/1/19).