Washington – Today, Consumer Federation of America released an analysis of off-highway vehicle (OHV) recalls conducted by the U.S. Consumer Product Safety Commission (CPSC) and the manufacturer of the vehicle. OHVs include all-terrain vehicles (ATVs), recreational off-highway vehicles (ROVs), and utility task vehicles (UTVs). CFA analyzed CPSC OHV recall announcements from January 1, 2010 through October 31, 2017.
"We did this analysis to understand whether there were more OHV recalls more recently and why these recalls are occurring," stated Rachel Weintraub, legislative director and general counsel of Consumer Federation of America. "We found that more OHV recalls have been occurring more recently."
The CFA analysis found that in 2017 there were a total of 20 recalls—the highest number of recalls in a single year during the period analyzed. In 2016, there were 14 recalls, and in 2015 there were 10 recalls, the second and third highest number of recalls in a single year during the period analyzed. In total, CFA identified 68 recalls in the period studied.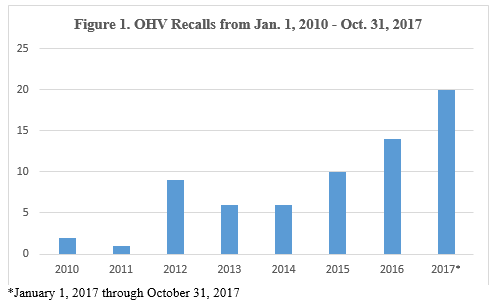 While OHVs have been recalled for numerous reasons, CFA identified some patterns. For example, looking at the entire period, the top three hazards responsible for the recalls were broadly related to fuel, steering, and throttle issues.
Of the 68 recalls:
Fuel-related hazards were the most common reason for a recall, resulting in 15 recalls (22%).
Steering hazards were the second most common, resulting in 9 recalls (13%).
Throttle hazards were the third most common hazard, resulting in 8 recalls (12%).
These three hazards represent nearly half of all hazards that led to 47% of the recalls analyzed. The 68 recalls also involved at least 61 injuries and at least two deaths.
"We urge the CPSC to investigate why the number of OHV recalls are increasing and take steps, along with OHV manufacturers, to prevent these tragedies and improve the safety of these vehicles."
Contact: Rachel Weintraub, 202-939-1012