Washington, D.C. — A report titled Consumer Attitudes Toward Fuel Economy Standards released today by the Consumer Federation of America (CFA), shows a significant majority (69 percent) of Americans support the nation's current fuel economy standards. Results from a recent survey[1] found the support for the standards is also bipartisan, with 61 percent of Republicans, 77 percent of Democrats, and 66 percent of Independents supporting the standards. In addition, in those states dependent on the auto industry, (Indiana, Michigan, Missouri, and Ohio), the support for the standards is even stronger at 78%.
Strong and Consistent Support for Fuel Economy Standards
Since CFA began surveying consumer attitudes toward fuel economy in 2007, the overall trend of consumer support for fuel economy standards has been increasing (See Figure 1). Even during the recent years of lower gas prices, the level of support has remained strong and consistent. In CFA's current survey, increasing federal fuel economy standards for cars and light duty trucks, to 42 MPG by 2025, as opposed to freezing them at about 30 MPG is supported by 69 percent of Americans.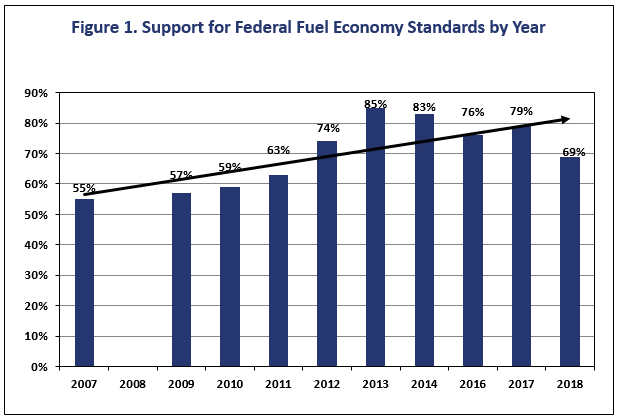 Consumers Want to Keep the Current Standards
The Administration's plan to freeze the highly-popular and cost saving fuel economy standards at their 2020 level (~24% below their original target), is contrary to the wishes of 3 out of 5 Americans who want to keep the current standards. CFA research has shown that consumers are not only saying they support the standards, but are using their dollars to prove they value fuel efficiency. SUVs, pickups and crossovers, whose MPGs increased by over 15% between 2011 to 2017, had a 70% increase in sales. On the other hand, those same vehicles with less than a 15% increase in MPGs from 2011 to 2017, only experienced a 50% increase in sales, 20% less.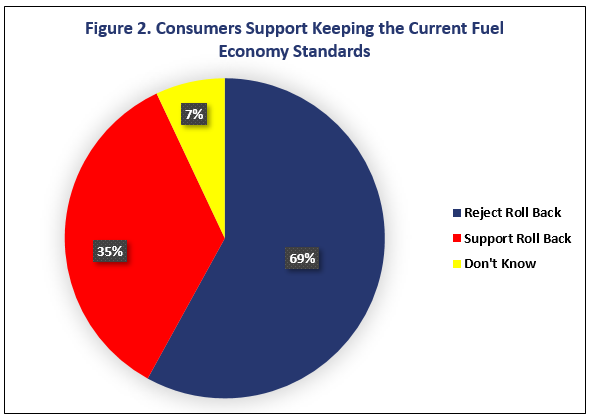 Consumers Understand the Benefit of the Standards
Consumers understand that the technology needed for increasing fuel economy costs money and may increase the overall vehicle cost. To determine if consumers would accept a higher initial price for a vehicle knowing that savings on fuel costs would pay for the fuel economy technology and that they would save money after being 'paid back', we asked consumers if they would accept a 3-year payback period[2]. We found that 3 out of 5 consumers support a 3-year payback period for vehicles (See Figure 3).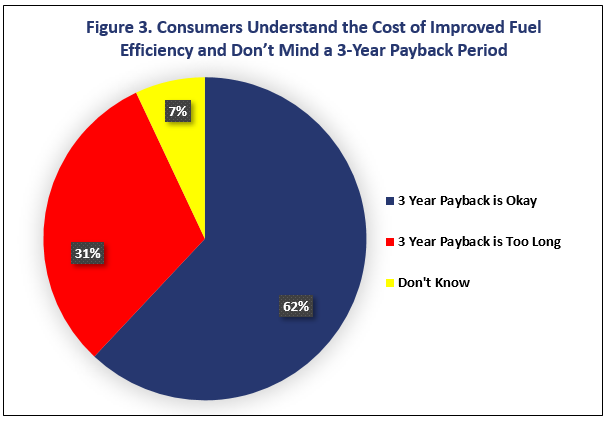 The support for payback periods is also historical, as evidenced by a double national sample survey CFA conducted in May 2011,[3] in which we considered the question of support for standards when specific payback periods were specified.  We found that 64% of the respondents supported a 46-MPG standard with 3-year and 5-year payback periods.  Even a 10-year payback period saw clear majority support (58%).  A year earlier in 2010, we asked whether people were willing to pay for the standard proposed at 46 MPG and found strong majority support (72%) for a five-year payback across all income levels.[4]
Consumers Reject the Trump Administration's Safety Argument to Roll Back the Standard 
One of the rationales that the Trump Administration is using to justify lowering fuel economy standards is the claim that higher standards will diminish auto safety. They reason that more fuel efficient cars will cause people to drive more and will therefore result in more crashes. We asked consumers if they agreed with this logic. The rejections of the claim about accidents is the strongest and most uniform across political identification of all the responses in the national survey. A significant majority of consumers (76%), rejected this rationale (see Figure 4), along with 60 percent of Republicans, increasing to 80 percent of independents, to a plurality of 90 percent among Democrats. In reality, today's more fuel-efficient vehicles are also safer. CFA analysis has shown that vehicles are safer, more fuel efficient and weigh less in 2018 compared to their previous models. Another CFA analysis has shown that the "all-new" 2018 vehicles now include 60% more safety features[5] compared to their pre-standard counterparts.
Consumers Want Their States to Have the Right to Adopt Standards That Lead to Increased Fuel Economy
In addition to rolling back the popular national fuel economy standards, the Trump Administration plans to revoke states' rights to adopt their own standards which lead to increased fuel economy. The ability of states to adopt their own standards has been in place since 1975 when it was adopted under the Ford Administration. The ability of states to adopt an alternative standard is currently used by twelve states and Washington DC, representing 113 million Americans and over a third of the automotive market (with Colorado planning to join). 2 out of 3 Americans support their state's right to adopt standards resulting in greater fuel efficiency (See Figure 5). States' rights have always been a tenant of Republican administrations, so it is ironic that the Trump Administration is suggesting an elimination of this right.
Conclusion
Consumers all over the country and of every political background understand that fuel economy standards save them money, and therefore widely support fuel economy standards. In addition, consumers do not believe the Administration's rationale that fuel economy standards decrease automobile safety, which our analysis has also refuted. The fact that the Trump Administration is continuing with its efforts to roll back the standards, when even the automakers are questioning the extent of the rollback, portray an Administration that is ignoring the electorate, disregarding the facts, and creating a situation that will cost consumers, reduce auto sales, and harm the environment.
To see the full survey report go here.
Contact: Jack Gillis, 202-939-1018
---
[1] The survey was conducted for CFA by ORC International by cell phone and landline on August 23-26, 2018, using a representative sample of 1002 adult Americans. The survey's margin of error is plus or minus 3.1 percentage points.
[2] CFA research has determined 3 years to be the average length of time for savings due to increased fuel efficiency to cover fuel economy technology costs.
[3] Mark Cooper, Rising Gasoline Prices and Record Household Expenditures (Consumer Federation of America, May 31, 2011), p. 16 (hereafter, 2011 Double National Sample).
[4] 2010 Issue Brief, p. 3.
[5] The 15 features we reviewed included Head Airbag, Torso Airbag, Knee Airbag, Roll Sensing, Stability Control, Frontal Collision Warning, Collision Avoidance, Lane Departure Warning, Lane Keep Assist, Blind Spot Detection, Auto Crash Notification, Day Running Lamps, Dynamic Head Restraints, Pretensioners, and Adjustable Front Belts using data from NHTSA's safercar.gov.