You want to sell your timeshare, but have been unsuccessful. The reality is that the market is flooded and any potential sale may come at a financial loss. Naturally, an offer from a "timeshare reseller" who promises an immediate, lucrative sale is hard to resist – and scammers know it. Learn how to spot and avoid common timeshare scams.
Unsolicited calls, emails, or mail: Unsolicited offers you receive via phone, email, or mail to help sell your timeshare may be tempting, but these are the methods most often used by scammers. Don't be fooled. Even if you initiated the contact, proceed with caution. And remember, Craigslist and other advertising websites are prime locations for scammers to seek out a new victim. Always be wary of advertising your timeshare online.
Requests for payments upfront: If someone offers to sell your timeshare and claims to already have a buyer, but just needs you to pay fees and taxes up front or put money in an escrow account, beware! Never pay up front. Scammers are very good at pretending to be legitimate. If the offer is real, the company should be paid only if and when the sale is complete.
Impulse Tactics: Fraudsters often use language like "available for a limited time" or "must act now" to get consumers to make rash decisions. These tactics give fraudsters the opportunity to take your money before you've had time to think and check them out.
Refund Scam: This scam just adds insult to injury: if you've already been defrauded by giving money upfront to someone whose promises to sell your timeshare were empty, next the scammer will sell your information to another scammer who contacts you pretending to be a government agent hired to investigate the original fraud or a lawyer offering you the chance to become part of a class action lawsuit. These new scammers will say they can recover your lost funds for an upfront fee. But in reality, no one from a government agency will ever call you offering this type of service for a fee. If you are uncertain that a request to join a class action suit is legitimate, seek out independent contact information for the firm and call them directly. If it's legitimate you will be allowed to speak to the staff on the case and they will be able to provide you with information that will help verify their legitimacy without you having to provide information to them.
Now that you know the red flags of fraud, when you are ready to sell your timeshare:
Do your research. Know the value of your timeshare. Get assistance from a licensed timeshare appraisal service to help you. Also discuss your options with the resort or homeowner's association where your timeshare is located. It may have a buyback program or additional resources available. There may be restrictions, limits, or fees that apply to resale. Read your contract to learn what your ownership rights and obligations are and if you have any cancellation rights.
Consider working with a licensed and reputable sales company. Look for one with a track record of successfully reselling timeshares. Contact the local licensing agency or real estate commission in the state where the timeshare is located to verify the license. Look up reviews on the company and check complaints against it with the Better Business Bureau. The American Resort Development Association provides a list of reputable timeshare advertisers and sales companies as well as general consumer advice.
Make sure you get everything in writing. Discuss the advertising and selling process at length so you know what the company is obligated to do and what is expected of you. Before signing, take the time to read all the terms and conditions of the contract. Generally, it should reflect what you were verbally promised and include a clear breakdown of all costs, a start and end date, and stipulations for closing the sale. If you don't fully understand the contract, consider finding an attorney who can help.
If you fall victim to a scam, report it immediately. This helps state and federal government agencies to prevent future scams of this nature. In some cases, these agencies may also be able to provide recovery assistance. File a complaint with your state or local consumer protection agency and the Federal Trade Commission.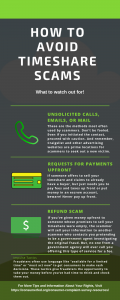 This blog is one of a series of articles contributed by state and local consumer agencies in connection with the annual survey about consumer complaints conducted by Consumer Federation of America. The survey report provides "real life" examples of complaints and tips for consumers. Have a consumer problem or question? Find your state or local consumer agency at https://www.usa.gov/state-consumer.