We all need electrical power to run our modern homes, appliances and internet gadgets. However, how we get power to our homes has been evolving with technology changes. Many consumers are becoming more eco-conscious with their choices and some are demanding a smaller carbon footprint. Another attraction of solar power is the potential to save money. By switching from traditional power produced by burning fossil fuels or nuclear energy to solar power you may be able to enjoy guilt-free clean energy and cut your energy costs.
Will solar work for you?
The ability to produce solar energy output depends on the amount and quality of sunlight exposure your home receives during the day. This may vary by the seasons. Ask what percentage of the power you use will be generated by solar on average and how much power you will still need to buy. Check with your utility company about how much it will cost to maintain service to supplement the power produced by solar and to confirm any claims the solar company made about your ability to sell excess power generated by the system.
Should you buy or lease?
Before you make a decision, be aware of all upfront and any recurring costs associated with the installation of a solar power system. Compare the benefits of purchasing equipment outright to leasing equipment options. Are there tax credits that can help offset your costs? If you buy equipment and plan on financing, how long will you be making payments and what will the total cost of the loan be, including interest and any penalties for defaulting? Alternatively, if you lease the equipment, what will the total cost be and what happens if you no longer want solar or you sell your home before the lease expires? Either way, you need to know what the true cost of solar power will be over time to determine whether it makes financial sense for you.
Are there special programs to help you finance the switch to solar?
One way that homeowners can finance the purchase and installation of solar systems is through PACE (Property Assessed Clean Energy) loans. Where these are available, they are authorized by local governments under state laws. The solar contractor would enroll you in the PACE program and your loan payments would be collected through your property tax bills. While spreading out your payments in this way can be helpful, if there is a problem – the tax payments are unaffordable, the solar company made misleading claims about energy savings, the installation was faulty or not done – you can't simply stop paying, because there is a tax lien on your property. If you are considering any type of loan that results in a lien, get legal advice to make sure you understand the terms and that it's suitable for you. Also check whether you are eligible for free or low-cost energy efficiency programs that might be better alternatives.
Is there anything hidden in the fine print?
Smart consumers will take time to review any agreement and ask questions. Are there any costs if you want to terminate the contract early? Is leased equipment transferable if you want to sell your home? If there are tax credits, how does that work? Who will install the equipment, and does that company have whatever licensing and permitting is required? What is the warranty on the equipment? Who is responsible if there is a problem with the installation?
Going solar is a major investment. Be sure it's right for you before you make the commitment.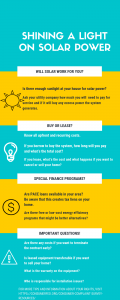 This blog is one of a series of articles contributed by state and local consumer agencies in connection with the annual survey about consumer complaints conducted by Consumer Federation of America. The survey report provides "real life" examples of complaints and tips for consumers. Have a consumer problem or question? Find your state or local consumer agency at https://www.usa.gov/state-consumer.