If you've recently received a call from someone claiming to be with the Social Security Administration, you're not alone. The current Social Security scam is a version of the impostor scam, which involves scammers representing themselves as government employees in order to access your personal and/or financial information.
Typically, the scam starts when a consumer receives a call out of the blue from someone claiming to be from the Social Security Administration. These callers may ask you to confirm your Social Security number, ask for additional personal information to increase your benefits, and even threaten to withhold your benefits unless you provide it.
It is important to know that Social Security officials will never call you and threaten to terminate your benefits, nor will they ever state that you will face potential arrest or other legal action if you fail to provide information or pay a fee.
Be sure to follow these tips to avoid falling for the Social Security impostor scam:
Never provide personal information, such as your Social Security number or bank account details, over the phone or online unless you are certain the request is from a legitimate source. In general, the Social Security Administration and the IRS will not contact you via phone or send an email asking for your personal information.
Whenever you are in doubt, contact the government agency at a phone number you know to be legitimate. This will help you verify whether the request is real or part of a scam. Don't call back using caller ID information because scammers can use spoofing technology to put whatever phone number they choose on your caller ID screen. To reach the Social Security Administration, call 800-772-1213. To reach the IRS, dial 800-829-1040.
Don't try to keep the Social Security scammer on the phone or otherwise engage the con artist. It is best to simply hang up and report the scam to the Office of the Inspector General of Social Security by calling 800-269-0271 or by submitting a report on the OIG website: https://oig.ssa.gov/report.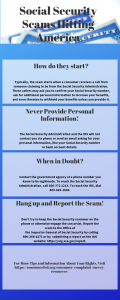 This blog is one of a series of articles contributed by state and local consumer agencies in connection with the annual survey about consumer complaints conducted by Consumer Federation of America. The survey report provides "real life" examples of complaints and tips for consumers. Have a consumer problem or question? Find your state or local consumer agency at https://www.usa.gov/state-consumer.