Washington, DC. – As U.S. drivers face a raft of auto insurance premium hikes from several of the nation's largest insurers, company CEOs have been collecting massive salaries and bonuses. According to a review by the Consumer Federation of America (CFA) of public filings, insurance CEOs received hundreds of millions of dollars in salaries, bonuses, stocks, and a golden parachute in 2020 and 2021, as the companies recorded windfall profits resulting from the COVID-19 pandemic.
"While Americans struggle to pay higher insurance premiums and deal with two years of pandemic challenges, insurance executives have taken corporate excess to a new level," said Douglas Heller, Director of Insurance for CFA. "The four largest auto insurers paid their top executives a combined $196.8 million between 2020 and 2021. At the same time, they are demanding rate hikes from consumers who are required by law to purchase the product they sell."
Using data gathered through filings made with the Securities and Exchange Commission and the Nebraska Department of Insurance, CFA has compiled the reported compensation to the highest-paid executives at several of the nation's largest auto insurers for 2020 and 2021. Because the data reported to the Nebraska Department of Insurance may exclude compensation paid to the executives by affiliated companies, it is possible that the compensation figures below underrepresent the executives' earnings.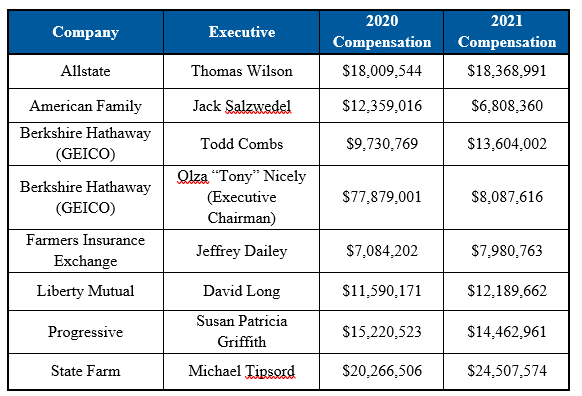 The $77 million golden parachute that GEICO paid its former CEO Olza "Tony" Nicely, who served as the company's Executive Chairman during the period, stands out as the biggest pandemic payout. In August of 2020, CFA called out GEICO for its "worst-in-the-nation" covid-refund program. At the time, CFA said the company should return much more premium to drivers, as driving levels remained low and also that GEICO should end its practice of requiring customers to renew policies before they received their pandemic refund.
CFA also highlighted the massive bonuses paid to State Farm CEO Michael Tipsord in both 2020 and 2021.  According to filings with the Nebraska Department, while State Farm paid its Chief Executive a salary that ranged between $1.94 and $2.15 million in 2019 through 2021, the company dramatically raised the bonuses paid to Tipsord from $8.3 million in 2019 to $18.1 million in 2020 and $22.4 million in 2021.
"Consumers should have received additional premium refunds during the pandemic, when we were all stuck at home and roads were empty. Instead, auto insurers paid huge dividends to investors and awarded mega-bonuses to their CEOs," said Michael DeLong, a Research and Advocacy Associate with Consumer Federation of America, highlighting that companies including Progressive and Allstate paid their largest ever shareholder dividends during the pandemic. "When these insurance companies say that they need higher and higher rates to account for inflation, regulators should ask: If times are so tough that companies need to raise rates, why has there been so much inflation in executive compensation?"
Departments of Insurance Should Collect Executive Compensation Data and Prevent Insurers from Adding Excessive Executive Compensation to Policyholder Premiums
 Since consumers and businesses are often required to purchase insurance by law or by banks in order to get a loan, states must do more to protect consumers from excessive executive pay. CFA pointed to regulatory practices in Nebraska and California as models for assessing executive compensation practices (Nebraska) and protecting consumers from executive gluttony (California).
Under Nebraska law (NE R.S. Section 44-322), insurance companies must report, in a public document, the salaries and other compensation of the company's executive officers. Longtime insurance industry analyst Joseph Belth, who reports on the compensation on his industry-focused blog, explains that because some companies allocate executive salaries to different subsidiaries, it is often difficult to calculate the entire compensation package for some executives, which is why some of the data above may be an understatement of the total pay package. Still, the Nebraska disclosure law is a valuable tool for policymakers, regulators, and the public who want to know how insurance companies are spending the premium that consumers pay.
Under regulations for California's voter-approved consumer protection law known as Proposition 103, a formula calculates the maximum permissible executive compensation for the top five executives at each insurer – the amount differs depending upon company size. Once the permissible compensation is determined, while insurers may pay their executives whatever they choose, any pay above the maximum is figured into another formula that reduces insurance rates to account for the excessive compensation.  For example, in a 2021 rate filing, State Farm reported that the "maximum permissible" pay to its top five executives was a combined $7,231,925 for 2020. Because the five highest-paid executives actually received $43,199,446 in that year, the insurance rates it could charge California policyholders were reduced to account for the nearly $36 million in excess compensation that year. Notably, State Farm's executive compensation average during that pandemic year was over twice the excess calculated in 2019 and quadruple State Farm's 2018 excessive compensation amount.
"Americans spend a quarter trillion dollars each year on auto insurance alone and another half-trillion on other property and casualty insurance policies," said CFA's Douglas Heller.  "States should do more to ensure that our premium dollars are not being used to fund wildly excessive pay packages for executives."
---
Contacts:
Michael DeLong, 925-708-1135
Doug Heller, 310-480-4170