Washington, D.C. – Auto insurance giants Allstate, Farmers, and American Family often charge nine to fifteen percent higher premiums to good drivers previously insured by smaller, "non-standard" insurers than those who had coverage from State Farm or other primary competitors, according to new research by Consumer Federation of America (CFA). "This practice especially penalizes motorists in lower-income communities, leaving them with few options outside of lesser-known and often higher-priced insurance companies," said J. Robert Hunter, CFA's Director of Insurance and former Texas Insurance Commissioner.
Using company websites, CFA tested whether premium quotes from seven of the nation's largest insurers in 20 cities differed if customers switched from "non-standard" insurers rather than from State Farm or another large insurer.  CFA only sought quotes for a customer who had a perfect driving record, regardless of their prior carrier.
In the majority of cities where quotes were available, three of the companies – Allstate, Farmers, and American Family – used a customer's prior insurance company as a factor in determining the premium charged.  In those cities,
Allstate charged 15 percent ($235) more on average to good drivers previously covered by non-standard auto insurers such as Safe Auto Insurance and Equity Insurance Co. than if they had been previously insured by State Farm.
Farmers charged nine percent ($260) more on average to customers coming from non-standard companies, including Titan Insurance and Access Insurance Company, than those hailing from State Farm policies.
American Family Insurance, the nation's ninth largest auto insurer, charged nine percent ($166) more on average to customers previously with non-standard carriers, such as Direct General and Safeway Insurance.
Although Allstate raised rates on customers coming from non-standard companies in twelve of the cities tested, it did lower rates for those customers compared with former State Farm customers in three cities (Pittsburgh, Seattle, and Tampa). CFA's testing also found that several other large companies – State Farm, Progressive, and Liberty Mutual – did not hike rates in response to customers' prior companies. GEICO charged as much as 72% more to customers in Tampa who were previously insured by a non-standard carrier, but GEICO did not use prior company to price customers in any other city tested by CFA.
"It's one thing to charge higher premiums to people with violations and accidents in their past, but it is unfair to punish a good driver simply because of where she previously purchased insurance," said CFA's Hunter. "After big insurers underserved many of America's poorer communities, forcing drivers to turn to lesser known companies to buy coverage, the same big insurers later penalize them, effectively sentencing them to higher premiums for life."
"Non-standard" insurance companies ostensibly sell coverage to the riskiest customers, but a long history of the larger, "standard" insurers refusing to market to or serve low-income and predominantly minority communities has resulted in many good drivers being placed with these smaller market players, according to CFA.  Non-standard insurers sell about $7.5 billion in auto insurance in the U.S. accounting for about seven percent of the entire auto insurance market.
Research Methodology
Using insurance company websites, CFA compared premiums in twenty cities for three drivers who were the same in every respect except that one of the drivers was switching from State Farm Mutual and the other two were moving from a non-standard insurer operating in the state. In all cases, CFA tested a 30 year old female driver with a perfect driving record, maintained the same personal and driving characteristics, and used the same address for all tests in each city.
As Examples:
In Far Rockaway (Queens), New York, the premium quotes from Allstate after varying the company currently providing her insurance were as follows:

Similarly, in Phoenix, the results from Farmers after varying the company currently providing her insurance were as follows:

In Atlanta, the results from American Family after varying the company currently providing her insurance were as follows:

The insurers did not always impose the same penalty on customers coming from different non-standard companies.  For example, in Oklahoma City, the results from Allstate after varying the company currently providing her insurance were as follows:

Although the companies do not explain why they charge drivers coming from certain companies more than others, a tacit acknowledgement of the practice can be found on Allstate's website as shown in the Allstate.com screenshot to the right.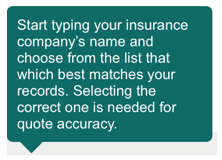 All the quotes received for Allstate, Farmers, and American Family are presented in the Appendix.
Prior Carrier-Based Hikes Adds to Well-Documented Burdens on Lower-Income American Drivers
The findings of this research compound an affordability problem already well-documented by the Treasury Department's Federal Insurance Office (FIO) and other research.  Earlier this year FIO reported that approximately 18 million Americans living in lower-income and predominantly minority ZIP codes face unaffordable auto insurance premiums. Consumer Reports and ProPublica published, also this year, new research showing that premiums in predominantly minority ZIP codes were often substantially higher than those in predominantly white ZIP codes even when the underlying risk level of the ZIP codes were the same. Over the past several years, CFA has issued a series of reports concerning auto insurance pricing and affordability, which are available here.
Research has also shown that, for most Americans, getting to good jobs requires an automobile.  At the same time, state laws, except in New Hampshire, require every motorist to purchase a minimum amount of auto insurance liability coverage. For lower-income drivers, the high price of this required coverage can make compliance with state laws difficult, while driving uninsured can lead to severe penalties, including fines, car impoundment, and even jail time. In response, CFA and others have argued that state regulators have a special responsibility to ensure that premiums are not unfair.
"Where you've shopped for insurance in the past should not be used against you, especially when the history that really matters – your driving record – is perfect," said Douglas Heller, an insurance expert who conducted this research along with CFA researcher Michelle Styczynski.  "Because state laws require us to buy auto insurance, we need Insurance Commissioners to do a better job protecting us from unfair pricing schemes like this."
Noted CFA's Hunter:  "States force people to buy auto insurance, yet insurance companies make it extremely difficult for many lower-income families to afford it. There are several ways that insurance companies discriminate against these customers.  Their practice of hiking rates based on someone's prior company is one of them and should be stopped immediately. Beside removing unfair rating factors that improperly raise rates on low- and moderate-income Americans, state regulators should adopt low income insurance plans modeled after California's unsubsidized low-income, low-cost auto insurance program to assure that state-required auto insurance is more affordable to all good drivers in their states."
Contact: Bob Hunter, 703-528-0062; Doug Heller, 310-480-4170
---
The Consumer Federation of America is an association of more than 250 non-profit consumer groups that, since 1968, has sought to advance the consumer interest through research, education, and advocacy