Washington, D.C. – The interest, effort, and effectiveness of Americans to save money remained steady compared to a year ago, except for declines for Americans earning $100,000 or more, according to new survey data from America Saves.
The America Saves Personal Savings Index measured American's savings interest at 65 percent, savings effort at 57 percent, and savings effectiveness at 56 percent in May 2016. All were within two percentage points of the January 2016 and May 2015 indicators. The Personal Savings Index is measured three times a year.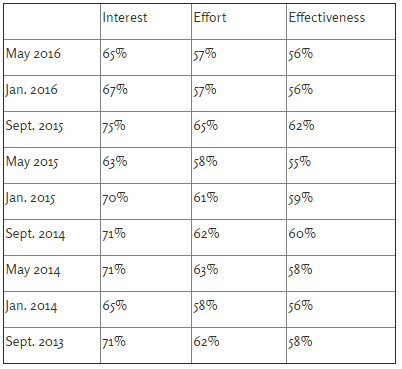 Despite being the most effective savers, savings indicators among the highest earners declined from May 2015 to May 2016. Among those making $100,000 or more, personal savings interest is down 3 percentage points, savings effort is down 6 percentage points, and savings effectiveness is down 5 percentage points from May 2016.
"It surprised us that, unlike all other households, high-income households evidenced less interest, effort, and effectiveness than they did a year ago," said Stephen Brobeck, Executive Director of the Consumer Federation of America and a founder of America Saves." I can only speculate that most of them know they are well-off but were a little shaken by the decline in stock prices early this year," he added.
Generally speaking, savings indicators were the same or higher than May of last year for Americans earning $75,000 or less. While savings efforts among those earning between $25,000 and $50,000 declined 5 percentage points, savings interest and effectiveness remained the same.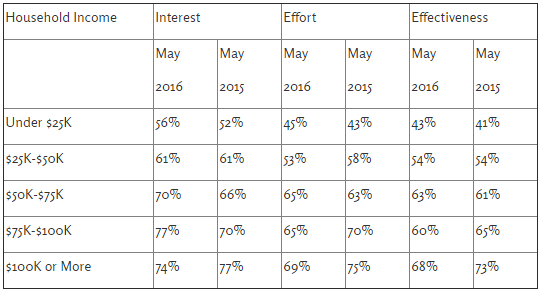 Despite the decline over the last year in savings indicators among the wealthiest, low-income Americans remain significantly far behind. Compared to the highest earners, those making under $25,000 are less interested in saving by 18 percentage points, make less of an effort to save by 24 percentage points, and are less effective at saving by 25 percentage points.
"Our survey makes clear that financial resources make an impact on American's personal savings interest, effort, and effectiveness," said Brobeck. "Low-income Americans struggling financially today are less able and less likely to be interested in saving or making an effort to save, which means they could continue to struggle tomorrow."
The Personal Savings Index is measured for America Saves by ORC International, which surveyed a representational sample of over 1,000 adult Americans by cell phone and landline. Respondents were asked to respond to the three questions about interest, effort, and effectiveness on a 10-point scale ranging from "no interest" to "great interest," and these responses were converted into percentages. The latest interviews were conducted May 12-15, 2016. The survey's margin of error is plus or minus three percentage points.
Contact: Katie Bryan, 202-939-1018
---
America Saves, a campaign managed by the nonprofit Consumer Federation of America, seeks to motivate, encourage, and support low- to moderate-income households to save money, reduce debt, and build wealth. The research-based campaign uses the principles of behavioral economics and social marketing to change behavior. Nonprofit, government, and corporate groups participate in America Saves nationally and through local, regional, and statewide campaigns around the country. America Saves encourages individuals and families to take the America Saves pledge and organizations to promote savings year-round and during America Saves Week. Learn more at americasaves.org and americasavesweek.org.