Washington, D.C. – A new report by the Funeral Consumers Alliance (FCA) and Consumer Federation of America (CFA) found that most state funeral service regulators provide poor or no information to consumers about their funeral rights, how to file complaints, how to learn about disciplinary actions, and how to best shop for funeral services.  However, the report also concluded that the following seven agencies make available excellent information to consumers:
Arizona State Board of Funeral Directors and Embalmers
California Cemetery and Funeral Bureau
Kansas State Board of Mortuary Arts
Minnesota Department of Health Mortuary Science Section
New York Bureau of Funeral Directing, New York State Department of Health
Oregon State Mortuary and Cemetery Board
Virginia Board of Funeral Directors and Embalmers
"State regulatory agencies with good consumer information fulfill their state mandates to serve the interests of the public," said Joshua Slocum, FCA's Executive Director.  "Consumer information can make a huge difference in the lives of the bereaved who must often quickly choose among funeral services where costs can range from under $2,000 to more than $20,000, and who sometimes have legitimate complaints about these services," he added.
Researchers from FCA and CFA graded state regulatory agencies using six criteria that included not only the content of information but also its presentation – most importantly, whether a link to consumer information was prominently featured on the home page of the agency's website.  The content included a link to the Federal Trade Commission's (FTC) excellent consumer guide, "Shopping for Funeral Services"
FCA and CFA also make available information to consumers through a pamphlet, "Planning a Funeral: 5 Key Tips"
In part because of the historic failure of many state regulatory agencies to recognize their responsibilities to consumers, the FTC has had to establish standards of conduct for the industry.  The FTC has done this mainly through the issuing and enforcing of its Funeral Rule.  Among other consumer protections, the Funeral Rule requires funeral homes to give consumers a General Price List of services during in-person arrangements conferences. The federal agency is now considering whether to update and modernize the Funeral Rule, including requiring funeral homes to post their price lists on their websites.
"Posted price lists would greatly assist bereaved consumers who now must physically visit funeral homes to obtain the price lists," noted Stephen Brobeck, a CFA senior fellow.  "An updated Funeral Rule, coupled with improved consumer information from state agencies, would significantly benefit consumers who face costly choices at a time when many must cope emotionally with the death of a loved one," he added.
States and the District of Columbia regulatory agencies received the following grades for their consumer information.  (Hawaii was excluded because it has no agency.)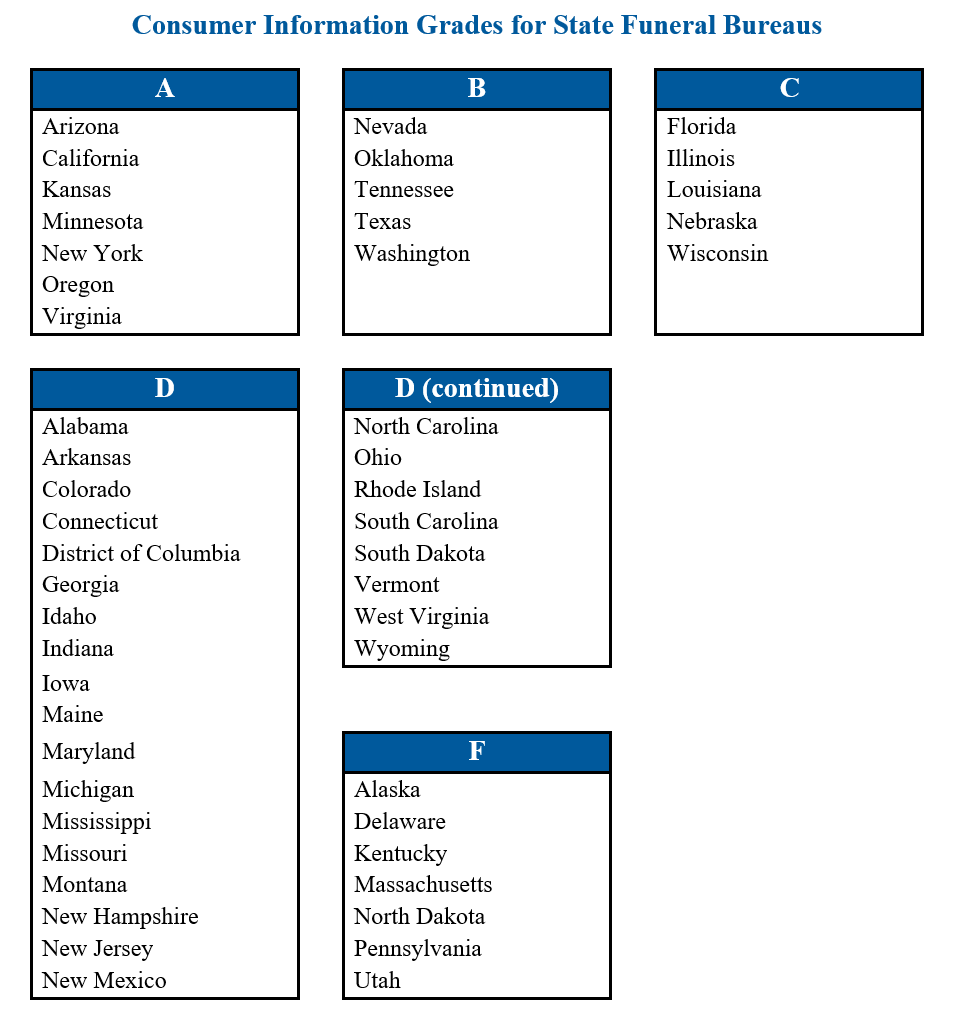 ---
Contacts:
Josh Slocum, FCA, Inc., 802-865-8300
Stephen Brobeck, CFA, sbrobeck@consumerfed.org