Washington, D.C. – New data released by Consumer Federation of America (CFA) show that good drivers in Washington State face auto insurance penalties of 35% if they have Fair credit histories rather than Excellent credit, and those with Poor credit pay 79% more on average. Citing premium data from Quadrant Information Services, LLC, CFA highlighted the premium hikes imposed by 10 of Washington's largest insurers throughout the state.
Testing only premiums for good drivers purchasing the minimum state-mandated coverage (as further described in the Base Profile at the end of this release) CFA found:
Statewide, safe drivers with Poor credit pay 79%, or $370, more on average than a driver with Excellent credit, all else being equal;
Premiums increase by 35% ($165) on average statewide for a good driver with Fair credit rather than Excellent credit;
State Farm charges the highest credit score penalty of 69% for drivers with Fair credit and 185% for drivers with perfect records but Poor credit; PEMCO charges the next highest credit history penalty – 68% for Fair credit drivers and 183% for Poor credit;
Even the smallest credit score penalty, imposed by American Family, forces safe drivers with Fair Credit to pay 17% higher premiums and those with Poor credit to pay 36% more; and
In Seattle, the average annual premium rises by $508 for a safe driver with Poor credit, and by more than $700 for customers of either Allstate or State Farm.
The data make it clear that drivers with anything less than excellent credit face penalties in Washington State and they have to pay substantially more for mandatory auto insurance than if they had better credit scores, even when they have perfect driving records. The legislature is considering SB 5010, which would ban the use of credit scores in determining rates for personal lines of insurance, such as auto and homeowners coverage. The bill is sponsored by Senator Das, supported by Insurance Commissioner Kreidler, and included in Governor Inslee's equity policy package. Passing this law will make auto insurance more affordable for safe drivers with fair or poor credit. In particular, it will address the unfair impact of the use of credit history on Black, Brown, and Indigenous Americans who have disproportionately lower credit scores.
"Since state law requires that every driver buy insurance, the insurance companies should have to price policies fairly and give every good driver the best price, regardless of their credit history," said Doug Heller, CFA's Insurance Expert. "By punishing drivers with clean driving record but less than perfect credit, the insurance companies make coverage more expensive for those least able to afford it. Because systemic biases have made credit less available to people of color, this insurance industry practice perpetuates structural racism."
The Washington premium data reviewed by CFA include premium quotes for minimum limits auto insurance coverage from the state's 10 largest insurers in every ZIP code. For each company, CFA reviewed the premium charged to 35-year-old drivers with different credit scores. Every premium in the database CFA used for the analysis is for a driver who has no accidents and no tickets in their driving history and who drives a 2011 Honda Civic 12,000 miles per year. Though the degree of the premium hike varied by company, every insurer analyzed increased premiums to good drivers with either Fair or Poor credit scores (often called "credit-based insurance scores") compared to the same driver if they had Excellent credit.
The chart below shows the premiums quoted to a female driver living in the Rainier Valley neighborhood of Seattle (98118) by all 10 companies according to her credit score. While the cheapest basic limits policy for the driver with an Excellent credit history (excluding USAA, which requires policyholders to have a military affiliation) is $372 from PEMCO, the best rate a driver with poor credit can find in 98118 is the $996 premium offered by Geico. That's $624 more for drivers with perfect records even after shopping nine different companies.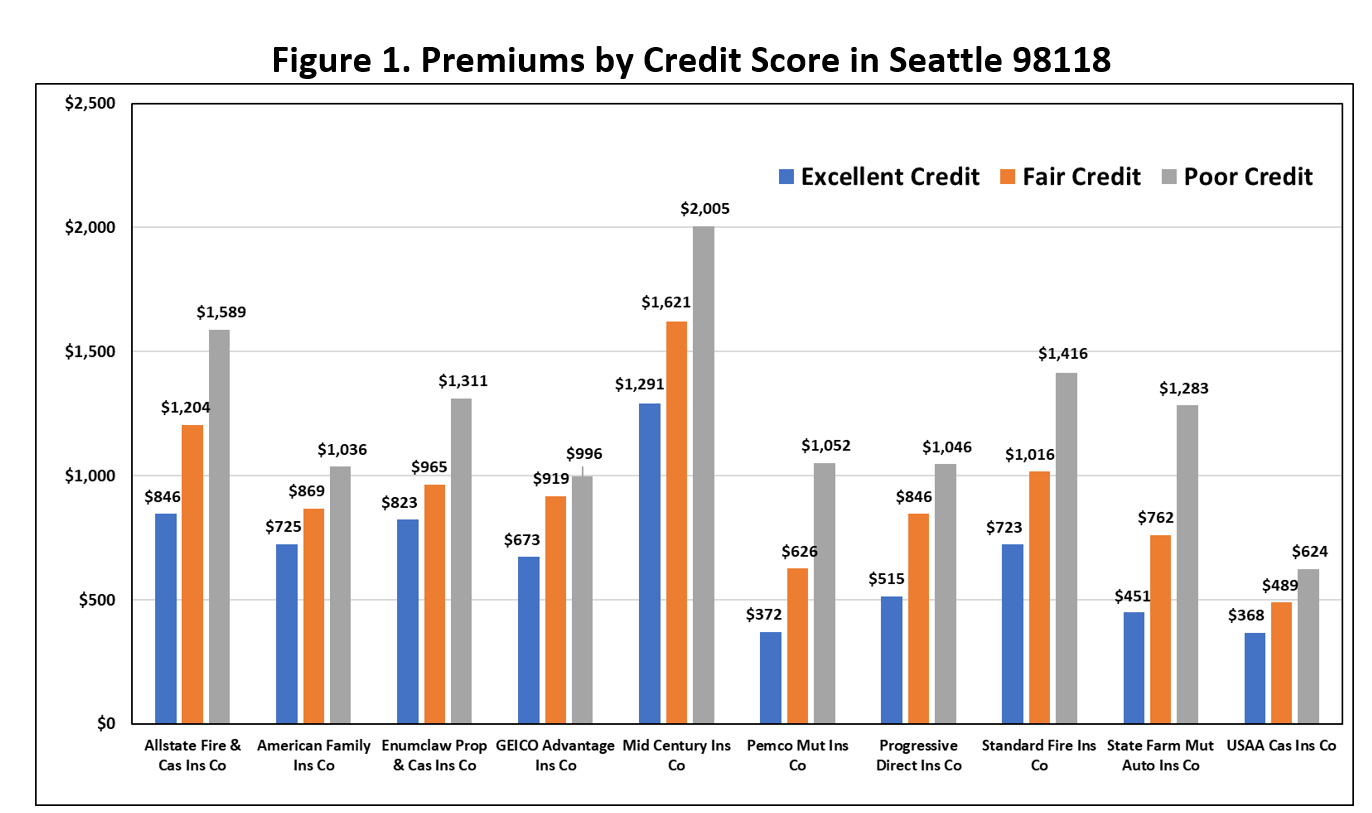 Figure 2 below shows the credit based premium differences in several communities around the state, illustrating that the credit penalty is imposed on safe drivers no matter where they live. In fact, in the 616 ZIP Codes tested in Washington, Excellent credit drivers' premiums average less than $500 per year for basic coverage in 426 ZIPs. Fair credit drivers only saw average premiums below $500 in 43 ZIP codes, and there are no ZIP codes in the state where premiums average less than $500 for good drivers with poor credit. Even in the Okanogan County ZIP Code 98814, which has the least expensive auto insurance in the state, premiums for safe drivers with Poor credit average $625. This is actually higher than what companies charge Seattle drivers with Excellent credit, which averages $623 across the city.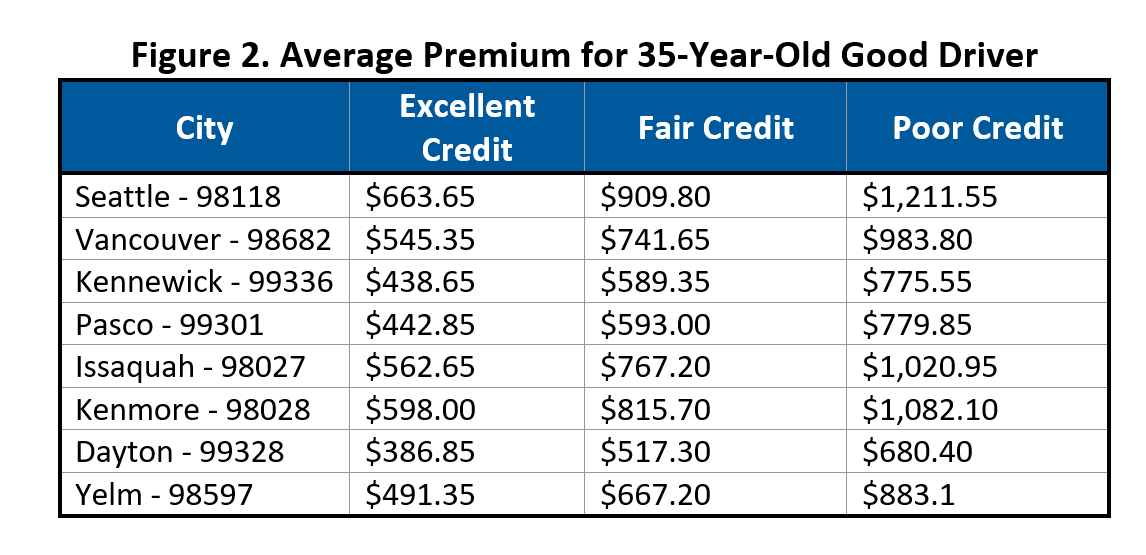 Figure 3 shows the different penalties applied by each of the 10 companies reviewed by CFA. State Farm and PEMCO impose the most significant surcharge on lower credit drivers, while American Family and GEICO Advantage charge the lowest (but still large) penalties.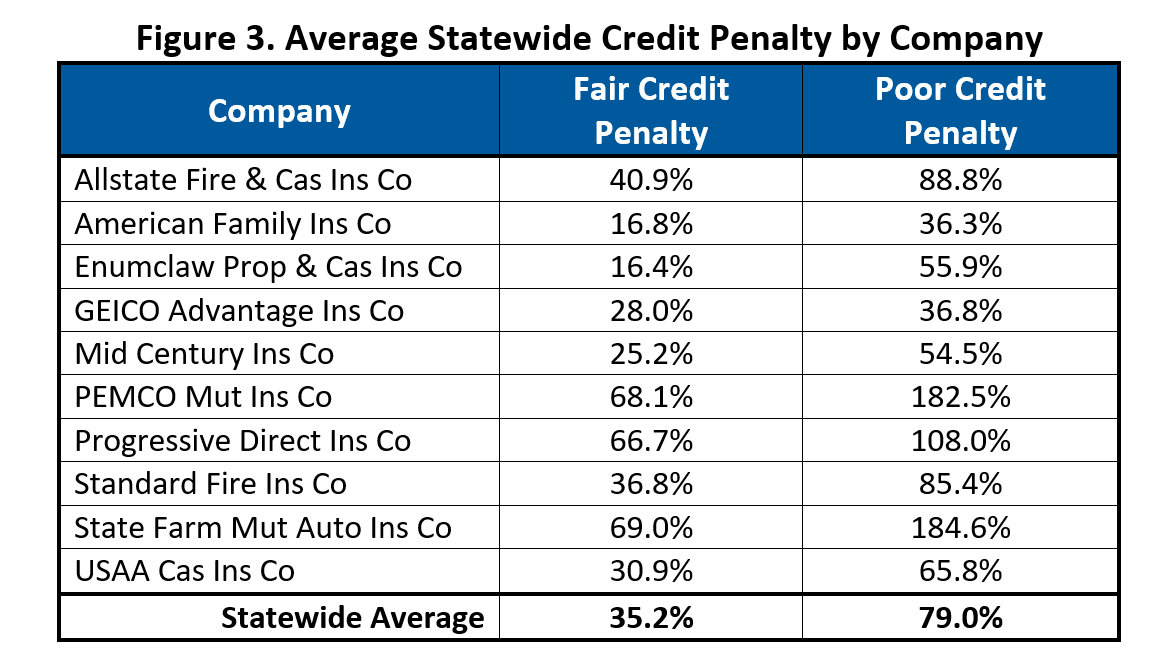 "No matter where you live and how much you shop around, if your credit score is not great, you will be penalized when you buy insurance," said CFA Insurance Advocate Michael DeLong. "This can and should be fixed by the legislature."
Data for this report were acquired by Consumer Federation of America from Quadrant Information Services, LLC. The data are representative of publicly sourced data using the variables and base profile defined below and individual rates may differ.

Contacts:
Doug Heller, 310-480-4170
Michael DeLong, 925-708-1135