Washington, D.C. – Consumer Federation of America today enthusiastically endorsed House Bill 80, which establishes permissible rating factors for insurance companies to use in the rating of automobile insurance and requires insurance companies to provide a good driver discount plan for qualified drivers.  At-fault accidents, driving safety record, miles driven and years of experience will now be the most important criteria, called "the four mandatory factors," in determining a driver's auto insurance price.  The bill also ensures that good drivers can buy auto coverage from the company of their choice at rates that are "at least 10 percent below the rate the insured otherwise would have been charged."
"This bill is great news for Delaware's good drivers," said J. Robert Hunter, CFA's Director of Insurance and former Texas Insurance Commissioner.  "Delaware law requires every driver to purchase insurance, but it doesn't yet have the protections that ensure fair prices for safe drivers.  With HB 80, all drivers who are careful on the roads will now have access to the lowest auto insurance prices around.  They will no longer be priced based on who they are but on how they drive."
Surveys show that Americans believe in the premium fairness that HB 80 would deliver.   More than 80 percent of Americans agree that auto insurance prices should relate to a driver's record of violations and accidents, according to a 2016 national survey conducted by ORC International. At the same time, a strong majority (over 60 percent) disapprove of insurance companies' use of socio-economic factors such as a driver's level of education, occupation, credit score, or homeownership status. The survey results are attached.
Independent research by the nonprofit Consumer Federation of America has shown that a law similar to HB 80 in California has held down prices, enhanced insurer competition, enabled reasonable profits for insurers and led to the fairest pricing system in the country.  Competition is enhanced since the demand side, consumers who are required by law to purchase auto insurance, is balanced with the supply side, because insurers would be required to provide the coverage to all good drivers.  Prices go down and road safety is improved because the incentives for good driving are dramatically increased; under HB 80 consumers will get better deals and more options if they drive safely. That would be a dramatic improvement over the rules the current rules that allow insurance companies to punish good drivers simply because they have a blue-collar occupation, rent their home, or only have a high school degree.
"You should not have to get a new job, get a master's degree and buy a house, just to get a fair price for auto insurance," Hunter said.  "This legislation is similar to the law in the State of California, which research has shown has the finest consumer protections in the nation. Auto insurance rates there were held to no change (-0.3 percent) over the 21 years reviewed, while Delaware's rates rose by 79.6 percent."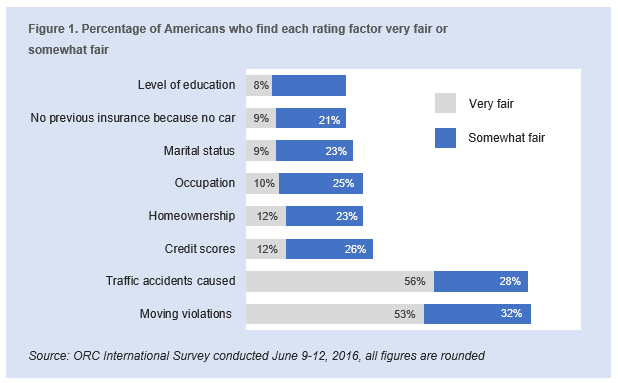 In June 2016, CFA commissioned ORC International to conduct a representative survey of 1,000 Americans to ascertain the public's view of the use of various rating factors in the setting of auto insurance premiums.  The survey found that 83 percent of the public found it very fair or somewhat fair for auto insurers to use traffic accidents caused in setting premiums and 84 percent found it very or somewhat fair to use moving violations such as speeding tickets. The near opposite was true for the non-driving related factors that reflect drivers' economic status, as shown in Figure[i]
Respondents were asked the following question for each of the eight rating factors tested:
As you probably know, auto insurers use many factors to decide how much each driver is charged for their insurance coverage.  How fair do you think it is for insurers to use each of the following factors in deciding on an auto insurance price for a driver?  Would you say each is very fair, somewhat fair, somewhat unfair or very unfair?
For the survey, the order in which the different factors were presented was randomized.
Contact: Bob Hunter, 703-528-0062
---
The Consumer Federation of America is an association of more than 250 non-profit consumer groups that, since 1968, has sought to advance the consumer interest through research, education, and advocacy.
[i] The survey of 1,006 Americans had a margin of error of +/- 3.09 percent at the 95 percent confidence level.