Washington, D.C. – Auto crashes remain low according to new accident data published by the Consumer Federation of America (CFA) and the Center for Economic Justice (CEJ).  The groups said that ongoing reduction in pandemic-driven crashes should lead to a new set of refunds for auto insurance customers.  The staggering drop in accidents this year resulted in a dramatic drop in claims paid by insurers, handing companies massive windfall profits even after accounting for the woefully inadequate premium relief provided in the spring. The groups sent a letter today to the nation's insurance commissioners calling for action on refunds.
Accidents Way Down
 Data collected by the groups from four states – Colorado, Maryland, Massachusetts, and Texas – representing different population densities and responses to COVID-19 show over 181,000 fewer accidents in those states during the pandemic than during the same period in 2019. This includes a decline of more than 83,000 accidents after May, when most insurers stopped providing refunds and premium credits. With the exception of California, where Insurance Commissioner Ricardo Lara ordered insurers to continue issuing refunds through the summer, the reduction in insurance claims has not led to ongoing premium relief for the many millions of Americans paying insurance premiums based on 2019 accident expectations.
Source: Colorado Department of Transportation, Maryland Department of Transportation, Massachusetts Department of Transportation, and Texas Department of Transportation. Compiled by Consumer Federation of America on December 16, 2020.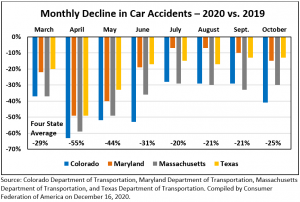 Profits Way Up
Over the course of the pandemic, auto insurers have announced incredible increases in profits, even after accounting for their inadequate refunds to consumers.
Progressive reported over $3.3 billion in net income between April and September (Q2 and Q3), which is $1.5 billion, or 82%, more than it earned during the same period last year. On December 4, Progressive announced a $4.50 per share annual dividend for its shareholders (~$2.6 billion), which is nearly double the 2019 annual dividend.
GEICO's pre-tax earnings tripled during the second and third quarters of 2020 to $2.34 billion compared with $769 million in 2019. The third quarter earnings are up 83% from $835 million in earnings for the third quarter of 2019.
Allstate reported auto insurance underwriting income for the combined two quarters of $1.87 billion, more than a billion dollars better than 2019.
In their reports to shareholders, many companies have highlighted the pandemic's impact on road travel as driving lower losses. Month after month, for example, Progressive has noted that "auto accident frequency continued to be lower on a year-over-year basis due to restrictions put in place to help slow and/or stop the spread of the novel coronavirus, or COVID-19." Allstate's financial reports illustrate this impact clearly: even as it added 11,500 auto insurance policies in 2020 and took in $274 million more in premiums from customers during Q2 and Q3 2020 over 2019, its auto insurance losses dropped by $1.4 billion during the same time.
"The public health and economic crises we have faced since March have kept people off the road and sharply reduced crashes, which means insurance claims are way down, with insurers reaping huge profits," said J. Robert Hunter, CFA's Director of Insurance and former Texas Insurance Commissioner. "Most companies refunded some premium in April and May, but, since then, insurance rates have been excessive and insurer profits obscene. Insurers need to give back more to Americans, many struggling with unemployment and other economic hardships."
Crash Statistics Reveal That the Reduction in Accidents is National and Ongoing
 CFA assembled day-by-day records of crashes through October 31, 2020 for Colorado, Maryland, Massachusetts, and Texas, each of which maintains accessible, regularly updated accident records. In all four states, there have been far fewer auto crashes than 2019 because of the pandemic, various restrictions on businesses, schooling, and other activities, and general public caution. There is nothing to suggest that other states' experiences are significantly different from these four.
The data from the four states indicate that accidents are down by 31% since the beginning of the pandemic when comparing 2020 with 2019. While the decline was somewhat less during the summer months, accidents are falling again as the pandemic has worsened. There were 23% fewer crashes in September and October of 2020 than 2019, generating more windfalls for insurers that pay, on a monthly basis, hundreds of thousands of fewer claims nationwide than their rate plans anticipated.

"The math is very simple: as a result of the pandemic there have been millions of fewer accidents and billions in extra profits for insurance companies that have not given back enough of the excess premium they continued to collect even as the pandemic lasted for months and months," said Doug Heller, an insurance expert for CFA. "With the renewal of stay-at-home orders and continued high unemployment and extensive remote work and schooling, getting more rate relief into the pockets of auto insurance policyholders is absolutely necessary."
Most auto insurers have provided two to three months of premium credits, refunds, or dividends to consumers during the spring. At the time most companies refunded about 15% to 20% of premium, though CFA and CEJ calculations indicated that 30% premium refunds were more appropriate.
In numerous letters sent to State Insurance Commissioners, CFA and CEJ urged Commissioners to require auto insurers to give back premium relief to consumers. Only California, Michigan, New Jersey, and New Mexico issued bulletins requiring this relief, with California being the only state that has required auto insurers to continue providing refunds beyond June 2020.
"Most state Insurance Commissioners have not taken the need for refunds seriously enough," said Birny Birnbaum, Executive Director of CEJ. "They should take steps to make sure that insurance rates are fair and not excessive, since accidents are down and windfall insurer profits are up. The new crash data must be a wakeup call for them to swing into action."
According to Birnbaum, an economist and former Associate Insurance Commissioner in Texas, premium givebacks should be related to the drop in accidents, and should be adjusted monthly as long as the pandemic persists.  Due to some fixed costs faced by insurers, a 33% reduction in claims should result in a 26% refund of premium.  But, even fixed expenses change and over the past nine months, insurers have reduced those expenses by, among other things, moving workers permanently to home-based work and closing offices.  The table below shows appropriate refund amounts under different accident decline scenarios.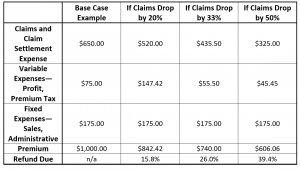 Recent Public Health Orders Will Reduce Driving and Crashes Again
COVID-19 cases are currently rising across the nation and over 300,000 Americans have died of the virus. States and cities are re-imposing restrictions to curb the spread and prevent hospitals and health care workers from being overwhelmed. These rules will contribute to keeping driving and crashes lower, and further reinforce the need for premium relief.
Below are just a few of the recent orders issued:
"The choice for Insurance Commissioners could not be clearer. Either they require that excessive premiums are returned to customers or they allow giant insurance companies to continue to collect windfall profits on the backs of Americans stuck at home and struggling through this pandemic," said CFA's Hunter.
Thankfully, COVID-19 vaccines are being distributed and people are receiving them. But we still have a considerable way to go before the pandemic is over. National Institute of Allergy and Infectious Diseases Director Dr. Anthony Fauci recently stated, "As we approach the third and fourth quarters of 2021, I think we can get back to a considerable degree of normality, but it's going to depend on the uptake of the vaccine."
This indicates that driving habits will not return to normal for many months. And the new "normal" will have less driving than the old normal because millions of Americans will continue to work remotely. Shopping habits and other activities have changed, some likely permanently, which will lead to a further reduction in driving. In order to protect consumers from overpaying for auto insurance during the pandemic, it is critical that regulators ensure that companies refund the excessive premium that has been, and continues to be, collected from policyholders.
Appendix: Charts Showing Crash Declines in Colorado, Maryland, Massachusetts, and Texas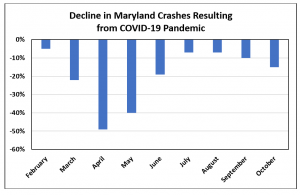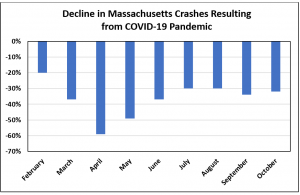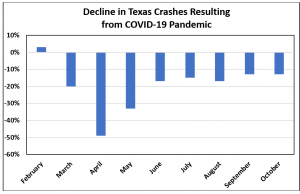 Contacts:
Robert Hunter, CFA, 703-731-6353
Birny Birnbaum, CEJ, 512-912-1327
Doug Heller, CFA, 310-480-4170