Washington, D.C. – Consumer Federation of America (CFA) issues an alert to off-highway-vehicle (OHV) riders to operate their vehicles with caution as summer officially begins. In 2022 so far, CFA has documented 172 OHV fatalities. Children under the age of 16 account for the most fatalities, making up approximately 21.5 percent of all OHV deaths so far in 2022. In 2021, children under 16 also accounted for the highest amount of tracked OHV fatalities at 18.7 percent, and in 2020 children under 16 were the second highest amount of tracked OHV fatalities at 15.8%. Since 2019, children under the age of 16 have ranked in the top three age categories of OHV fatalities. Last year children under 16 accounted for the age group with the highest number of OHV fatalities, a statistic that has not been evident in CFA's data since 2015. For the past five years, children aged five and under have accounted for an increasing number of fatalities, growing from five in 2018 to seven in 2021. CFA has tracked eight fatalities aged five and under in the 2022 data so far.
"Children under 16 continue to suffer the largest percentage of OHV fatalities," stated Rachel Weintraub, Legislative Director and General Counsel with CFA. "As summer begins, we hope that OHV incidents will not remain as high and urge caution to OHV riders."
OHVs are comprised of all-terrain vehicles (ATVs), recreational off-highway vehicles (ROVs), and utility task vehicles (UTVs). According to data gathered by CFA and its OHV Safety Coalition, from 2013 through 2021 July has been the month with the most OHV fatalities with May, August and June following as the second, third, and fourth months with the most deaths. Our 2021 data showed May and August tied as the months with the most OHV fatalities, with July and April following as the second and third months with the most deaths. Despite this shift, the 2013- 2021 data show that July accounts for the highest number of fatalities compared to all other months. The summer months of May, July, and August remain the deadliest months for OHV fatalities.
"All OHVs, even youth models, pose risks," said Dr. Gary Smith, President of the Child Injury Prevention Alliance. "OHVs are fast, complex machines, and due to their design, they roll over easily. One wrong choice could lead to the emergency department or worse. Children younger than 16 years just aren't ready for the demands of safe riding, so we encourage parents to find a different activity for their child."
CFA and its OHV Safety Coalition have been documenting OHV deaths since 2013 by compiling, analyzing, and making publicly available data and findings from relevant newspaper and government resources. From 2013 through 2021, CFA and the OHV Safety Coalition have documented 729 total deaths during the month of July for those years combined. For the entire period of 2013 – 2021, CFA has documented over 5,478 deaths. While these numbers are high, these findings are not yet complete, and the number of deaths will likely increase as additional information becomes available.
OHV Fatalities in Each State
CFA's OHV fatality data includes state by state data. Our data from January 2013 through December 2021, identifies that the states with the most fatalities include: 1) Pennsylvania (294); 2) Texas (274); 3) Missouri (226); 4) California (224); and 5) Wisconsin (223). The heat map below provides fatality information for each state.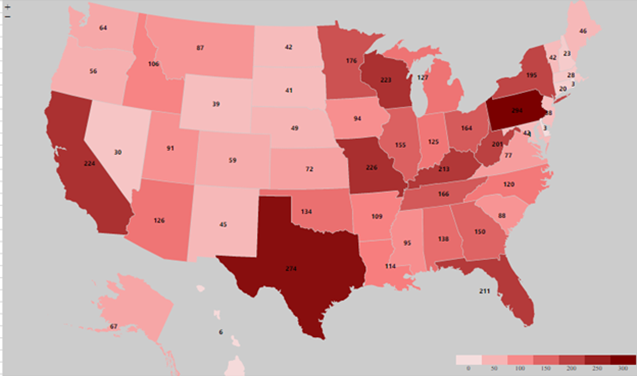 The Most OHV Fatalities Occur on July 4th
CFA data from 2013 through 2021 shows that the most fatalities for all people, children and adults, occurred on July 4th. Of the total 69 recorded deaths on July 4th occurring from 2013 through 2021, 17 were children under 16, comprising one quarter of all deaths (25%).
"On no other day of the year were there double-digit deaths for children age 16 or younger," stated Weintraub.
Most Dangerous Days of the Year for Adults and Children on OHVs

"July 4th has historically been the day with the most OHV deaths," stated Weintraub. "We urge all OHV riders to prioritize safety so that this statistic will not be a reality again in 2022. Operators of OHVs must have the necessary skills to maneuver an OHV, should use appropriate safety equipment, such as helmets, should never operate on roads, and never carry passengers."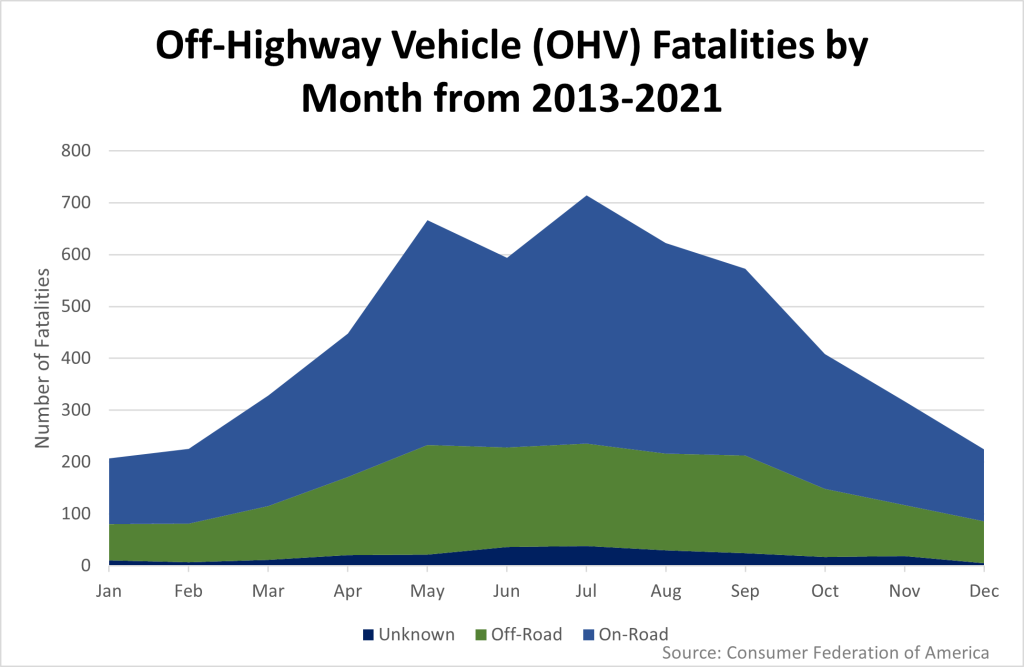 CFA has been working to minimize deaths and injuries from OHVs for decades by petitioning the Consumer Product Safety Commission (CPSC) to ban adult-size ATVs for children, by convening a coalition to prevent OHV road access, and with that coalition, by compiling fatality information in real time, and by urging the CPSC to collect annual ROV data among other requests to take steps to reduce OHV deaths and injuries.
CFA urges consumers to take the following seven critical steps to reduce OHV deaths and injuries:
Never operate an OHV on a road.
Never permit children younger than 16-years-old to operate an adult-size OHV or any OHV that is too large or too powerful for them.
Always wear a helmet and other protective gear when riding an OHV.
When riding an OHV that contains seatbelts, always wear them.
Never allow more people on an OHV than it was designed to carry.
Never ride when under the influence.
Take a hands-on safety course.
Our partners at Prevent Child Injury have issued an important ATV safety toolkit available at https://www.preventchildinjury.org/toolkits/atv-safety aimed specifically at helping parents learn about the risks of children using ATVs.
If consumers have experienced an incident or injury involving an OHV, reports can be submitted to the CPSC at www.cpsc.gov.
CFA and the OHV Safety Coalition collect fatality data from news reports, game or natural resource crash investigations, state crash investigations, as well as data from the CPSC, Occupational Safety and Health Administration (OSHA), and National Highway Traffic Safety Administration (NHTSA). CFA data is likely an underestimate of actual fatalities and CFA consistently updates the data as more information is obtained. CFA makes this data available on our website.
---
Contacts:
Rachel Weintraub, 202-939-1012
Dr. Gary A. Smith, 614-578-5053