Washington, D.C. – Today the Consumer Federation of America (CFA) released a new report – Real Estate Commission Rates in 35 Cities: Uniformity and Variation – that analyzes buyer agent commission rates on 17,805 home sales in several dozen cities throughout the United States.  The study found a high degree of uniformity among these buy-side rates (see table at end of release).
In each of 10 cities, at least 87 percent of the home sales had identical commission rates.
In each of 18 cities, at least 70 percent of the sales had identical commission rates.
In each of 24 cities, at least 88 percent of the sales had commission rates between 2.5 and 3.0 percent.
"This rate uniformity is striking evidence of the lack of price competition in the residential real estate industry," noted Stephen Brobeck, a CFA senior fellow and the report's author.  "An industry rule requiring listing agents to set buyer agent rates prevents home buyers from negotiating these rates," he added.
While nine states prohibit buyer rebates, in the rest of the country buyers can ask their agents for a rebate of a portion of the buyer agent commission.  However, the study also found that few consumers request a rebate and even fewer buyers receive one.  In a March 2022 online survey commissioned by CFA, Ipsos, an international research and marketing firm, asked a representative sample of 1040 consumers who had purchased a home through a real estate agent:  "Did you seek a portion of the commission your agent was paid?"  Seventeen percent said they had sought a "rebate," but only seven percent said they had received one.  For those respondents who had purchased a home in the past five years, 29 percent said they had sought a rebate, but only six percent said they had received one.
In November 2021, CFA released a report on the uniformity of buy-side rates in 21 eastern cities.  The new report adds 14 western cities to the sample, revealing that buy-side rates are lower on the east and west coasts than in the large middle portion of the country.  Thirteen of 14 coastal cities (including Bakersfield-CA, Las Vegas, and Phoenix) had median rates of 2.5 percent or lower (all but Miami) while 17 of 21 interior cities had rates above 2.5 percent (all but Chicago, New Orleans, Birmingham-AL, and McAllen-TX).
In 33 of the 35 cities, real estate agents made available MLS information on home sales.  In Portland (OR) and Washington, buy-side rates were found on Redfin home listings.
Industry Norms and MLS Rule Help Explain Rate Uniformity
The report noted that there is no law or explicit industry rule requiring, or even recommending, specific buy-side rates, which raises the question:  How could individual home sale decisions result in buy-side rates that are so often identical in individual markets?  The report's answer is that the MLS rule requiring sellers to set buyer agent rates allows realtors to informally establish rate norms, which keeps rates high and preserves the possibility of big paydays.
"To a large extent prices are uniform because realtors want to preserve $50,000 commissions on the sale of million dollar homes and $25,000 paydays on the sale of $500 thousand dollar ones," he said.  "It is not at all clear why the work of a realtor, especially if they double-dip, should cost more than the price of a car or an expensive medical procedure," he added.
The report found that those cities with the highest rates had the most uniform rates.  In those cities where at least 70 percent of the rates were identical, in 13 of 18 (72%), the median commission was greater than 2.5 percent.  And in those cities with identical rates below 70 percent, in 13 of 17 (76%) the median commission rate was 2.5 percent or lower.  "The association of high rates with high-rate uniformity suggests that industry norms are stronger in some cities than in others," noted CFA's Brobeck.
The report also contained more evidence that, in some cities, buy-side commission rates are transitioning from 3.0 to 2.5 percent.  While noting that this transition represents a longer trend from the 1990s related to rising home prices, the report also suggests that in a strong seller's market, listing agents feel that they can reduce buy-side rates without jeopardizing sales.  As a Redfin market manager explained:  "Sellers know their home is a hot commodity and will likely attract multiple offers no matter what, so they've started offering the buyer agents a 2% or 2.5% fee instead of 3%.  Why would you offer 3% when you know you could offer less and sell your home for the same price?"
"Some of the softening of buy-side rates may reflect buyer and buyer agent panic in a market with far fewer listings," noted Brobeck.  "It is unlikely that listing agents are reducing their commissions and in some cases, may even be increasing them, but this question cannot be easily answered since there is no publicly available source of data on listing agent rates," he added.
Untying Listing and Buyer Agent Rates Would Promote Significant Rate Competition
In a free-market economy, it is anomalous that the residential real estate industry denies home buyers the ability to negotiate commissions paid to buyer agents.  This denial is now the subject of major class action litigation, investigation by the U.S. Department of Justice, and complaints from a wide range of industry critics, both liberal and conservative.  The focus of these challenges has been the untying (or uncoupling) of commission rates, so that buy-side rates are not set by sellers and their listing agents, but by buyer agents subject to negotiation with their clients.  This untying of commission rates would:
Unleash discount brokers who have been shackled by the necessity of offering buyer brokers the typical rate (or rates) paid in their MLS area.
Provide buyers the opportunity to discuss and negotiate commissions paid to their agents.
Encourage more sellers to try negotiating commissions paid to their listing agents.
"Untying rates not only would eventually reduce commissions by an estimated 20 to 30 billion dollars a year but would also much more closely align agent service with agent compensation," said Brobeck.  "Today, it is difficult to see much of a relationship between agent quality of service and agent compensation," he added.
Tips for Home Buyers
Pay attention to buy-side rates offered to buyer agents.  Now that the industry allows publication of buy-side rates on home listings, these rates are increasingly accessible to consumers, most often on Redfin and Zillow website listings.  If your agent is reluctant to show you a home, it may be because the offered buyer agent rate is relatively low.  If so, press your agent to show you the property, or alternatively, find an agent who will not "steer" you away from low-commission rate homes.
Ask your agent if they will rebate a portion of their commission to you.  Nine states  – AL, AK, IA, KS, MS, MO, OK, OR, TN – prohibit these rebates, and most agents in the remaining 41 states and DC are unwilling to provide rebates.  However, a few agents advertise their willingness to do so, other agents will do so if asked, and the more home buyers request rebates the more willing the entire industry will be to provide them.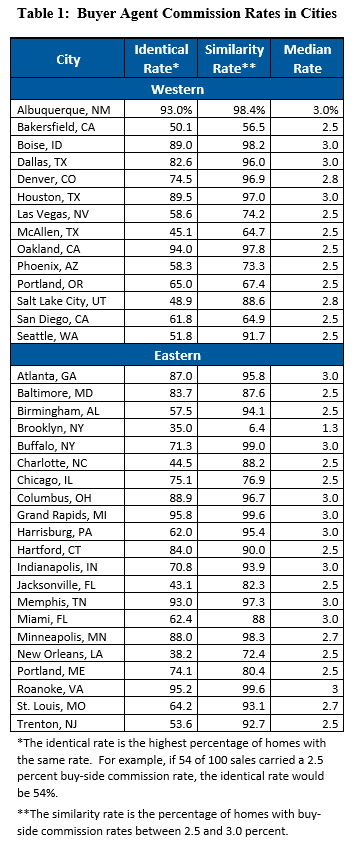 ---
Contact: Stephen Brobeck, sbrobeck@consumerfed.org