Online shopping: we all do it. It's easy, convenient and often more affordable. It's also just as easy and convenient for fraudsters to steal your hard-earned money or information on the web. No matter what site you're using to shop, there is always a risk of your information being compromised or buying from an untrustworthy seller. Here are the main ways you can keep your money and information safe while shopping online:
Know who you're dealing with. Confirm the online seller's physical address and phone number before you buy.
Know what you're buying and what it will cost. Read the seller's description of the product, including the fine print! Factor in shipping and handling into the total cost of your purchase.
Check out the terms and conditions. Can you return the item for a refund if you're not satisfied? Who pays the shipping costs? Is there a restocking fee? Print and save records of your online transactions, including all emails to and from the seller.
Pay with a credit card or gift card, NOT debit. Credit cards offer the best consumer protections. When your debit card number is stolen, you must report unauthorized charges to the card issuer within sixty days after your account statement showing the errors is sent to you. Otherwise, you may have to pay. For stolen credit card numbers, you are not responsible for any unauthorized charges.
Shop on a secure server. Never shop on a public Wi-Fi network or unsecured server. Look for the lock and/or "https" at the beginning of a URL to ensure your visiting a secure site. It doesn't mean your information cannot be compromised, but it's less likely on these types of servers.
Use antivirus or antispyware software and a firewall. Make sure to update them regularly.
If you decide to use your credit card, make sure to pay off your purchases before any interest accrues. No matter how you pay for online, monitor banking statements closely. See charges you didn't make? Contact your financial institution immediately and follow-up in writing.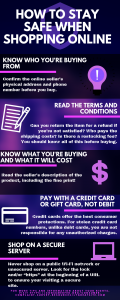 This blog is one of a series of articles contributed by state and local consumer agencies in connection with the annual survey about consumer complaints conducted by Consumer Federation of America. The survey report provides "real life" examples of complaints and tips for consumers. Have a consumer problem or question? Find your state or local consumer agency at https://www.usa.gov/state-consumer.