Imagine this:
You're on your way to your favorite store with a gift card you plan to use, but when you arrive, the doors are locked, the lights are off, and a big "CLOSED FOR BUSINESS" sign is in the window. Now what?
Gift cards are convenient and make for great gifts, but you can hit some snags when trying to use them. If a company closes unexpectedly, the card could become useless. If you ever find yourself with gift card for a business that has closed, here are some steps to try:
Contact the Business: Try contacting the city or town hall where the business was located or your secretary of state's office to get contact information for the business's owner so you can ask for a refund.
 Ask Your Credit or Debit Card Provider to Reverse the Charge: Every credit or debit card company has its own policy, but some may be able to reverse the charge if you (or your friend or relative) purchased the gift card with a credit or debit card. Contact your card provider as soon as possible to request that the charge be reversed.
Contact Your State or Local Consumer Protection Agency: If you can't reach anyone from the business to get a refund, contact a government agency that offers consumer protection services in your state. This will alert the agency to the problem (you are probably not alone) and  it may be able to get your money back. For example, recently in Massachusetts, the Attorney General's Consumer Advocacy & Response Division was able to negotiate a settlement with the owner of a closed high-end restaurant to refund over $11,000 worth of unused gift cards.
 File a Proof of Claim: If the business filed for bankruptcy, you can file a proof of claim with the U.S. Bankruptcy Court and be added to the list of creditors who are owed money. Keep in mind that filing a proof of claim does not guarantee you'll get a refund, however. Occasionally, businesses are bought during the bankruptcy process and there is a chance gift cards would become redeemable again.
If all else fails, you may want to consider taking legal action to recover your money. Research your state's statutes and regulations to become familiar with the protections available to you. Consider consulting with an attorney if you decide to go this route.
Your state may also have laws concerning how long gift cards must be honored and other related issues. Contact your state's law librarian or state or local consumer protection agency to find out more!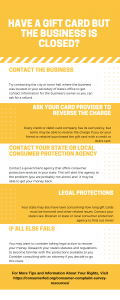 This blog is one of a series of articles contributed by state and local consumer agencies in connection with the annual survey about consumer complaints conducted by Consumer Federation of America. The survey report provides "real life" examples of complaints and tips for consumers. Have a consumer problem or question? Find your state or local consumer agency at https://www.usa.gov/state-consumer.