Online crowdfunding platforms help bring to life creative projects, get new ventures and businesses off the ground, and allow individuals and communities to come together to support charitable causes. They are an engaging avenue through which individuals can have an impact on the world around them, making it even more important for consumers to know how to spot a deceptive or mismanaged crowdfunding campaign.
Some fundraising campaigns fail to keep their promises, while others intentionally dupe their financial backers. More concerning for consumers, scammers may build authentic-looking crowdfunding websites that attract casual donors who don't have the time or talent to conduct diligent research on a project or fundraiser.
While there is no way to predict which campaigns will boom, which will bust, and which are just plain fake, consumers should know more about the four types of crowdfunding campaigns and their potential risks before committing their financial support.
Donation-based crowdfunding campaigns are the most popular for first-time fundraisers and donors.  They solicit supporters for a "donation," and usually set a specific dollar amount goal that the fundraiser will use to achieve a stated mission. Fraudulent donation-based campaigns are common, however, particularly "individual-cause" fundraising campaigns for services such as medical care and legal bills. It's important for consumers to independently verify the fundraiser's claims before giving.
Rewards-based campaigns differ from donation-based campaigns in that the money collected from backers is still considered a "donation," but the campaign can offer "rewards" for specific donation amounts. Too often, consumers think a campaign is offering an exclusive opportunity to buy a product before it's in stores, when in reality consumers are giving a non-refundable donation.
Equity-based campaigns are suited to entrepreneurs and traditional investor fundraisers because they resemble traditional investment products. A special carve-out in the federal JOBS Act of 2012 exempted equity-based crowdfunding from most Security and Exchange Commission regulation, which has made it easier for fundraisers with ready-to-go business projects to solicit non-traditional investments from the general public without the burdensome cost of conducting an Initial Public Offering. A major difference between this type of crowdfunding and others is that if the campaign is successful, a backer can earn dividends above their initial contribution.
Debt-based campaigns work similarly to equity-based campaigns, except that a backer "invests" in a piece of the project or company's current debt with the understanding that their contribution will be repaid in time, with interest.
Before signing up with an online crowdfunding platform, potential donors should read the website's terms of service before making their donation. This will help them understand what they are getting into and know what ability they have, if any, to get their money back.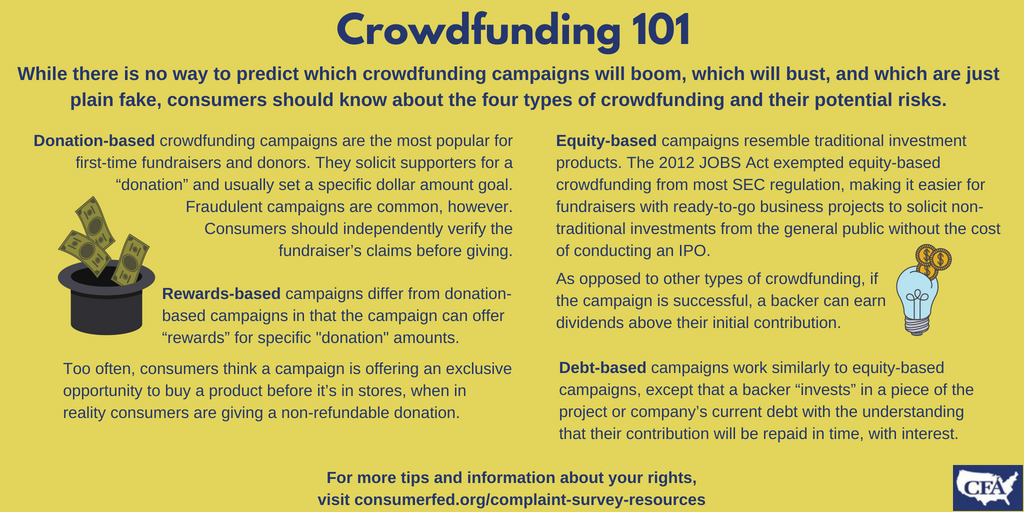 ---
This blog is one of a series of articles contributed by state and local consumer agencies in connection with the annual survey about consumer complaints conducted by Consumer Federation of America. The survey report provides "real life" examples of complaints and tips for consumers. Have a consumer problem or question? Find your state or local consumer agency at https://www.usa.gov/state-consumer.