SEC Votes to Adopt Anti-Investor Advice Standards
The Securities and Exchange Commission (SEC) voted 3-1 last week to adopt a package of rules and regulatory interpretations that will make it easier for broker-dealers and investment advisers to mislead investors into expecting "best interest" advice without requiring them to actually recommend the investments that are best for their customers or meaningfully reducing the incentives they have to do otherwise. CFA Director of Investor Protection Barbara Roper called the vote "a real low point for the SEC" in a press briefing following the vote.
"The agency whose mission it is to protect investors chose instead to adopt a set of rules that will make it easier for brokers to dupe investors into believing that their biased sales recommendations are best interest advice, that erode and degrade the fiduciary standard that has long applied to investment advisers, and that leave investors confused about where they can turn for advice they can trust," Roper added. "Investors will suffer very real, painful financial harm as a result of this vote. They would have been better off if the Commission had failed to act at all."
In the days leading up to the vote, CFA had outlined the regulatory proposal's fatal flaws in fact sheets, Hill communications, and press releases as well as direct communications to the Commission itself. The common theme of all these communications was that, without key improvements, the regulations would leave investors worse off than they were before, by misleading them into expecting protections the rules do not deliver and depriving them of protections they currently receive.
While the Commission tweaked the proposal in several areas prior to the vote, they did not take the essential step of defining the obligations of brokers or advisers as requiring them to recommend, from among the investments they have available, those that they reasonably believe represent the best option for the investor. Nor did the Commission take serious steps to rein in the toxic incentives that encourage and reward advice that is not in investors' best interest. And, instead of making clear that brokers' obligations to the customer would be based on the nature of the relationship, they formalized their policy of giving brokers virtually unlimited ability to market themselves as advice providers and to engage in advisory activities without holding them to the standards appropriate to that role.
Only Democratic Commissioner Robert Jackson voted against the regulatory package, which consists of a new standard of conduct for brokers, dubbed Regulation Best Interest, new guidance on investment advisers' obligations under the Investment Advisers Act as well as brokers' exclusion from the act, and a new Customer Relationship Summary to be provided to prospective customers by brokers and advisers alike.
"While others at the SEC are patting each other on the back for saving, protecting, and enriching the brokerage industry, Commissioner Jackson distinguished himself as the lone commissioner who was willing to stand up for and protect investors," CFA Financial Services Counsel Micah Hauptman said in a press statement following the vote. "We appreciate all of the work he put in to try to move this rule in a pro-investor direction and are confident that his perspective, which we share, will ultimately prevail, even if Americans have to wait a few years. The next Democratic Administration must revisit this issue to ensure that investors receive the protections they reasonably expect and need. Until then, this is a buyer beware market."
As a result of this regulatory failure, the onus is on investors to protect themselves, Roper warned. "Now, more than ever, investors will need to be on their guard against brokers and advisers who claim to act in their best interests when they really seek to profit unfairly at their expense. The good news is that there are many upstanding advisers who voluntarily embrace a higher standard than the Commission is willing to adopt and who are willing to commit to truly putting their clients' interests first. With that in mind, CFA will in the coming weeks be releasing a set of tips on how investors can protect themselves since the SEC refuses to protect them."
Consumers Support Fuel Economy Standards, Oppose Rollback
A significant majority (78%) of Americans support the nation's current fuel economy standards, according to a new poll released last month by CFA. Notably, the survey analyzed in the report, Consumer Attitudes Towards Fuel Economy Standards, finds that support for the standards is bipartisan, with 66% of Republicans, 92% of Democrats, and 76% of independents supporting the standards.
At a time when the administration is seeking to freeze and roll back fuel economy standards, 78% of the survey respondents instead favored increasing federal fuel economy standards to 40 MPG by 2025, and half reported opposition to the Trump Administration's rollback. Only 45% of respondents supported the reduced Trump target of 30 MPG or less, whereas 55% would like to get above 30 MPG.
"Given that the current standard is, in fact, achievable by the industry, was agreed to in 2012 by all of the car companies, meets consumer desires, helps companies sell cars, and saves consumers money that will be injected into the economy for goods and services other than oil-based gasoline, the Administration is making a huge mistake with its rollback," said CFA Executive Director and report co-author, Jack Gillis.
The trend of consumer support for higher fuel economy standards has remained steady at a high level since CFA began surveying attitudes towards fuel economy in 2007. Additionally, CFA analysis has shown that improving fuel economy helps automakers sell cars. When asked whether making more efficient cars would increase sales, 74% of respondents agreed. Moreover, the report shows that consumers clearly value fuel economy when purchasing their next vehicle. A significant majority of consumers surveyed (81%) said fuel economy would be important in their next vehicle purchase.
Survey respondents were asked two questions which resulted in conflicting sentiments among some respondents: Do you support federal standards requiring auto companies to increase the fuel economy of the vehicles they manufacture? and What is your view of this proposal to reduce the standards? Among those identifying as Democrats, 92% supported the standard and only 23% supported a rollback. However, among those identifying as Republican, 66% expressed support for the standard, but 71% supported the rollback. "One interpretation of these results is that Republicans do want a standard and more fuel efficient cars, but their kneejerk approach to government is fewer regulations," said Gillis.
CFA Director of Research and report co-author Mark Cooper said, "The bottom line on the issue of the apparent 'conflict' between support for the standards and support for rollback can be summarized as follows. About 85% of respondents make up a group that supports the standard and/or opposes the rollback, while only 15% fall into the group that opposes standards and supports the rollback. Moreover, over two-thirds (70%) of the latter group are Republicans or independents who lean Republican. Thus, consistent support for the Trump administration proposal is very narrow and highly partisan."
"Consumers across the board, regardless and of every political leaning, understand that fuel economy standards save them money, and therefore widely support fuel economy standards. One of the best indications that the President's efforts are ill-conceived is the fact that consumers in auto industry-dependent states want the standards. They know firsthand what happens when gas prices go up, which they inevitably will," added Cooper.
House Measure to Halt Hog Slaughter Inspection Deregulation Protects Workers and Consumers
The House Appropriations Committee passed an amendment by Rep. Rosa DeLauro (D-CT) and Rep. David Price (D-NC) earlier this month that would put on hold the U.S. Department of Agriculture's dangerous proposed rule to "modernize" hog slaughter inspection. USDA's proposed rule would turn over inspection responsibilities to company employees, strip away speed limits on hog slaughter lines, allow slaughterhouses to define their own microbiological criteria for food safety performance, and usher in comprehensive reforms to longstanding inspection practices without a reliable means of evaluating their efficiency.
Concerned that the proposed rule would endanger consumers, CFA joined with other consumer, labor, public health, and animal welfare organizations in applauding the House Appropriations Committee for passing the DeLauro-Price Amendment.
If the Amendment survives House and Senate votes, it will block funding to "finalize, issue, or implement" the proposed rule and require a full investigation by the USDA Office of the Inspector General (OIG) "on the data used in support of the development and design of the swine slaughter inspection program." The Amendment also mandates that the USDA's Food Safety and Inspection Service (FSIS) fully address and resolve the issues raised by the OIG before the funding hold can be lifted.
CFA has explained at length why the data, analysis, and process used by the USDA to develop the hog slaughter rule was faulty and incomplete. "This congressional action was sorely needed to address the procedural and substantive flaws in this rulemaking," said CFA Director of Food Policy Thomas Gremillion. "For the sake of consumer safety, Congress should sustain this important amendment."
"Pork currently causes over 10% of Salmonella illnesses each year in the United States…Yet the proposed rule failed to establish any reliable measures to compare slaughterhouses' food safety performance under the new and old inspection systems. In particular, rather than updating Salmonella performance standards for pork, the agency chose to simply eliminate them. The rule also relied on a flawed risk assessment that was not peer-reviewed until after FSIS proposed its rule, in violation of federal guidelines; and when the risk assessment finally underwent peer-review, three out of five reviewers indicated that the analysis was fatally flawed. Given the significant deficiencies in how the USDA rolled out this rule, we have strong reason to believe that the OIG will send the agency back to the drawing board, and that consumers will be safer as a result," added Gremillion.
Consumer Knowledge about Credit Scores Continues Steady Decline
Consumer knowledge about credit scores is at the lowest level in the past eight years, according to the ninth annual credit score survey released this week by CFA and VantageScore Solutions, LLC. On most knowledge questions, correct scores declined by more than ten percentage points, and sometimes by more than 20 percentage points.
For example:
78% of respondents in 2012, but only 62% in 2019, correctly indicated that people have more than one credit score.
85% in 2012, but only 66% in 2019, correctly answered that keeping a low credit card balance helps raise a low credit score or maintain a high one.
In that same period of time, the proportion of respondents who said they considered their knowledge of credit scores excellent or good rose from 54% to 60%.
"Consumers know less about credit scores but think they know more," said CFA Senior Fellow Stephen Brobeck. "Taking our online credit score quiz provides an easy way for consumers to update their credit score knowledge," he added. To date, over 230,000 individuals have taken the Credit Score Quiz developed and maintained by CFA and VantageScore.
While credit scores are overall rising, a large majority of consumers still have only fair or poor scores (below 670). Low credit scores can harm consumers in a number of ways, for example by:
Denying them access to needed credit.
Increasing the costs of consumer and mortgage credit they can obtain. Subprime auto loans will likely cost several thousand dollars more, and subprime mortgage loans can cost over ten thousand dollars more, compared to conventional loans.
Increasing deposits required by utilities and cell phone providers.
Low credit scores also are an indicator that people may have difficulty obtaining a job. While credit scores themselves are not used by employers, the credit reports the scores are based on are frequently utilized. "Those with low credit scores should be aware that they are at risk not only for paying higher costs for credit and utility services, but may also struggle to obtain a good job with which to afford those higher costs," noted Brobeck.
While the trend in consumer knowledge of credit scores is concerning, CFA and VantageScore recommend consumers raise or maintain their credit scores by:
Consistently making loan payments on time every month. A late payment may lower one's credit score by dozens of points.
Using a small portion of the credit available on a credit card. In general, the higher the percentage of credit line that is drawn down, the lower one's credit scores.
Paying down credit card debt rather than just shifting it to another credit card or to a home equity loan.
Regularly checking one's credit reports to make sure they are error-free. This can be done for free annually by visiting AnnualCreditReport.com or by calling 1-800-322-8228.
Correct Survey Answers Over Time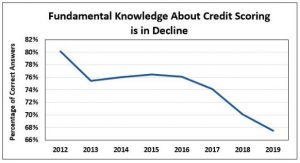 CFA's 49th Annual Awards Dinner
CFA will host its 49th annual CFA Awards Dinner June 20, honoring individuals who have made significant contributions to advancing the consumer interest and advocating on behalf of consumers nationwide. At the dinner, we will be joined by Senator Sherrod Brown, Representative Debbie Dingell, Representative Bonnie Watson Coleman, and Representative Jan Schakowsky who will be presenting the awards to this year's award recipients: Representative Frank Pallone; Jackie Gillan, President Emeritus of Advocates for Highway and Auto Safety; Beverly Brown Ruggia, Financial Justice Organizer for New Jersey Citizen Action; and investigative reporter for the Chicago Sun-Times, Stephanie Zimmermann. Tickets are still available for purchase with proceeds going to support CFA.