Insurers Penalize Low-Income Drivers Who Upgrade Policies
The nation's largest auto insurance companies usually charge more for auto insurance to shoppers who currently have a minimum limits liability policy than companies charge to those who have previously purchased higher limits insurance, according to new research published last month by CFA. CFA called on state insurance regulators to end this "unjust" and "actuarially unsound penalty on the poor."
According to the data, in five communities across the nation, insurance shoppers whose current auto policy covers up to $300,000 in bodily injury liability were offered that same $300,000 coverage for $1,849.57 per year. Drivers whose current insurance only provides their state's mandated minimum liability coverage were quoted an average annual premium of $2,103.33 when they shopped for the $300,000 policy. That equals a $253.76, or 14%, surcharge for drivers based on their prior level of coverage.
"Auto insurance is not just mandatory in most states, it is an important asset protection tool," said J. Robert Hunter, CFA Director of Insurance and report co-author. "As folks' financial situations improve and they opt to buy more coverage, they should expect equal access to the products and services available to others. Pricing auto insurance based on drivers' prior purchases is both actuarially unwarranted and an entirely unfair tax for being poor," he added.
CFA's research looked at online premium quotes for good drivers in six communities across the United States and from six of the largest auto insurers: Allstate, Farmers, Geico, Liberty Mutual, Progressive, and State Farm. Data from Los Angeles, however, were excluded from the averages, since California law prohibits insurance companies from tying customer premiums to their prior insurance purchases.
Among companies, Geico and Farmers imposed the most severe penalty – 22% – on drivers attempting to increase their coverage, but all carriers tested increased rates by double digit percentages (see figure).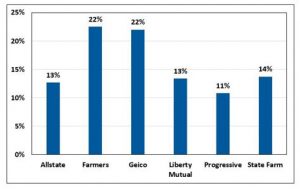 Higher rates were not the only punishment imposed on lower-income drivers. In one instance, Farmers insurance did not provide a quote for the shopper with basic limits even though it offered a quote to the shopper who had more robust coverage. In another instance, it shifted the lower limits customer to its non-standard market affiliate.
"Most agents and brokers will recommend that customers with any assets to protect buy more liability coverage than the mandatory minimum set by the state, and those who buy only the minimum coverage are more likely to be asset poor and lower-income," said CFA's insurance expert and report co-author, Douglas Heller. "But one's poverty, as indicated by prior coverage, should never be used as a basis for higher premiums or as a barrier to better coverage. In fact, no state allows use of income to rate risks, and this is an unfair surrogate for income," he added.
CFA noted that state insurance regulators have the authority to end the unfair practice and called on them to take immediate action. In a letter sent to all State Insurance Commissioners, CFA called on Commissioners to issue a bulletin apprising insurers that this practice is illegal and that any rate plan or practice that differentiates between customers based on prior coverage level must be replaced with a new plan that does not discriminate in this manner.
Americans Oppose USDA Proposal to Relax Pig Slaughter Safety Regulations
By an overwhelming 28-point margin, Americans opposed a U.S. Department of Agriculture (USDA) proposal to eliminate the speed limits on pig slaughter lines, according to a new poll conducted last month for CFA and other consumer groups.
Current law limits line speeds to 1,106 pigs per hour. The USDA proposal would eliminate line speed limits in pork processing plants, reduce by 40% the number of government inspectors in the plants, and allow companies to design their own microbiological standards for validating food safety programs.
Nearly two-thirds of survey respondents (64%) opposed the proposed elimination of line speed limits, while 36% expressed support. Notably, 70% of Midwesterners expressed opposition, despite the significant presence of the pig slaughter industry in that region of the country.
Survey respondents rejected two other major proposed changes to pig slaughter inspections—reducing the number of government inspectors in the plants and allowing companies to design their own food safety testing programs—by even larger margins. Almost three in four respondents (73%) opposed reducing the number of government inspectors on pig slaughter lines. Seven in ten (70%) rejected the idea of allowing companies to design their own microbiological testing programs to measure food safety, rather than requiring all companies to meet the same standard.
USDA claims the proposed changes would "provide public health protection at least equivalent to the existing inspection system," but the agency does not appear to have convinced the public. "As the poll results show, consumers of all ages, political affiliations, economic status, races, and gender are not fooled by this rhetoric," said Thomas Gremillion, CFA Director of Food Policy. "Faster line speeds and fewer inspectors would mean greater food safety risks. Yet USDA does not have measures in place like pathogen performance standards to control these risks, or even to measure the impact of these proposed changes."
The poll was conducted by Hart Research Associates on behalf of CFA, National Employment Law Project, the American Society for the Prevention of Cruelty to Animals, and Food & Water Watch. Based on the poll findings, the groups called on USDA to withdraw the proposal.
The Nation's Top Consumer Complaints
Auto-related problems continue to top the list of most common consumer complaints, according to CFA's most recent annual survey of state and local consumer groups, followed by complaints regarding home improvement and construction issues, and retail sales.
Released earlier this month, the survey of 35 agencies from 21 states across America asked about the most common complaints, the fastest-growing complaints, and the worst complaints they received in 2018. In addition, the report identified new kinds of consumer problems, agencies' greatest achievements, and new laws enacted in the agencies' jurisdictions last year to protect consumers.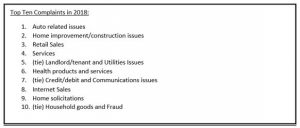 The annual report also includes real-world consumer stories to illustrate just some of the problems that individuals ask their state or local consumer agencies to help with. Additional stories from agencies' files appear in the "Biggest Achievements" section of the report. There are also numerous tips for consumers throughout the report about how to protect themselves and resolve problems.
"Dealing with the broad range of issues that are presented to state and local consumer agencies requires a combination of expertise and creativity," said Susan Grant, CFA Director of Consumer Protection and Privacy. For instance, a mediator for one agency researched tribal law to successfully get a consumer released from a costly loan that the lender claimed was not subject to government usury laws because of tribal immunity.
Another challenge is serving diverse populations, where language and disabilities can make consumers more vulnerable to abuse but also more difficult to assist. One example cited in the report is the consumer agency that had to use an interpreter to communicate with a complainant who was profoundly deaf and also had trouble reading and writing.
"State and local consumer agencies go the extra mile to try to help people resolve their problems, visiting the house to look at the incomplete renovation job, contacting the manufacturer when the retailer won't replace a faulty product, even working out of a closed business to return people's belongings to them," Grant said.
In connection with the report, CFA and several of the agencies that participated in the complaint survey have created blogs with practical advice for consumers. These blogs and accompanying infographics will be released twice a week through October 7. They can be found here.
Consumer Groups Urge CFPB to Maintain Ability to Repay Determinations for All Mortgage Loans
In response to the Consumer Financial Protection Bureau's (CFPB) announcement of an Advance Notice of Proposed Rulemaking regarding the Dodd-Frank Act "ability to repay" and "qualified mortgage" rules, advocates from CFA and the National Consumer Law Center issued a statement calling on CFPB to "ensure that the mortgage market is accessible to a diverse range of homeowners."
The rulemaking "risks increasing consumer harm," they warned. To avoid that outcome, they urged the CFPB to ensure that lenders remain required to determine that borrowers have a reasonable ability to repay their loans, which they called "a basic premise of responsible underwriting." "Only when lenders have made a reasonable determination of a borrower's ability to repay should they be shielded from liability," they stated.
Following the global market collapse in 2008, which was fueled by the worst foreclosure crisis our nation has ever experienced, Congress mandated that lenders make a reasonable determination that borrowers have an ability to repay the loan, reacting to widespread underwriting failures in the run-up to the Great Recession. Congress provided that the safest loans could receive a presumption of compliance with this ability to repay determination, provided that lenders complied with ability to repay rules issued by the Bureau.  These loans are known as "qualified mortgages."
"The Dodd-Frank Act ability to repay rule remains a bulwark against the market excesses that brought us the recent financial crisis, a calamity from which many communities, especially low-income neighborhoods and communities of color, still have not recovered," the groups stated. "Providing sustainable mortgage credit to these communities will require both adjustment of the CFPB's ability to repay rules and an examination of the broader market forces constraining credit."
They argued that, if adjustments are made to the standards for determining a borrower's ability to repay, the new standards "must continue to hold at the forefront the prevention of harm to consumers in the form of the extension of improvident, risky, unaffordable loans." Because the racial wealth gap widened as a result of the foreclosure crisis, they added, "any new rule also must ensure that it helps and does not harm homeownership in communities of color through adoption of limits or tests that further, rather than reduce, historic discriminatory practices."
CFA and NCLC urged CFPB to continue to require that all lenders make a determination of the borrower's ability to repay, as required by the statute, rather than substituting loan price alone for an assessment of ability to repay, as some have urged. They warned that loan price limits, combined with the statute's product limitations, may hold defaults low statistically, but "they will not prevent equity-stripping loans from being made to cash-poor but house-rich consumers, for instance.  Financial regulators have long condemned equity-stripping lending as an unfair and deceptive practice, which led directly to the loss of wealth in communities of color in the foreclosure crisis."
Instead, they urged CFPB to consider alternate means of expanding access to credit without promoting risky lending practices, including:
establishing a measure of affordability based on cash flow, which lenders could use in making qualified mortgages;
raising the debt-to-income ratio from its current 43% level in concert with additional compensating factors and underwriting measures;
carving out riskier loans, such as adjustable rate loans and high-cost mortgages, from the qualified mortgage liability safe harbor for lenders;
reducing regulatory burden by revising and simplifying the Bureau's existing rules for defining income and debt ("Appendix Q"); and
providing a rebuttable presumption rather than a safe harbor for all borrowers, an approach more consistent with the statute."
"The CFPB adopted the so-called 'GSE Patch' in order to emphasize the use of well-established and validated credit risk models that consider multiple consumer characteristics in assessing ability to repay.  Anything that replaces it should assure a similar outcome," stated Barry Zigas, CFA Director of Housing Policy.
Guest Blog: How Do You Know if It's Really "Green"?
By: Montgomery County Maryland Office of Consumer Protection
As consumer demand for environmentally sound products has grown, many companies in various industries have attempted to capitalize on this trend, including by engaging in a deceptive practice known as "greenwashing."
As outlined in a recent CFA blog, "greenwashing" is the practice of conveying a false impression that a company or its products are more environmentally sound than they really are. Companies "greenwash" products by packaging or marketing their products in a manner that makes them seem environmentally conscious or clean, when they're no different than their competitors.
The blog identifies several indicators of greenwashing that consumers should be on the lookout for:
Hidden trade-offs – Often, specific environmental issues will be emphasized at the expense of another (potentially more concerning) issue. For instance, a company may heavily emphasize the fact that their water bottles are biodegradable, while simultaneously excluding the fact that those water bottles were produced in a factory that uses rivers to dispose of toxic waste.
Lack of proof – Claims are not backed up by evidence or third-party certification. Even if a company does provide "proof," it is important to check its source. If the evidence comes from the company itself, it may be biased or unreliable.
Vagueness or Puffery – Claims may be lacking in specificity or phrased in a way that seems meaningless. Watch out for labels that contain words such "eco-friendly" and "sustainable," but that provide no explanation of what is meant by those words and how/why they relate to the product.
False Certification – Some companies may even go so far as to create false certifications or labels to mislead consumers. Fortunately, these can be verified through websites such as the Ecolabel Index.
Irrelevant claims or information – Environmental issues unrelated to the product are emphasized. Examples include stating a product is free of a substance that has been banned by law or would never be in the product in the first place.
Fibbing – The product makes claims that are blatantly false.
There are also a number of ways for consumers to verify if a company's claims are legitimate, including:
Examining the claim – Is the company certified by a legitimate third-party organization? Is their claim even logical or plausible? If it sounds too good to be true – it probably is.
Looking for proof – Is there empirical evidence (statistics, scientific studies, etc.) to back up their claims? Also, examine where the evidence comes from.
Checking for consistency – Is the company advertising itself as "eco-friendly" in other countries? Are they still doing what they claim months/years after their advertisements?
Following the money – What organizations does this company support? Who are they donating their money to?
Those who are seeking to be environmentally conscious should be aware of the widespread usage of greenwashing, and how to spot and avoid the scams. Consumers should also be aware of reputable standards setting bodies and the seals or labels to trust.
"It's great to have these pointers (or tips) especially as more and more people are wanting to do the right thing for the planet," stated Mel Hall-Crawford, CFA Director of Energy Programs and Special Projects.