After a good night's sleep, you wake up and take a quick shower as you snatch your car keys off the table. You're on the way to grab a large coffee at Starbucks before heading off to an early morning meeting at work. Much to your surprise and shock your car is not parked outside your apartment! In a frantic panic, you call the police only to be told that your car has been towed, not stolen. How? Why?
This is a common scenario that plays out each day. It could happen at your residence, at a friend's place, or at a lot where you've parked to do some shopping. While private parking lot rules and local towing ordinances vary from city to city, and state to state, there are some simple steps that you can take to lessen the chances that your car will be towed.
BE AWARE OF YOUR SURROUNDINGS – Signs advising of a "TOW AWAY ZONE" are generally required to be posted. However, the signs may only be required at the entrance or exit to the lot. Take a moment and look around. Are there signs posted? Are you parking in an area that you are permitted to be? Is it a visitor's space and is a "pass" required? Review your lease or condominium documents for parking rules.  Ask the leasing office, your landlord, a nearby business or a neighbor if you are unsure. If your car is missing, call the police and ask them to check the "tow log." Tow companies are generally required to contact the local police after they have towed a car.
HOW MUCH IS THE TOW? – If your car is towed, how much is it going to cost to retrieve it? The posted "TOW AWAY ZONE" signs should   provide the name and phone number of the tow company.  Call to confirm that your car is in the tow yard and ask what the bill will be, including any storage charges, and what forms of payment are accepted.  To make sure that you're being charged the right amount, contact the local municipality to ask if tow rates are regulated and how they apply in your case.
PICK UP YOUR CAR PROMPTLY – It's generally best to get your car as soon as you can since storage rates can add up quickly.  Once at the tow yard you will most likely be required to show some evidence of ownership. You may not be allowed access to your vehicle before you've paid, and the tow company won't necessarily be able to locate your registration among the receipts and ketchup packs stuffed in the glove compartment, so it's a good idea to keep an extra copy of your registration in your wallet. If you believe that your car was towed incorrectly, or that you were overcharged, or that your car was damaged, don't cause a scene at the tow yard. Just pay and take your car away, then contact your local or state consumer protection agency for advice about what to do.
KEEP DOCUMENTATION – Be sure to get an itemized receipt for the towing charges and note the names of the people that you dealt with. If your car was damaged, take pictures. It might also be helpful to take pictures of the spot where your car was parked and any signs that were posted in the area if you think that the tow was unjustified. This documentation will come in handy if you have to file a complaint.
When a tow company has your car and seemingly control of the situation, it can be frustrating. But remember, as a consumer you have rights. They can differ by jurisdiction so check them out. It's an adage that information is power. Investigating and knowing the rules can give you some of that power.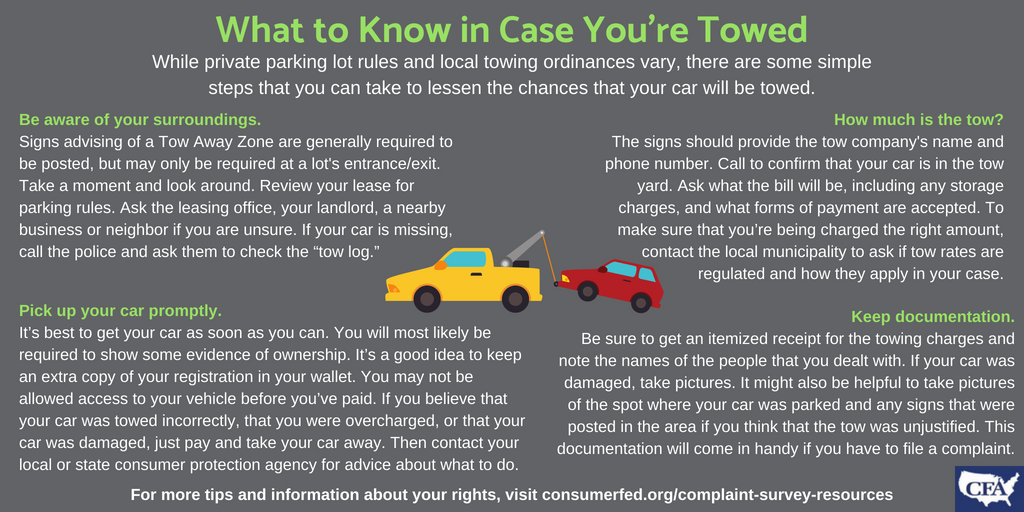 This blog is one of a series of articles contributed by state and local consumer agencies in connection with the annual survey about consumer complaints conducted by Consumer Federation of America. The survey report provides "real life" examples of complaints and tips for consumers. Have a consumer problem or question? Find your state or local consumer agency at https://www.usa.gov/state-consumer.