Many consumers like the idea of owning a timeshare because it provides an opportunity to enjoy a prepaid vacation at a favorite location each year and/or trade with another owner at a different location. But because so many are for sale at any given time, timeshares should be viewed as a way to enjoy a destination rather than as a money-making investment.
Research your options carefully before buying a timeshare.  Don't make a decision on the spot. If you are pressured to do so, say "no thanks" and walk away. Here are some things to consider:
There may be multiple plans with different types of ownership rights that can affect your ability to use the unit when you want. Which plan is best for you?
What are the track records of the seller, developer and management company? Look for complaints at the Better Business Bureau and online review sites.
What does the agreement require the buyer to do? Can you participate in an exchange program? Are there any fees involved? Are all the promises made to you in the contract?
Can you change your mind and cancel? What happens to the money you have already paid?
What are the maintenance fees? How are the fees increased?
Are there property taxes? Be aware that tax laws can change anytime, which may affect any tax benefits of timeshares.
Ask your state or local consumer agency about your rights. For instance, is there a requirement that seller must tell you certain things?  Is there an automatic cancellation right? Does your deposit have to be placed in escrow until the sale is final? If the timeshare is located in another state and that is where you will sign the contract, check with the consumer agency there about what laws, if any, apply.
Another consideration is how easily you can resell your timeshare if you can no longer travel or afford to continue your payments at some point in the future. Before you commit to buying a timeshare, ask if there are any restrictions or fees that could affect your ability to resell it. Check with the developer, the management company, or the homeowners' association to see if there is an in-house resale or transfer program or if they work with a licensed real estate broker who handles resales. You may also want to ask an independent realtor in the area where the timeshare is located if there is a market for resales.  Beware of claims that it will be easy to resell your timeshare whenever you want to; no one can legitimately guaranty that. The same goes for promises that you'll have no trouble switching to use timeshares in other locations. Be sure to get all the terms and conditions of timeshare purchase in writing.
Finally, if you decide to sell your timeshare, never pay a fee upfront and only deal with someone who is licensed as a real estate broker or agent in the state where the timeshare is located. Look for any complaints that there may be about the reseller at the Better Business Bureau and other sources.
For more information about how timeshares and timeshare resales work, go to https://www.consumer.ftc.gov/articles/0073-timeshares-and-vacation-plans#timeshare. If you have a problem with a timeshare company or reseller, your state or local consumer agency, or an agency where the timeshare is located, may be able to help.
Buying a timeshare is a big expense. It's worth it to do your homework first to decide if it's right for you.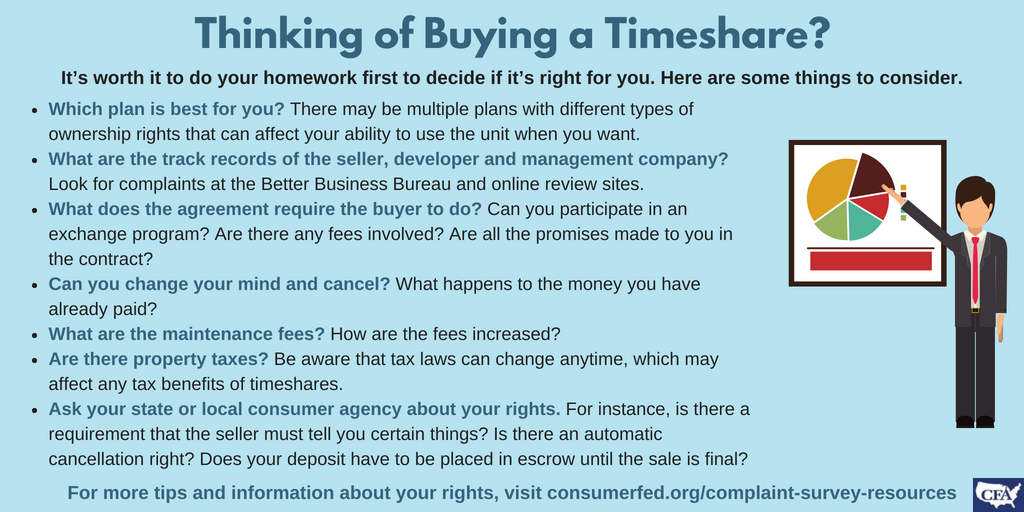 This blog is one of a series of articles contributed by state and local consumer agencies in connection with the annual survey about consumer complaints conducted by Consumer Federation of America. The survey report provides "real life" examples of complaints and tips for consumers. Have a consumer problem or question? Find your state or local consumer agency at https://www.usa.gov/state-consumer.