Tell Congress you support the current, sensible fuel economy standards and the 56 year old Clean Air Act.
---
What's at Stake?
If all Automakers joined the state agreement there will be $800 billion in economic benefits.

Four leading automakers (Ford, Honda, Volkswagen and BMW) have already signed with California to continue making fuel efficient, money savings vehicles.

Despite their pledge to support a middle ground on emissions and fuel economy standards, 15 automakers1 are choosing to ignore consumer demand for fuel-efficiency and clean air.

States representing 55% of the automotive market have sued to defend state authority granted by the Clean Air Act. This is Federalism at its best—when the Federal government fails to meet the needs of the people, the states step in.
---
To read the press release click here.
To read the full letter click here.
---
Social Media Toolkit
Tweets
4 Automakers @Ford, @Honda, @BMW and @VW have already made the decision to save consumers money and protect the air we breathe. The other Automakers should take note and join the state agreement to save consumers even more. https://bit.ly/357gnRs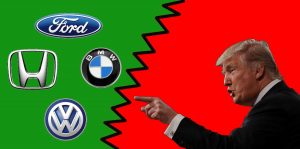 GM, Fiat Chrysler & Toyota have are going against the wishes of their customers and American consumers. These automakers had a choice, and they chose wrong. https://bit.ly/357gnRs
GM, FCA, & Toyota could have sided with their customers & the 4 other automakers (Ford, Honda, Volkswagen & BMW) that already voluntarily agreed to a set of reasonable standards which lead to fuel savings, but instead, they're following Trump down a dead end road. https://bit.ly/357gnRs
Joining the voluntary state agreement will create a critical safety net for automakers, ensuring that they deliver the cost saving, clean & technologically sophisticated vehicles that consumers want, thereby keeping their companies in the 'black'. https://bit.ly/357gnRs
President Trump, the EPA & DOT are working to weaken fuel economy standards which will cost consumers $4,500 per household at the pump. Tell your members of Congress that you support fuel economy standards and the Clean Air Act. https://www.votervoice.net/ConsumerAction/campaigns/69475/respond
Tell your members of Congress today that you support the money saving #FuelEconomy standards that Trump is recklessly rolling back: https://www.votervoice.net/ConsumerAction/campaigns/69475/respond
Send a message to Congress: Protect our Fuel Economy and Clean Cars Standards! https://www.votervoice.net/ConsumerAction/campaigns/69475/respond 
Help get the word out to Congress: Protect Our Fuel Economy and Clean Car Standards—they're good for consumers, our economy and the environment. https://www.votervoice.net/ConsumerAction/campaigns/69475/respond
Gifs



---
1 Aston-Martin, Ferrari, Fiat Chrysler, General Motors, Hyundai, Isuzu, Kia, Maserati, McLaren, Mazda, Misubishi, Nissan, Subaru, Suzuki, and Toyota