Washington, D.C. – The ninth annual America Saves Week survey has found that only two-fifths (40%) of U.S. households report good or excellent progress in "meeting their savings needs."   This widespread lack of savings progress is consistent with responses to other survey questions:
Saving at least 5 percent of one's income (49%)
Saving enough for retirement with a "desirable standard of living" (52%)
Automatic saving outside of work (43%)
No consumer debt (38%)
Responses to other questions, however, suggest that around two-thirds of Americans are making at least modest savings progress:  70 percent reported at least some progress in meeting savings needs.  66 percent reported saving at least some of their income.  And 63 percent reported "sufficient emergency savings to pay for unexpected expenses like car repairs or a doctor visit."
The survey findings were released on the first day of the tenth annual America Saves Week.  More than 1,800 nonprofit, government, and business organizations at the national, state, and local levels have joined to promote personal savings.  America Saves, managed by the Consumer Federation of America (CFA) and the American Savings Education Council (ASEC) coordinate the Week, including the savings survey, which again was undertaken by ORC International.  This research firm interviewed a representative sample of 1,004 adult Americans on January 28-31 by landline and cell phone.  The margin of error is plus or minus three percentage points (full sample).
More Men Than Women Report Saving Progress
On twelve separate questions on various financial well-being indicators (see appended Table 2), men's responses were more positive than women's responses, with differences ranging from five to thirteen percentage points.  For example, 74 percent of men, but only 67 percent of women, reported that they were making saving progress, and 44 percent of men, but only 36 percent of women, reported good or excellent saving progress.
Similarly, 72% of men, yet only 60 percent of women, reported that they are spending less than income and saving the difference.  This gender gap persisted for those saving at least five percent of income – 54 percent of men and only 45 percent of women.
"The most important reason for the gender gap in savings is differences in income and wealth," noted Stephen Brobeck, executive director of CFA and a founder of America Saves.  "The fact that men have larger incomes and financial assets than women makes it easier for them to save," he added.
Many Americans Acknowledge Retirement Savings Shortfall
When the survey asked whether respondents were "saving enough for a retirement in which you will have a desirable standard of living," only about half of non-retired persons (52%) said "yes."  That figure was down three percentage points from last year (55%) and down six percentage points from 2008 (58%).  Moreover, as for the other saver characteristics, there was a significant gender gap — 57 percent for non-retired men, and 47 percent for non-retired women.
For those non-retired persons who said they were not saving enough for retirement, about one-quarter (27%) said the main factor was high day-to-day expenses, and another quarter (25%) said the main factor was debt and related expenses, with about half this group (12%) citing education expenses and debt.  Yet, for those under 45 years of age who were not unemployed, 22 percent said education expenses and debt.  For those over 45 years of age who were not unemployed, the most cited expense (16%) after day-to-day expenses was mortgage or housing expenses.
For the first time, the annual America Saves Week survey asked for respondents' views about participating in retirement programs.  When asked the highest percentage of their salary that they would contribute to a plan offered by their employers with auto-escalation, more than four-fifths (82%) indicated that they would contribute more than three percent, with 40 percent indicating ten percent or higher.  And when asked what they would do if their employer did not offer a retirement plan and they were automatically enrolled in an IRA administered by their state government with a default annual contribution of three percent, roughly equal percentages said they would contribute less than three percent (32%), three percent (31%), and more than three percent (28%).
Those With a Plan Save More Successfully
As the table below shows, those with a "savings plan with specific goals" save more successfully than those without a plan.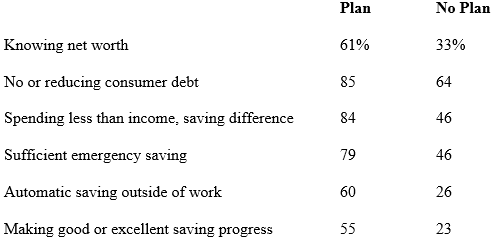 Income appears to be correlated with some but not all of these differences. More specifically, the financial well-being indicator gaps between those who plan and do not plan are always larger than those gaps between households with annual incomes of $25,000-$50,000, and those households with incomes above $100,000.
More Than 1,800 Organizations Join Tenth Annual America and Military Saves Week to Encourage Individuals to Save Money and Build Wealth
During America and Military Save Week, February 22 – 27, organizations from across the nation and military installations around the world promote the importance of saving.  Organizations are embracing this year's theme, "make saving automatic," by encouraging the use of direct deposit with a portion going towards savings, automatic transfers from checking to savings accounts, and automatic contributions to retirement accounts.  For more on how individuals can participate, visit http://www.americasaves.org/for-savers/participate-in-asw.
"The research clearly demonstrates that those with a plan are nearly two times as likely to spend less than they earn and save the difference," said Nancy Register, director of America Saves.  "America Saves Week is the perfect opportunity for everyone to set a savings goal, make a savings plan, and save automatically."
"It's a common theme to see expenses and debt get in the way of retirement savings," said Kathy Stokes, director of the American Savings Education Council.  "But even saving just a small amount can add up over time.  America Saves Week is a great time to encourage people to start saving for retirement, even if the amount seems small."
This year America Saves and Military Saves are incentivizing savings through two promotions.
#imsavingfor Contest
Individuals can submit a photo of themselves and their savings goal on the social media platform of their choice using the #imsavingfor hashtag.  They can then enter to win $500 by completing the form at AmericaSavesWeek.org/imsavingfor.
Text Message Goal-Based Tips and Reminders for Military Service Members
Military service members and their families can now choose to sign up for goal-based text messages to help them save after they take the Military Saves Pledge at https://militarysaves.org/for-savers/savings-tools-and-resources/take-the-pledge.  Among those signing up for texts, one $500 winner will be randomly selected monthly in March, April, and May.
Learn more at americasavesweek.org
Download an infographic of the survey: http://americasavesweek.org/wp-content/uploads/2016/02/ASW2016_INFOGRAPHIC.jpg
Contact: Jack Gillis, CFA, 202-737-0766; Kathy Stokes, ASEC, 202-368-5568
---
America Saves, a campaign managed by the nonprofit Consumer Federation of America, uses the principles of behavioral economics and social marketing to motivate, encourage, and support low- to moderate-income households to save money, reduce debt, and build wealth. America Saves encourages individuals and families to take the America Saves pledge and organizations to promote savings year-round and during America Saves Week. Learn more at americasaves.org and americasavesweek.org.
 American Savings Education Council (ASEC), a program of the Employee Benefit Research Institute Education and Research Fund (EBRI-ERF), is a nonprofit national coalition of public- and private-sector organizations committed to making retirement planning and saving a priority for all Americans.. www.choosetosave.org/asec/