Washington, D.C. – The tenth annual credit score survey, released today by the Consumer Federation of America (CFA) and VantageScore Solutions, LLC, shows that low-income households are most likely to apply for credit in the next 12 months.  Yet, the survey also reveals that these households generally know much less about credit scores than households with higher incomes.
The phone survey of 1,001 representative Americans showed that 20 percent of households with incomes below $25,000, but only 13 percent of those with incomes of at least $75,000, intended to apply for credit in the next 12 months.  At the same time, as the table below shows, these low-income consumers are far less likely than the high-income consumers to answer consumer knowledge questions correctly.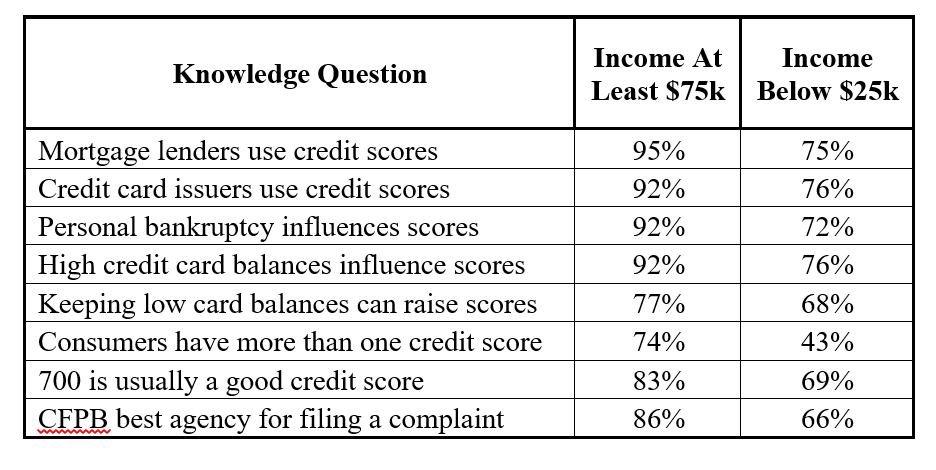 "At least one-quarter of low-income consumers lack the knowledge to help them raise low credit scores," said Stephen Brobeck, a CFA Senior Fellow.  "This lack of awareness could limit their access to credit or subject them to higher costs.  Low income households can least afford to pay higher interest rates and fees associated with low credit scores," he added.
Low-income consumers are more likely than high-income consumers to consider their knowledge of credit scores to be fair or poor – 58 percent vs. 37 percent.  Probably one reason for this perceived lack of knowledge, as well as less actual knowledge, is that low-income consumers are much less likely to have obtained or received any of their credit scores in the past 12 months – 32 percent vs. 59 percent for high-income consumers.
CFA and VantageScore developed and co-sponsor an interactive website, CreditScoreQuiz.org, that consumers can use to test their knowledge of credit scores. The website includes a 12-question quiz, available in both English and Spanish (http://www.cuestionarioparaelpuntajedecredito.org/).
"Taking our online credit score quiz provides an easy way for consumers to improve their credit score knowledge," said Barrett Burns, President and CEO of VantageScore Solutions.  Some 250,000 individuals have taken this quiz.
CFA and VantageScore will prioritize low-income households in the dissemination of the quiz this year.  This effort will include working with organizations and networks that serve and have access to millions of low-income consumers.
While survey results indicated that low-income consumers had the least amount of  knowledge about credit scores, a large number of all consumers still lack important basic knowledge:
Only 22 percent know that on a $20,000, 60-month auto loan, a borrower with a low credit score would likely pay more than $5,000 in interest than a borrower with a high score. Low scores may qualify borrowers for subprime auto loans only, with annual interest rates frequently exceeding 20 percent.
Only 33 percent know that a credit score typically measures the risk of not repaying a loan. 14 percent think that it measures knowledge or attitude toward consumer credit.
Only 50 percent know that an electric company can use credit scores to determine the amount of deposit.
Nearly half (48 percent) think that a person's age is a factor used to calculate a credit score. However, only one's use of credit actually influences their scores.
Over two-fifths (42 percent) think that credit repair companies are always or usually helpful in correcting any credit report errors or taking other measures to improve one's credit score. Experts agree, however, these companies tend to charge relatively high fees to do what consumers could do on their own for free.
In brief, consumers can raise their credit scores or maintain high scores by:
Consistently making loan payments on time every month. A late payment may lower one's credit scores by dozens of points.
Using a small portion of the credit available on a credit card. In general, the higher the percentage of credit line that is drawn down, the lower one's credit score.
Paying down credit card debt rather than just shifting it to another credit card or to a home equity loan.
Regularly checking one's credit reports to make sure they are error-free. This can now be done for free monthly by going to annualcreditreport.com or by calling 800-322-8228.
The survey was undertaken by SSRS via phone (70% cell, 30% landline) of 1,001 representative Americans from June 16-21, 2020.  The survey's margin of error is plus or minus 3.5 percentage points.
Contact: Jack Gillis, 202-939-1018
The Consumer Federation of America is an association of more than 250 non-profit consumer groups that, since 1968, has sought to advance the consumer interest through research, education, and advocacy.
 VantageScore Solutions, initially developed by America's three national credit reporting companies (CRCs) – Equifax, Experian, and TransUnion – is the independently managed company behind the VantageScore credit scoring model.