Christian needed a car to get to work so he could provide for his new wife and baby. But the used car that one of the largest dealerships in New York City sold him started to make loud banging noises as soon as he brought it home. After multiple trips back to the dealership, they gave him a different car. But that car had bad brakes and it was eventually totaled in an accident, leaving Christian out of money and a car.
Benjamin went to a dealership that advertised in Spanish that it could help people with bad credit to get a car. His income was limited to social security but, without telling him, the dealership put his wife's income on the documents that he was then rushed to sign. Not only was he rushed, but, despite all negotiations being in Spanish, the forms were only in English. So he ended up unknowingly committing to loan that was more than double the value of the car—a $29,000 loan for a $13,999 car—and more than he could actually afford, and that he could only bring the car back if there were electrical issues. After three months, the starter broke and he couldn't drive it but he was left with high monthly payments for the loan.
Sadly, stories like those of Christian and Benjamin are not uncommon. Most Americans rely heavily on their cars. An Urban Institute study on the impact of access to a car has on lower-income housing voucher recipients found that "in almost all metropolitan areas, individuals without reliable access to a car can reach far fewer opportunities." The same report, which was based on research conducted in 10 metropolitan areas – five transit-rich ones and five with fewer public transit options, also found that across all of the metropolitan areas "automobile ownership is associated with higher employment status and higher weekly hours worked." Access to a car was also found to be particularly important for low-income women and female-headed households, for whom having car access often meant a higher likelihood of leaving welfare and an increase in income.
Buying a car is also often one of the largest investments a family makes. For many on a tight budget, they can only afford a used car and that is usually with a loan. As a result, the Federal Reserve Bank has found that auto loan balances increased by $8 billion in the first quarter of 2018, continuing a 6-year upward trend. Even worse is that this debt also often comes with deceptive dealership practices that include hiking up the price of a car, selling the consumer a defective car, and misleading and confusing consumers about their financing options.
Beginning last year, the NYC Department of Consumer Affairs (DCA) made it an agency priority to tackle predatory practices at used car dealerships, which the agency licenses in NYC. We used a multi-pronged approach to this work—enforcement, education, and advocacy.
Enforcement
On the enforcement front, we inspected every used car dealership in the city to check for compliance with existing city regulations and issued at least one violation to each of the nearly 800 dealerships in NYC. We also charged a number of dealerships with deceptive financing and sales practices, including the one that Christian and Benjamin visited. In one of the other cases where DCA charged a group of used car dealerships and their owners with misleading consumers about the price of cars, concealing and misrepresenting the terms of sale and financing, and failing to inspect the automobiles, DCA also sought, for the first time, restitution from the financing companies. Using this approach, DCA was able to secure more than $400,000 in restitution for 50 consumers from the three financing companies that the dealerships used to finance subprime auto loans as high as 24.9 percent.
Education
Last summer, DCA launched a public awareness campaign to educate current and prospective used car owners about predatory lending in the used car industry. These multilingual campaign ads were featured on targeted bus shelters, telephone kiosks, WiFi kiosks, as well as in community and ethnic newspapers, on radio, online, and in local businesses. DCA also participated in more than 100 outreach events and predatory lending workshops with thousands of attendees to educate consumers on DCA initiatives and the protections available to them.
Advocacy
DCA also held public hearing on predatory lending in the used car industry in partnership with local Council Member Rafael L. Espinal to hear from consumers who have been harmed and national experts on predatory lending. As a result, DCA worked with City Council to advocate for stronger laws in the industry. These new laws, which are now fully in effect, require used car dealerships in NYC to disclose if an automobile is subject to a recall by the manufacturer and to provide consumers with a Consumer Bill of Rights, a financing disclosure form, where applicable, and a cancellation option—all of which must be in the language used to negotiate the contract. These new requirements ensure that all consumers are aware of their financing options and understand the terms of their sales contract.
We are proud of the steps we have made here to protect New Yorkers when they buy a used car and hope, even though some regulations might be NYC-specific, consumers can use our materials to become more informed before they buy a car. And—especially as the federal government rolls back consumer protections like the guidance that prevented auto lenders from discriminating against consumers—we hope other consumer protection agencies like those involved in the Consumer Federation of America and the North American Consumer Protection Investigators' annual survey are able to step in and implement changes that can protect their residents. Here are some general tips to help car buyers protect themselves:
Before You Go Shopping
Look at your budget and decide how much you can afford up-front and over time. Don't forget about insurance, parking, gas, tolls, and repairs.
Check your credit report at annualcreditreport.com and correct any errors.
Get preapproved for a loan. Knowing the rates will help you comparison shop across financial institutions. Using your own bank or credit union gives added protection if something goes wrong.
Research the car's value. Check the National Automobile Dealers Association's (NADA) Guides, Edmunds and Kelley Blue Book to find out the average price of the car you plan to buy and trade in.
Check the dealership's complaint history. You may be able to find information from the Better Business Bureau and online review sites. You can also ask your state or local consumer agency if the dealer must be licensed and how to confirm that it has met whatever requirements apply.
Know about warranties. In addition to any dealer's and/or manufacturer's warranty that may be offered with the vehicle, your state may have a used car "lemon law" and other laws that apply. Ask your state or local consumer agency about your rights before you hit the car lots.
At the Dealership
Beware of "bait and switch" advertising. Ads that promise savings, rates that are too good to be true, or cars that aren't actually available when you get there are illegal. If you feel pressured, walk away.
Examine the car carefully. Get a vehicle history report at vehiclehistory.gov, take a test drive, and have an independent mechanic check the car. If the dealer won't let you, walk away. Be sure to check the condition of the engine, tire wear and any sign of an accident. Compare the odometer reading to the bill of sale and check the Federal Trade Commission's (FTC) Buyer's Guide and NYC Department of Motor Vehicles (DMV) inspection sticker posted on the car.
Say no to "add-ons" and options. Paint and fabric protection, rust-proofing, extra security systems, extended warranties, etc. are cheaper when bought separately. Ask for your monthly payments with and without the extra options. Before you sign a contract or pay any money, make sure no extra fees have been added and don't buy anything you don't want.
Don't negotiate based on a monthly payment. Negotiate the best price for the car at the lowest interest rate and for the fewest number of payments. Don't believe dealers who say you must finance through them.
Review the contract carefully.

Never sign a blank, partially blank, or unclear contract. Cross out any empty spaces so they can't be filled in after you sign.
Never sign a contract if you don't understand the terms or if the terms are different than what you agreed to.
Don't give a dealer any money before you sign the contract, not even a "deposit."
Get the mileage in writing.
Never buy a car "as is."
If you negotiated the car sale in a language other than English, make sure you get a contract that is in the language that was used.
Ask whether the interest rate includes a dealer markup. If so, ask for the interest rate offered by the lender. Although it may be legal for the dealer to mark up the interest rate, you may be able to negotiate the amount.
Get copies of all paperwork. Don't leave without copies of everything that you signed always keep them. Also keep receipts for any repairs.
If you have a problem and can't resolve it directly with the dealer, don't give up. Your state or local consumer agency may be able to provide advice and assistance.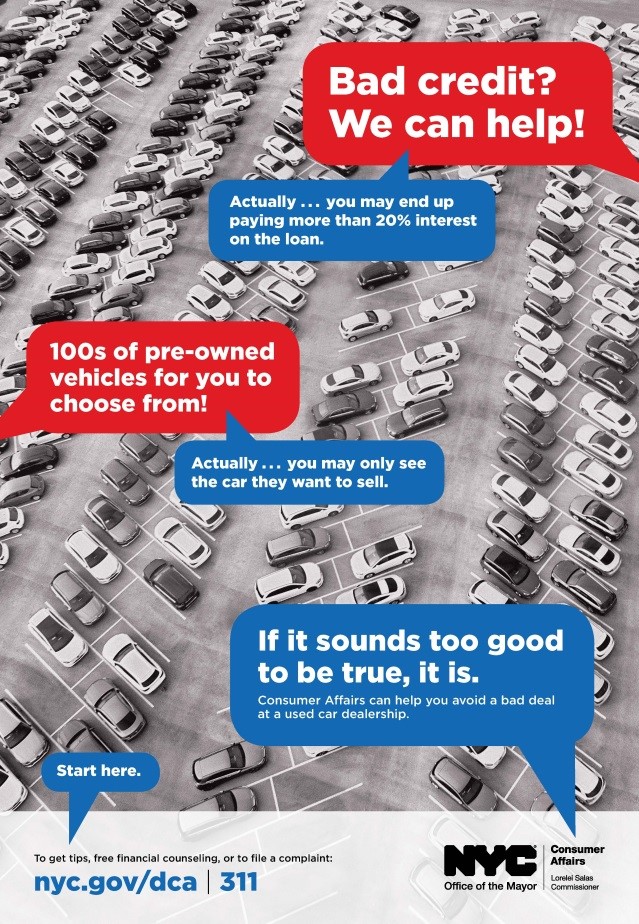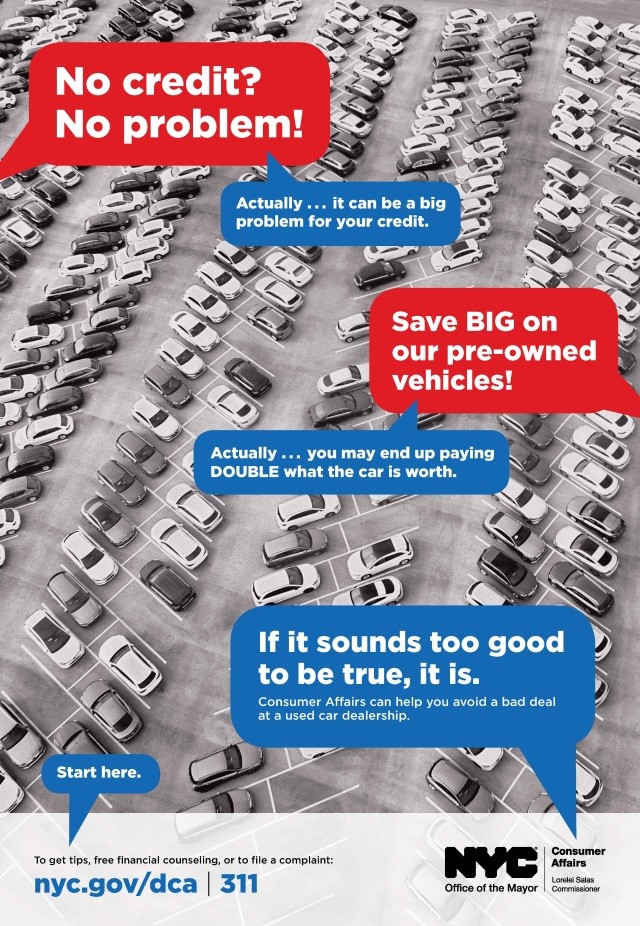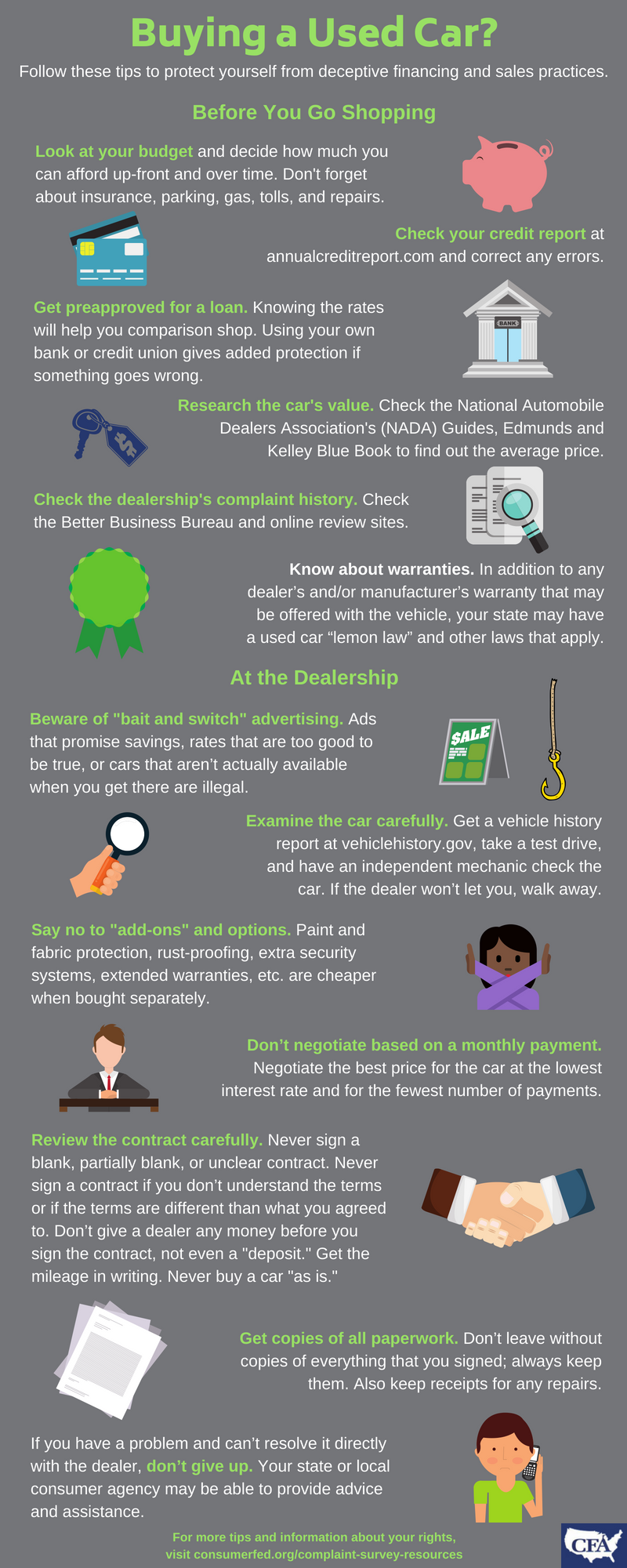 ---
This blog is one of a series of articles contributed by state and local consumer agencies in connection with the annual survey about consumer complaints conducted by Consumer Federation of America. The survey report provides "real life" examples of complaints and tips for consumers. Have a consumer problem or question? Find your state or local consumer agency at https://www.usa.gov/state-consumer.