Leasing a car simply means that you have the right to use it for an agreed number of months and miles.
Leasing is not buying!
One of the attractions of leasing a car is that the amounts of your down payment and monthly payments are typically lower than if you borrow to purchase a similar vehicle. Keep in mind that with a lease you pay to drive the car, NOT buy it. In other words, at the end of your lease, you must return the car unless the written lease says otherwise.
Things that you should consider before taking the plunge:
What are the costs upfront? During the rental term? At the end? What's the total cost?
How long do you anticipate using the vehicle?
How many miles do you typically drive in a year, and how does that fit with the mileage limits in the lease agreement?
Can you take the leased car out of the state/country?
Who will pay for repairs during the lease period, and if you are responsible for costs such as "excess wear and tear," what does that mean?
If you have to withdraw from the lease for any reason, what is the penalty for early termination?
Can you get a better lease deal from someone else?
Would you be better off just buying a car?
Different rules for servicemembers!
Special rules apply if you are a servicemember leasing a car:  You can end the lease with no early termination charges if:
You leased beforeyou entered military service and serve on active duty for at least 180 days, or
You leased while on active duty and during that time you receive orders for a permanent change of duty station outside the continental United States or got deployment orders for a minimum of 180 days.
You've done your homework, found the right vehicle, now what?
Once you are confident that you have done your homework and considered all the terms of the contract, do not leave the dealership without a copy of the lease agreement.  Make sure that nothing has been left blank and all documents are signed. NEVER agree to get the papers later because documents may be "lost" or changed.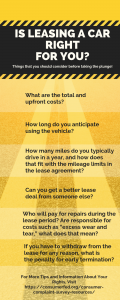 This blog is one of a series of articles contributed by state and local consumer agencies in connection with the annual survey about consumer complaints conducted by Consumer Federation of America. The survey report provides "real life" examples of complaints and tips for consumers. Have a consumer problem or question? Find your state or local consumer agency at https://www.usa.gov/state-consumer.