Your home is your biggest investment. Therefore, it is critical to take all necessary precautions when you are buying a home to ensure you are making the right financial decision. One is hiring a home inspector.
A home inspection can give you information that is useful in negotiating repairs into the purchase contract, obtaining a credit for repairs, or providing an escape out of that contract. However, the reliability and depth of the information you receive will vary depending on the home inspector you hire. While a good inspector can provide you with valuable information, a bad one can leave you in the dark about potential defects. Luckily, Checkbook Magazine and Consumer Reports have lots of useful information on how to pick your home inspector. Here are some basic tips:
Read the contract in advance to determine what your inspector does (or doesn't do) during an inspection. For instance, a contract can reveal if your inspector will climb to the roof or check every outlet. Furthermore, a contract can help you identify who will be performing your inspection. However, it is important to note that specialists may be needed to check chimneys, radon, alarms, and other more complex spaces and systems. Be aware that inspectors can analyze only what's accessible; latent defects, like bad wiring or mold behind drywall, can't be discovered without making destructive holes.
• Consider the length of the inspection, as it determines the thoroughness of the project. However, keep in mind that a condo will take less time than single family home. The same goes for the report; find out when you can expect to receive it, and the types of details and photographs it will contain.
• Ask about equipment that will be used. Specific tasks require inspectors to use specific tools. For example, an infrared camera is required to check for air leaks. If you have any specific concerns about the home, let the inspector know. The inspector should bring all of the tools to the job that are needed to thoroughly check the home.
• Check ratings and reviews by former clients. You can use sources such as Checkbook Magazine, Better Business Bureau, or other consumer review websites. Additionally, you can ask for prior customers as references and talk to them directly about the inspector's work.
• Experience matters. Ask about the inspector's background, training, and experience. Some may be former construction foremen, home builders, or architects. Avoid those who offer their own services to fix problems they may find. Inspectors may do hundreds of inspections a year or only a handful; while volume doesn't matter, experience does. Check to see if they'll provide you with a sample inspection report so you can see how detailed or thorough they are.
• Do they guarantee their work? What limitations on liability exist in their contracts if they miss something important? If they have "Errors & Omissions" coverage, it may not necessarily cover negligent work—only their legal bills. Many contracts seek to cap liability to the cost of the inspection.
• Ask how they will be paid. Although the cost of home inspections is typically based on square footage, there may be additional fees for follow-up questions or inspections if needed
• Make sure the inspector you choose is properly licensed. Licensing requirements may vary depending on your state or local government. Check to confirm that the inspector meets whatever requirements apply before you sign a contract.
• Certifications are not required but may be helpful. You may want to see if the inspector is certified by the American Society of Home Inspectors (ASHI) or by the International Association of Certified Home Inspectors (InterNACHI). Both organizations require study and testing before awarding their certificates, and both have continuing education requirements.
• Make sure any referrals are from a reliable source. Realtors are not allowed to receive kickbacks, so they may be a great source of referrals. You may want to pick your own inspector, however, to ensure that what's best for you is the person's only consideration.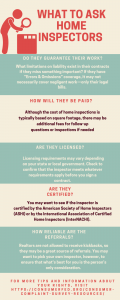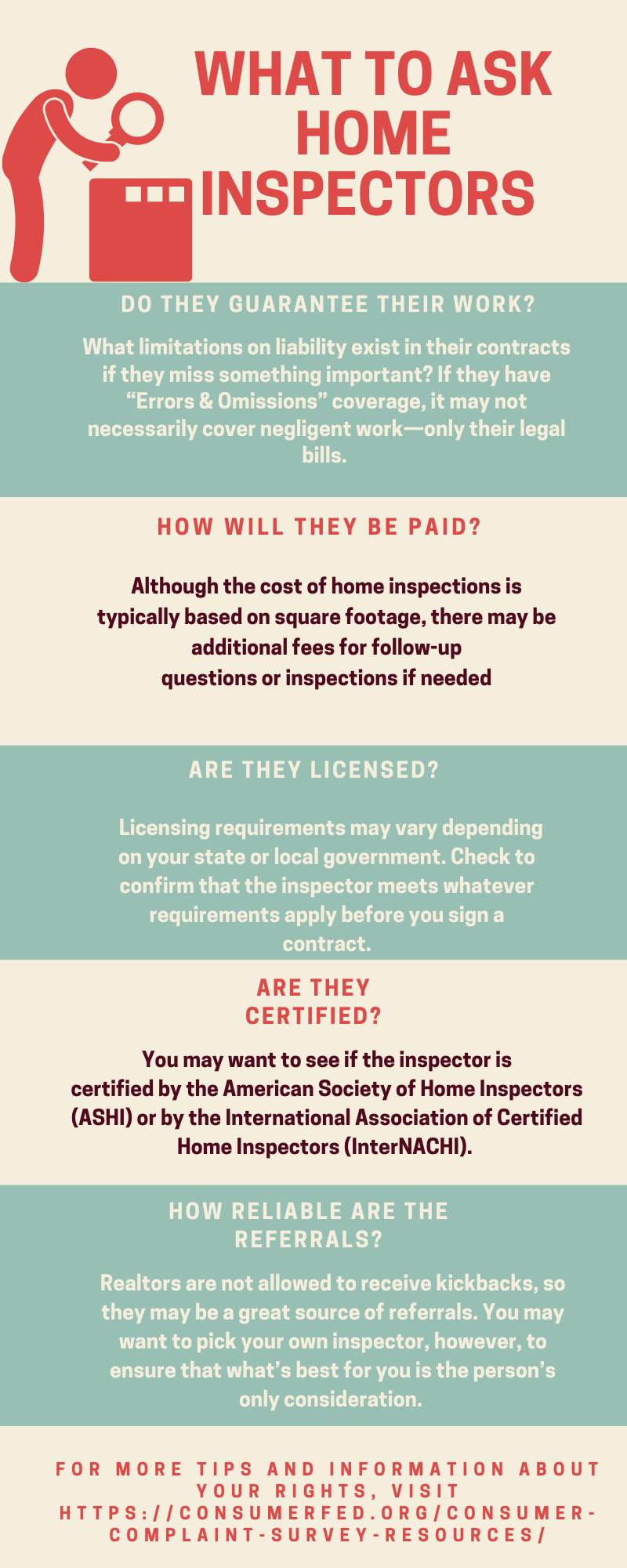 This blog is one of a series of articles contributed by state and local consumer agencies in connection with the annual survey about consumer complaints conducted by Consumer Federation of America. The survey report provides "real life" examples of complaints and tips for consumers. Have a consumer problem or question? Find your state or local consumer agency at https://www.usa.gov/state-consumer.