So many interesting issues emerged from this year's survey of state and local consumer protection agencies that it's impossible to list them all. Here are some of my key takeaways based on information from the survey report.
Payment methods in fraud continue to evolve. This year we heard about crooks asking people to send them cash placed between the pages of magazines. Perhaps this because money transfer services, the most common payment method in consumer fraud, are stepping up efforts to stop scammers from using them to get money from victims. Payment via gift cards also continues to be a problem. As with money transfer services, it's the equivalent of sending cash. And in one complaint story from Ohio, a woman was instructed to send money to a so-called psychic through PayPal and to say that it was going to a relative, which prevented her from successfully disputing the payments later. You might ask, "Isn't that kind of weird? Why would anyone agree to do things like that?" But con artists are very skillful in clouding people's judgement and making what they want sound reasonable.  Another story from Ohio illustrated how alert and well-trained employees can save consumers from losing their money to scams.
Takeaway #1. It's crucial to prevent crooks from abusing payment services and to constantly remind consumers to stop, think and check it out before sending money. That's why CFA supports bills in the Senate and House to create a Senior Scams Prevention Advisory Council, with members from government, retailers, financial service providers, and senior and consumer groups, that would develop  and promote more effective models for company training and consumer outreach about fraud. 
Rent-to-own is an expensive way to purchase a pet, or anything else. Rent-to-own has long-been advertised as an affordable way for consumers with limited incomes to buy furniture, appliances, electronics, and other goods. The fact is that rent-to-own is often much more expensive than buying something outright. This year we heard about a Connecticut woman who wanted a puppy but couldn't afford the $1,200 purchase price, so the pet store owner offered to let her take it and pay in monthly installments of $100. She signed the contract, but later discovered that it was a lease, with a buyout charge at the end if she wanted to keep the dog. The total cost, including interest, would be $3,575.97, nearly three times the purchase price.
Takeaway #2: Renting something with the option to buy may be more affordable in the short-term but it costs more in the long-run. One could argue that leasing a pet could be helpful to determine if that cat or dog is the right one for you, but it's a pretty expensive way to find out. The lesson here is to always look at the bottom line.  It's better to save for what you want, or put it on layaway.
Buying energy from a competitive supplier can cost more, not less.  In many states consumers can now buy their electricity, and in some cases natural gas, from suppliers other than the companies that actually produce the energy. Concerns have emerged about competitive energy suppliers using aggressive, abusive and deceptive marketing practices, consumers ending up with higher bills when they were led to believe that they would save money, and the negative impact of these practices on low-income customers and communities. Past survey reports provided examples of these problems. This year we heard about a major enforcement action by the Massachusetts Attorney General's Office against one electricity supplier and a report the agency issued documenting abuses and calling for the end of the competitive electricity supply market for residential customers in that state.
Takeaway #3: Consumers should be wary of claims for cost-savings by competitive energy suppliers and avoid making decisions to switch based on a telemarketing call or a salesperson appearing unexpectedly at the door. But that's not enough. The National Consumer Law Center recommends that states protect consumers by prohibiting competitive energy contracts that lock them into variable rates, prohibiting automatic reenrollment, limiting cancellation fees, requiring better cost and other information to be provided on consumers' utility bills, prohibiting aggressive and abusive marketing practices, publishing comparative pricing information, ,giving consumers easy ways to opt out of marketing and lock their utility accounts to prevent unauthorized switching, making information about complaints against competitive suppliers publicly available, limiting sales to low-income consumers, taking aggressive enforcement action, and assessing whether sales should be allowed in the individual residential market.
Predatory practices in used car sales target vulnerable consumers. Among the auto-related problems described in our report, there are several stories which highlight predatory practices in used car sales. For example, an elderly woman in New York bought a 7-year-old car with high mileage for $11,000, financed through the dealer at the exorbitant interest rate of 24.89 percent. To make matters worse, the finance agreement contained several hidden fees, the most egregious of which was a $5 fee added to the amount debited every month when she made her payments from her bank account via phone. After struggling for four years to keep up with her loan obligation and having paid more than $22,000 on the loan, she fell into arrears and began to get calls from the loan company threatening repossession. Other outrageous stories include the Massachusetts man with a cognitive disorder who was sold two cars when he only wanted to buy one, the Maryland woman who asked the dealer for help transferring the title of the car from her deceased husband's name to hers and ended up trading it in and then repurchasing it with a new loan that cost her an additional $10,000, and the Ohio woman who was sold not one but three warranties for the used car she bought (which were useless anyway because the dealer failed to provide the documentation to the warranty company).
Takeaway #4: We need better used car sales laws. Last year New York City implemented new rules to protect consumers from predatory practices in used car sales. They require dealers to provide consumers with a financing disclosures form and a "Consumer Bill of Rights." Buyers have a right to cancel within two business days. In addition, consumers must be provided with information in the language in which the transaction was negotiated to ensure they are aware of their financing options and understand the terms of the contract. State and local authorities should enact these types of requirements to protect vulnerable used car buyers. We'd also like to see more states adopt used car lemon laws so consumers won't get stuck with vehicles that break down soon after driving them for the dealer's lot.
Sales of solar and other energy-related home improvements continue to raise concerns. The complaints described in our report include a Massachusetts man who couldn't get the lien on his parents' home stemming from their leasing a solar system lifted after they passed away, an elderly woman in Massachusetts who had to move out of her bedroom because of roof leaks resulting from faulty installation of solar panels, and an elderly Florida couple who agreed to finance new windows and an air conditioner through the PACE program, which provides loans for projects to improve energy efficiency, and then found that there was a tax lien on their home for the windows even though they were never delivered. There is also the retired couple in Florida who relied on the salesperson's assurance that the solar panels would not only produce enough energy to cover their needs, but that the excess energy generated would be purchased by their electric company, providing them with $30-$40 in income every month. Since their sole source of income was Social Security, this sounded like a wonderful opportunity. Unfortunately, they were misled and saddled with a financial burden they couldn't handle. The system cost $24,000, which with interest would total $40,723. They belatedly learned that in addition to having to make the monthly payments for the next 27 years, they would also have to continue to pay their electric company.
Takeaway #5. Consumers must be protected from aggressive and deceptive sales practices and shoddy work in energy-related home improvements. Any liens that will result from that work should be clearly disclosed upfront and consumers should have the right to contest those liens when there are omissions of important information, false or misleading claims, or problems with performance of the work.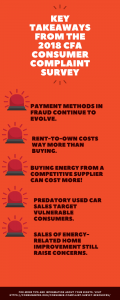 This blog is one of a series of articles contributed by state and local consumer agencies in connection with the annual survey about consumer complaints conducted by Consumer Federation of America. The survey report provides "real life" examples of complaints and tips for consumers. Have a consumer problem or question? Find your state or local consumer agency at https://www.usa.gov/state-consumer.