It's January and you're looking to start the year off right with a tried and true New Year's resolution: Go to the gym. By March, you may not be as dedicated to keeping that resolution or going to the gym at all. So, after much alarm-snoozing and rationalization, it's time to cancel your gym membership. Should be just as easy as it was to sign up, right? Unfortunately, that's not the experience for many consumers.
Many gym contracts contain precise terms regarding cancellation. Those terms are not always explained clearly when you start or maybe you did not read the fine print. Conditions may include requiring you to opt-out of an automatic contract renewal, mail a written cancellation request to a specific corporate address, and provide at least 30 days of advanced notice. In some instances, you may be charged an early termination fee for seeking to cancel a 12-month membership.
But don't sweat it!
Be proactive. The membership cancellation terms are detailed at the beginning of the membership period when the contract is signed. Keep an eye out for the specific cancellation terms during the initial review of your contract and be sure to ask questions.
Be your own best advocate. If you want to dispute the charges or the terms of the contract, come prepared to strengthen your argument with relevant bank statements and documentation. Many gyms are part of a large network of gym franchises and your best approach will be to bring your dispute directly to the local owner or franchisee listed on your contract. No response? Consider involving the corporate "brand" owner or franchiser. You can find out how to contact them through a simple online search.
Be educated about membership transfers. If the local gym closes, membership and dues may be automatically transferred to another franchise, usually within 20 miles, in lieu of membership cancellation. Always read your contract to verify whether it includes a transfer provision and remember that a membership transfer does not cancel the contract, and you are still required to make monthly payments. Depending on the laws in your state, you may be eligible for a refund if your membership was transferred without your consent. That is why it is so important to know your specific cancellation rights no matter what is written in your contract.
Be persistent when terms change. Gyms may add or remove certain membership features, such as personal training sessions or Vinyasa classes, change their hours of operation, or move to new facilities across town. In some states, consumers have the right to cancel their contracts if gyms substantially change their services or locations. Find out what specific laws or regulations exist in your state to protect you before agreeing to any changes.
If you're not sure that you can stick to your resolution of going to the gym frequently, don't get stuck paying for a membership you're not using. Look for gyms that will allow you to pay as you go or on a monthly basis without locking you in for a longer term.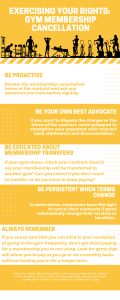 This blog is one of a series of articles contributed by state and local consumer agencies in connection with the annual survey about consumer complaints conducted by Consumer Federation of America. The survey report provides "real life" examples of complaints and tips for consumers. Have a consumer problem or question? Find your state or local consumer agency at https://www.usa.gov/state-consumer.