Choosing the right contractor to make repairs to your home is an important decision.  A flashy website or nice work truck doesn't necessarily mean a contractor does quality work or has the experience to do the job.  Take the proper steps to protect yourself and think through your decisions.  Avoid becoming a victim of home improvement fraud by following these tips:
Do your research.  Ask friends and family if they've recently used a contractor for a project.  Ask the contractor for references and make sure they check out.  Consider looking at the completed work and ask what their experience was with the contractor. Research the internet for negative reviews.
Verify the contractor has the appropriate license for the scope of work.  Many states have licensing requirements and some local governments have additional specialty licensing requirements.  Check with your local consumer protection agency, licensing board or building department to determine the requirements in your jurisdiction.
Obtain at least three estimates in writing before signing a contract.  Estimates should include a detailed description of the work, the start and completion date, payment schedule, list of materials, total cost of the job and any warranties.
Avoid paying a large deposit to start the work Typically deposits range from 15-25 percent; your state or local law may limit the amount that can be requested upfront.  Large projects may require several payments throughout the job, while smaller projects may only require a deposit and final payment when the work is completed.  Pay only the amount due for that phase of the work and never pay for the entire job up front.  If possible, pay by credit card so you have additional protections if the work is not started or done properly.  Don't pay with cash.  Your payments should be noted on the contract, or get receipts.
The contractor should pull the applicable permits, not the homeowner.  Ensure that inspections are completed and passed before making final payment.
Verify the contractor has the appropriate insurance.  Obtain a copy of the insurance certificates from the contractor and make sure they're current.  Call your state insurance regulator to confirm the appropriate liability, workers compensation, and property damage insurance are in place.
Avoid potential liens.  You could be on the hook if there are subcontractors and suppliers and the contractor fails to pay them.  Check with your state or local consumer protection agency about whether they could place liens on your property in that case, and if so, ask the contractor to give you a written "release of lien" stating that all subcontractors and suppliers have been paid before you make the final payment for the work.
Watch out for scammers.  Don't do business with any contractor who approaches you unsolicited, claims to have material left over from a previous job, or pressures you for a decision immediately.  These are red flags of home improvement fraud.
If there is a problem, talk it over with the contractor to try to resolve it first.  Document your discussions and keep detailed records.  Contact your local or state consumer protection agency if you need advice or assistance.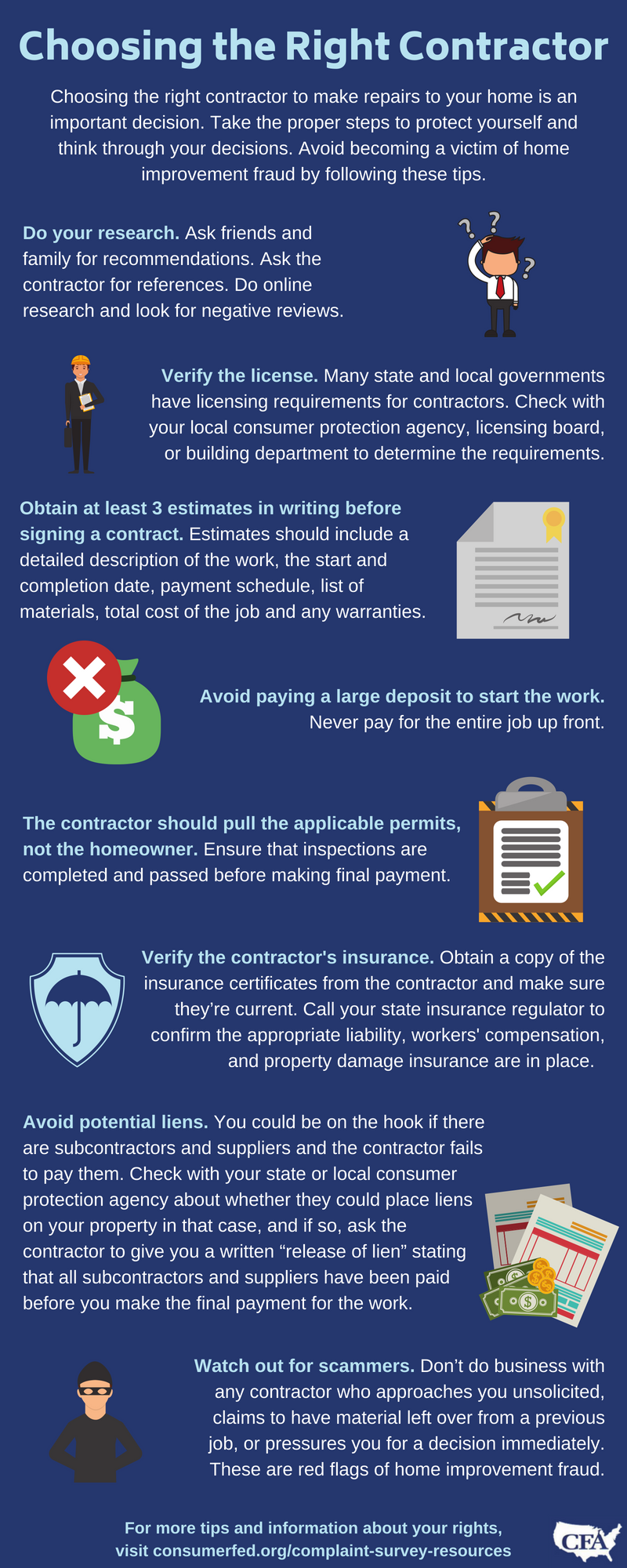 ---
This blog is one of a series of articles contributed by state and local consumer agencies in connection with the annual survey about consumer complaints conducted by Consumer Federation of America. The survey report provides "real life" examples of complaints and tips for consumers. Have a consumer problem or question? Find your state or local consumer agency at https://www.usa.gov/state-consumer.