CFA Warns: July 4th Is the Most Dangerous Day for Adults and Children on OHVs
On the eve of the July 4th holiday, CFA issued an alert to off-highway vehicle (OHV) riders to operate their vehicles with caution and not to allow children 16 or younger to operate the vehicles. The annual release was tied to the July 4th holiday, because that is the day of the year with the most fatalities for both adults and children, according to research conducted by CFA and its OHV Safety Coalition.
CFA and the OHV Safety Coalition have been documenting OHV deaths since 2013 by compiling, analyzing, and publicizing available data and findings from relevant newspaper and government resources. In total, they documented 3,487 deaths from 2013-2018. Of those deaths, 2,157 (62%) occurred on-road, 1,164 (33%) occurred off-road, and 166 (5%) occurred in an unknown location. On average, children age 16 or younger represent 18% of fatalities recorded. CFA makes this data publically available on our website. While these numbers are high, these findings are not yet complete, and the number of deaths will likely increase as additional information becomes available.
As the chart below shows, OHV fatalities peaked during the month of July, with 472 fatalities recorded during this period. July 4th has been particularly deadly. Of the 46 recorded deaths on July 4th from 2013-2018, nearly a quarter were children aged 16 or younger (11 deaths). On no other day of the year were there double digit deaths for children age 16 or younger.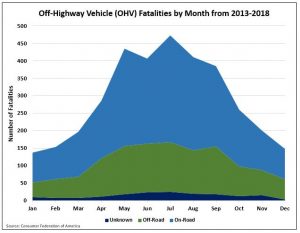 CFA data from 2013-2018 shows that the most fatalities for all people, children 16 and under, and adults, occurred on July 4th.
"July 4th is the day with the most OHV deaths. We urge all OHV riders to prioritize safety so that this statistic will not be a reality again in 2019," stated Rachel Weintraub, CFA Legislative Director and General Counsel. "Operators of OHVs must have the necessary skills to operate an OHV, should use appropriate safety equipment, such as helmets, should never operate on roads, and never carry passengers."
CFA urges consumers to take the following six critical steps in order to reduce OHV deaths and injuries:
Never operate an OHV on a road.
Never permit children younger than 16 to operate an adult-size OHV or any OHV that is too large or too powerful for them.
Always wear a helmet and other protective gear when riding an OHV.
Never allow more people on an OHV than it was designed to carry.
Never ride when under the influence.
Take a hands-on safety course.
In addition, CFA's partner group, Prevent Child Injury, has issued an important ATV safety toolkit aimed at helping parents learn about the risks of children using ATVs.
Federal Regulators Urged to Require Cancer Warning On Alcohol
In a letter to the U.S. Department of Treasury's Alcohol and Tobacco Tax and Trade Bureau (TTB), the Consumer Federation of America and other consumer and public health advocates called for a warning statement on alcoholic beverages to increase consumer awareness of the link between alcohol and cancer. In the comments, the groups asked TTB to undertake a congressional reporting process provided for by the Alcoholic Beverage Labeling Act of 1988, with the objective of amending the health warning statement required to appear on all alcoholic beverage labels.
Currently, all alcoholic beverage labels must include a warning statement regarding motor vehicle operation and drinking while pregnant. The law requiring that statement, passed in 1988, directs TTB to consult with the Surgeon General and "promptly report" to Congress if "available scientific information" justifies a change in the statement. CFA and its allies contend that the time has come for TTB to fulfill that reporting duty.
The groups point to the Surgeon General's 2016 report documenting the link between alcohol consumption and cancers of the breast, oral cavity, esophagus, larynx, pharynx, liver, colon, and rectum. Even one drink per day may increase the risk of breast cancer, according to the Surgeon General's report. The Surgeon General's conclusions are consistent with those of other public health authorities, such as the National Cancer Institute, which points out on its website that "there is a strong scientific consensus that alcohol drinking can cause several types of cancer."
In light of this consensus, the groups are urging TTB to seek congressional authorization for the following amendment to the current warning statement:
GOVERNMENT WARNING: According to the Surgeon General, consumption of alcoholic beverages can cause cancer, including breast and colon cancers.
Such a warning would save lives, the groups say, in part because most consumers are unaware of the link between alcohol and cancer. Surveys have found that fewer than half of U.S. adults know that alcohol increases cancer risk, and the level of awareness may actually be declining.
"The disconnect between alcohol's impact on cancer and the awareness of that impact should raise alarm bells," said Thomas Gremillion, CFA Director of Food Policy. "The industry has succeeded in putting a health halo around alcohol. The government has the responsibility to give consumers the scientific information they need to make informed decisions about alcohol, just as it does with tobacco."
"More and more studies are suggesting that even small amounts of alcohol may increase the risk of breast cancer, esophageal cancer, mouth cancer, and others," Gremillion added. "Consumers have a right to know that alcohol causes cancer, so they can decide for themselves whether drinking is worth the risk."
Parents and Consumer Advocates Call on IKEA to Get Dangerous, Recalled Dressers Out of Homes
Three years after IKEA recalled millions of dangerous, unstable dressers, parents who lost children to furniture tip-overs and national consumer organizations attended the opening of IKEA's New York Planning Studio to call on IKEA and the U.S. Consumer Product Safety Commission (CPSC) to take stronger actions to get more recalled dressers out of homes. The parents—founding members of Parents Against Tip-Overs (PAT)—along with advocates from CFA and other consumer groups, also urged Congress to pass the STURDY Act, a bill that would require the CPSC to set stability rules for dressers and other clothing storage furniture so they will not tip over onto children.
According to the CPSC, a child is sent to the emergency room because of tipping furniture every 30 minutes, and one child dies every ten days. IKEA dressers are linked to at least ten deaths due to tip-over incidents, nine of which are linked to recalled dressers.
In a letter sent to IKEA by PAT, parents urged IKEA to increase its efforts to better inform consumers about the recall and make it easier for consumers to return the unsafe and recalled dressers. Specifically, PAT called on IKEA to:
Use its marketing, media, and communications expertise to alert consumers to the dangerous dressers and encourage the company to remove all recalled dressers from people's homes. This would include outreach to customers and media outlets via numerous methods, as well as directly alerting the members of the brand's Friends & Family Program and other consumers whose contact information the company has.
Honor the return of recalled products in any condition or quantity, and provide consumers with full refunds.
Release the details of recall efforts to date, including the number of dressers that have been removed from homes through the recall.
Make it easier for consumers to remove recalled dressers from their homes and to obtain refunds for recalled dressers using IKEA's website.
The issues with IKEA tip-overs started in July of 2015 following two deaths associated with IKEA's MALM dressers. IKEA and the CPSC launched an education campaign to encourage consumers to repair the dressers. However, the campaign failed to prevent additional deaths tied to the dressers. In June 2016 another death was reported, and IKEA and the CPSC announced a recall of millions of MALM dressers as well as other similar IKEA furniture. After an eighth death was reported and publicized, the recall was re-announced in 2017.
It has also been difficult to obtain clear information about the effectiveness of the IKEA dresser recall at removing dressers from consumers' homes. The information available indicates that IKEA has received only a tiny fraction of the recalled products back.
"The ineffectiveness of the IKEA recall and the large numbers of dangerous dressers still in consumers' homes exemplifies why the STURDY Act is so important. We need a strong mandatory rule to ensure the stability of our furniture to prevent tragedies," stated Rachel Weintraub, CFA Legislative Director and General Counsel. "The STURDY Act will save lives," she added.
The organizations participating in the event have released a data sheet outlining the timeline of events leading up to, and after, the June 2016 IKEA recall; facts and figures about the effectiveness of the recall; and results from online questionnaires about consumers' experiences participating in the recall, as well as near-miss tip-overs.
Below: Consumer advocates tell their stories and call on IKEA to do more to get dangerous, recalled dressers out of homes at the grand opening of IKEA's New York Planning Studio.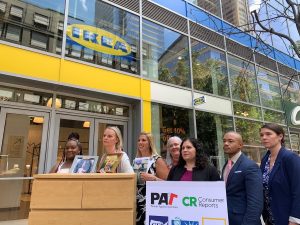 Groups Call on Congress, Regulators to Impose a Moratorium on Facebook's Libra Cryptocurrency Plans
Facebook's proposal to create a new cryptocurrency as part of its broader Libra project has run into opposition from consumer groups. In an open letter to Congress sent earlier this month, CFA joined with other consumer, privacy, workers, and social justice groups to call on Congress and regulators to impose a moratorium on Facebook's Libra cryptocurrency and related projects.
The proposal "raises profound questions about national sovereignty, corporate power, consumer protection, competition policy, monetary policy, privacy, and more," the groups wrote. They expressed concern that the U.S. regulatory system is not prepared to address these questions, nor are the regulatory systems of other nations or international institutions.
While the groups' beliefs regarding the appropriate outcome of Facebook's proposal may vary, all shared the view that the risks posed by Facebook's proposal are too great to allow the plan to proceed while there are still so many unanswered questions.
In the letter, consumer groups highlighted questions in six issue areas that need addressing if Facebook is to move forward with their proposal. Among the questions highlighted are:
In what ways will the public be able to affect decision-making related to Libra?
The International Monetary Fund, among other international authorities and experts, now recognizes the value of currency and capital controls, at least in situations of economic instability. Could nations, especially smaller economies, successfully maintain capital controls if Libra develops at scale?
Wouldn't Libra provide an easy mechanism for money laundering?
How will national consumer protection laws apply to, be enforced against, and prevent misconduct by global sellers and lenders on matters relating to required disclosures, civil remedies, usury rules, access to credit, unfair and deceptive practices and more?
Given Facebook's record and stated views on privacy, why should anyone believe that claims and commitments about privacy made now will be maintained?
Will Facebook be able to use Libra and Calibra to pull consumers into a closed Facebook ecosystem that will disadvantage competitors and consumers?
"These are just a sampling of the serious questions posed by Facebook's proposal," the groups wrote. "It is not even clear which regulators would or should have jurisdiction over the new enterprise, nor how they should work individually and in coordination to analyze the Facebook proposal. We have too much recent experience with insufficiently regulated financial markets spinning out of control to let this happen again. The Facebook proposal must be put on hold until these numerous and fundamental questions are resolved," they concluded.
"While this is being promoted as a social good, the companies behind it have strong profit motivations," said Susan Grant, CFA's Director of Consumer Protection and Privacy. "We don't think that creating a parallel universe for financial transactions that is unregulated is the best way to help consumers who are unserved or underserved in the financial marketplace."