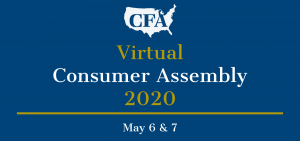 Each year, Consumer Federation of America's Consumer Assembly serves as the consumer movement's principal meeting where issues are debated and new initiatives are presented.
In addition to an array of the nation's leading public policy leaders from Congress, government agencies, industry, and advocacy communities, the conference will provide a thoughtful examination of the nation's most pressing consumer issues.
---
See Presentations and Videos from last Year's Consumer Assembly Here
---
Questions? Please contact Anna Marie Lowery, Director of Meetings and Events.
Continue to check back here for updated information on dates, agenda and more.
Would you like to receive e-mail reminders about conferences and events?