Purchasing an electric scooter or wheelchair can improve the quality of your life, but making an informed decision may mean the difference between increased mobility and getting stuck with an expensive product you can't use.
Here are some things to consider before making a purchase:
Make sure you're purchasing directly from a trusted source, like the manufacturer or a medical supplier recommended by your doctor.
Many companies that sell electric wheelchairs and scooters are third party "drop shippers," which means they don't have the goods they sell in stock and simply act as a middleman between a buyer and the manufacturer or another retailer of the product. Businesses using drop shipping methods often have policies that make returns difficult and costly, and the products they sell to consumers frequently lack warranties.
Check return policies.
Always be sure to check the return policy of the business from which you order. If the product must be returned within 10 days, it might be difficult to try it out and make a return in time. Return policies that last 30 days or more will give you a more realistic timeframe.
Be aware of return shipping and restocking fees.
Businesses often require consumers to pay for return shipping and restocking fees. Sometimes these fees can cost up to 25 percent of the original sale price, meaning consumers are only refunded 75 percent of what they paid for a product. Look on the business's website or speak to a representative about the return policies.
Do research about a product's capabilities before buying it.
Make sure you check that a wheelchair has foot rest movement. Check an electric scooter's battery size and typical usage span. Ensure that the depth and width of a wheelchair or electric scooter's seat, and its other dimensions, suit your needs and fit in your house.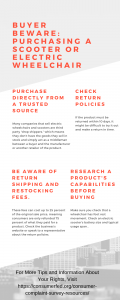 This blog is one of a series of articles contributed by state and local consumer agencies in connection with the annual survey about consumer complaints conducted by Consumer Federation of America. The survey report provides "real life" examples of complaints and tips for consumers. Have a consumer problem or question? Find your state or local consumer agency at https://www.usa.gov/state-consumer.