Do you know your rights when shopping for rental housing? In general, state laws set minimum standards for various aspects of the landlord-tenant relationship such as rental applications, security deposits, lease terms, habitability, early termination and evictions. In many states, landlords must also comply with consumer protection laws that prohibit misrepresentations and require information that would be important for the tenant to know to be disclosed.
But like other merchants, landlords may exaggerate the qualities of the rental unit or fail to tell you some of the unit's downsides. While you may be tempted to jump at a place that fits your budget, take the time to verify a landlord's promises and ask about terms that aren't mentioned before you sign a lease. Here are some things to consider:
"We don't need to bother with a lease." Leases are contracts that specify the rights and responsibilities of both landlords and tenants. Not all states require that leases be in writing but it's your word versus your landlord's if there's a dispute. Most state landlord-tenant laws provide some protection for tenants regardless of whether there's written lease. For example, the landlord may have to give you 30 days' notice to increase your rent or terminate your tenancy.
"It's a standard lease." Written leases may look the same but there's really no such thing as a "standard" lease. Lease terms vary from state to state and from landlord to landlord. Take the time to read through your lease terms to make sure you're not missing anything. It will take some time and effort but you don't want to get caught by surprise down the line.
"This place is in move-in condition." Don't sign a lease until you've seen the property. And to ensure that you aren't penalized for a prior tenant's damages, ask the landlord to walk through the unit with you and document existing damages such as carpet stains or broken screens. If the landlord promises to make repairs, be sure to get it in writing.
"This is a great neighborhood." A prospective landlord probably won't mention that the house next door is occupied by loud, obnoxious people who never seem to go to work or bed. Similarly, you probably won't be told about traffic problems or if it's a high crime area. Before signing a lease, visit the property at different times of the day and night. Talk with local police and folks you see walking a dog or visiting the corner store.
When will the landlord drop by? Obviously, a landlord needs access to the property to make repairs and to ensure that you are properly maintaining the unit. But you'll want some advance-notice for non-emergency visits. Make sure the lease states when and under what circumstances the landlord can enter the property.
Visitors or roommates? Some landlords are very strict about the number of people who live in their properties. Extra people can cause parking issues, more noise and additional wear and tear. Don't assume your apartment can be your boyfriend's second home. Review the lease and ask your landlord about any restrictions on how many visitors you can have and how often they can stay with you.
"No pets" means no pets! Dogs, cats and other pets can cause major damage as well as extra wear and tear on a property. Many landlords simply don't allow them. Others charge pet deposits or extra rent to protect themselves. Don't assume that your "baby" will go unnoticed.
Your state or local consumer protection agency can give you information about your rights as a tenant and assist you if there is problem that you can't resolve.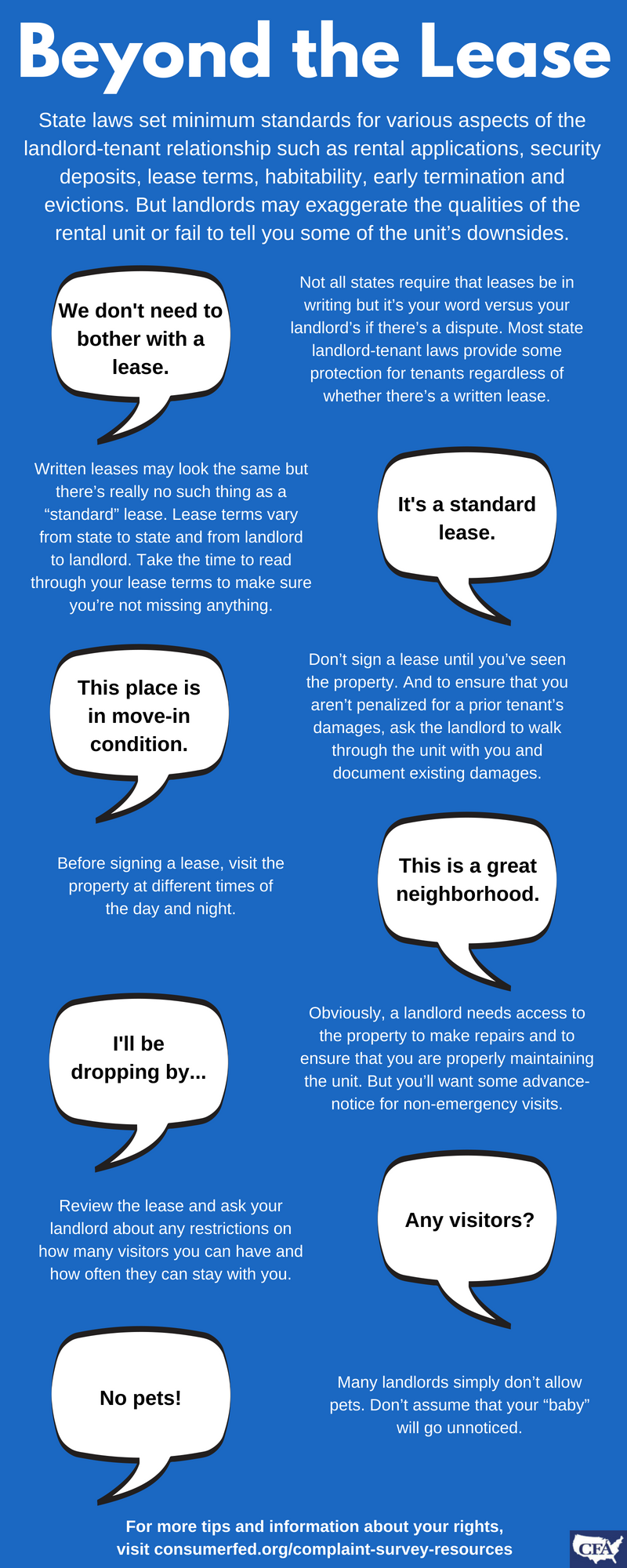 ---
This blog is one of a series of articles contributed by state and local consumer agencies in connection with the annual survey about consumer complaints conducted by Consumer Federation of America. The survey report provides "real life" examples of complaints and tips for consumers. Have a consumer problem or question? Find your state or local consumer agency at https://www.usa.gov/state-consumer.