Every year as I work on our report about the complaints made to state and local consumer agencies around the country, my blood pressure goes up. Many of the stories these agencies provide in response to our annual survey about the most common, fastest-growing and worst complaints they received in the previous year are heart-wrenching: the elderly stroke victim in a nursing home who hadn't gotten the proceeds due him from the foreclosure sale of his home; the immigrants cheated by "consultants" who falsely promised to help them avoid deportation and gain legal status in the U.S.; the couple who paid thousands to renovate their home and ended up with a hole in the ground and no place to live; the woman whose rental house was infested by rats that ate the groceries she bought for her children; the consumer recovering from brain surgery who bought a service dog which turned out to have serious health problems, too.
A few of the stories are funny, like the one involving the couple on a cruise who, plied with liquor at a jewelry store in a port of call, ended up buying a very expensive ring, a purchase they regretted in the sober light of the following day. But every story illustrates how consumers can be misled – in some cases downright deceived – or treated unfairly, and how state and local consumer agencies try to help them.  They don't always succeed, but in many cases they manage to mediate solutions to the problems, smoothing frayed customer relations and saving consumers and businesses from the expense and hassle of going to court. Many of these agencies are also empowered to take formal legal action to stop marketplace abuses.
Federal agencies that work to protect consumers are very important as well, but most don't resolve individual complaints. It's the state and local consumer agencies that people turn to when they want advice about the call they received threatening them with arrest if they don't send money right away to pay a fine for missing jury duty, when they need help because the dealer won't fix the car they just bought, or when the landlord refuses to return their security deposit. These agencies also provide information to businesses about their rights and responsibilities, and some will take complaints from business about fraud and other problems.
One of the problems that we particularly focused on in this year's report is abusive sales practices for alarm systems. There several examples of misleading solicitations and the use of scare tactics in the report. For instance, a company sent a letter that looked like it came from the county government to new homeowners warning that their neighborhoods were unsafe because of "the opioid crisis" and offering "free" alarm systems as part of a county-wide program. Other "alarming" practices that agencies described included false claims that police officers in the area had purchased the same alarm systems, failure to give consumers the opportunity to review their contracts, failure to provide them with copies of the agreements or notify them of their cancelation rights, and locking consumers into long-term, automatically renewing contracts. In some cases companies implied that they were taking over for consumers' current alarm service when they weren't, resulting in the consumers being double-billed. Many of the complainants were elderly or disabled. There are state and local laws that generally cover these situations, and federal law gives consumers the right to cancel contracts for more than $25 made at their homes; some states require longer cancelation periods. The report shows that consumer agencies are able to use their existing authority to take action. Still, I'm wondering if more protections are needed.
Alarm companies are regulated in most states, and some states require the salespeople to be licensed or registered and undergo background checks. But the emphasis is on public safety; I'm not aware of any specific requirements or prohibited practices concerning sales tactics. Should there be? States have begun to require clear disclosures and prohibit misleading and unsubstantiated claims in solar sales, an issue we flagged in our report last year, and it might be helpful to have similar rules for the sale of alarm systems. The Electronic Security Association's Code of Ethics provides a useful reference in thinking about possible regulations. At its www.alarm.org website, consumers can find companies in their area that have pledged to follow that code. This is no guaranty that the transactions will be trouble-free, however, and the most the association can do is to boot bad actors out of membership. Strong legal penalties, including criminal penalties for the worst offenses, might help to deter alarm sales abuses.
Consumers will find tips in the report about how to protect themselves in all kinds of situations, including this advice concerning solicitations for alarm systems and services:
If you're approached by a company selling alarm systems, don't let a salesperson into your home unless you're interested and you have first asked for and received written information about the offer, including all costs.
Check out the company with the Better Business Bureau; if there have been lots of complaints, steer clear!
Other danger signs to watch for include: salespeople showing up at your door unexpectedly; claims you have been specially selected for this offer; the use of scare tactics about crime in your area; and pressure to sign a contract immediately.
If the company says a neighbor referred it to you, check with that person directly.
Also be suspicious if the company tells you it has taken over your existing alarm service account. Ask your current alarm company if that is true.
If you agree to buy an alarm system, get a written contract that spells out all the terms and costs. For purchases made at your home, the company must also tell you about your right to cancel within 3 business days under federal law and give you that information in writing. No work should begin until after the cancellation period has ended.
Yes, I get riled up writing this report when I see how badly consumers are sometimes treated, but it also makes me really appreciate what state and local consumer agencies do day in and day out to protect the public and make the marketplace work fairly for everyone. They provide the backbone of consumer protection in the U.S. and they deserve our thanks and support.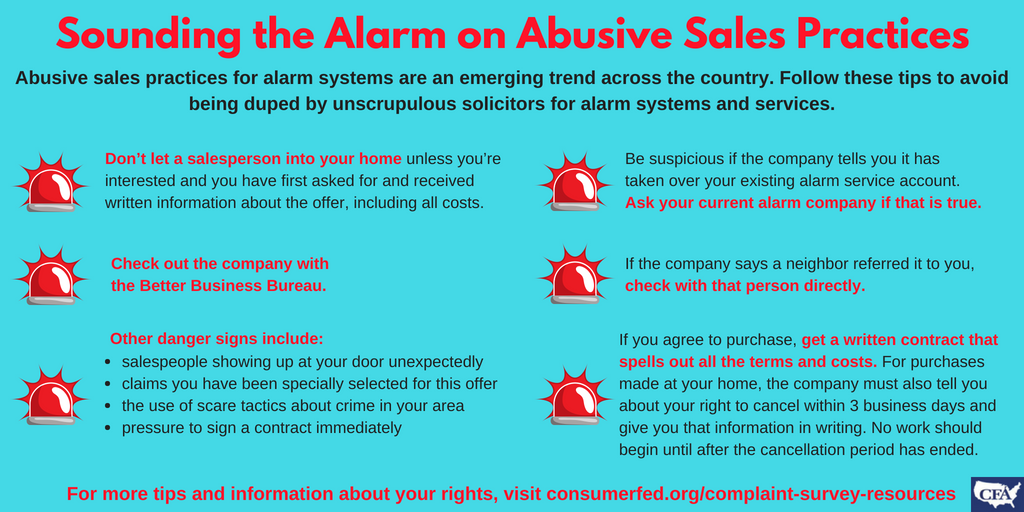 ---
This blog is one of a series of articles contributed by state and local consumer agencies in connection with the annual survey about consumer complaints conducted by Consumer Federation of America. The survey report provides "real life" examples of complaints and tips for consumers. Have a consumer problem or question? Find your state or local consumer agency at https://www.usa.gov/state-consumer.