If you have lots of debt, you're not alone. Many Americans are struggling to keep up with their student loans, credit card debt, car loans, utility bills, and rent or mortgage payments. Unexpected expenses such as hospital bills or car repairs can make the situation even more stressful.
Sometimes even when people try their best they fall behind on their payments. That's when the debt collectors start calling. Managing your money and saving even small amounts regularly can help keep you out of debt trouble.
Budget Your Money and Save for the Future
Budgeting may sound hard, but it's really just using your common sense. You have a certain amount of money coming in from your work, government benefits, or retirement – whatever the sources of your income may be. You have regular bills that must be paid every month. The difference between what you take in and what you must pay out is what you can spend on things like transportation, groceries, clothing, and entertainment. You may also have goals that you want to save for, such as a new car, a better apartment, a down payment on a home, a vacation, or just to have a cushion in case emergencies come up. America Saves, a campaign managed by the nonprofit Consumer Federation of America, provides tips about how to create a budget, keep costs down so you don't spend more than you can afford, and make a plan to save. Go to their website. Once you have a budget and savings plan, stick to them!
Deal with Payment Problems Promptly
If you find yourself in a tough spot and can't pay your bills on time, contact the companies that you owe the money to right away to talk about what to do. You may be able to arrange for extensions or for lower payments over a longer period of time. If you can't work something out, contact a local nonprofit credit counseling service. A trained counselor can give you advice and may be able to work out new payment arrangements with your creditors. The counselor will also know if there are any special programs that you are eligible for to help you. If there is a fee for these services, it will be very small. To find a credit counseling service in your area, contact the National Foundation for Credit Counseling, www.nfcc.org or 800-388-2227 (for Spanish language call 800-682-9832).
Beware of "Help" That Puts You Deeper in Debt
There are many companies that advertise that they can lower people's interest rates, consolidate their bills, or settle their debts – but they may not be able to live up to their promises and they typically charge much more than a nonprofit credit counseling service. Another thing to avoid is "payday loans" that charge very high interest rates. If you can't pay the loan off as soon as it's due, you'll have to borrow more and will end up going deeper and deeper into debt.
By budgeting and saving you can reduce your debts and manage your money with confidence. Take control of your debt, don't let debt control you.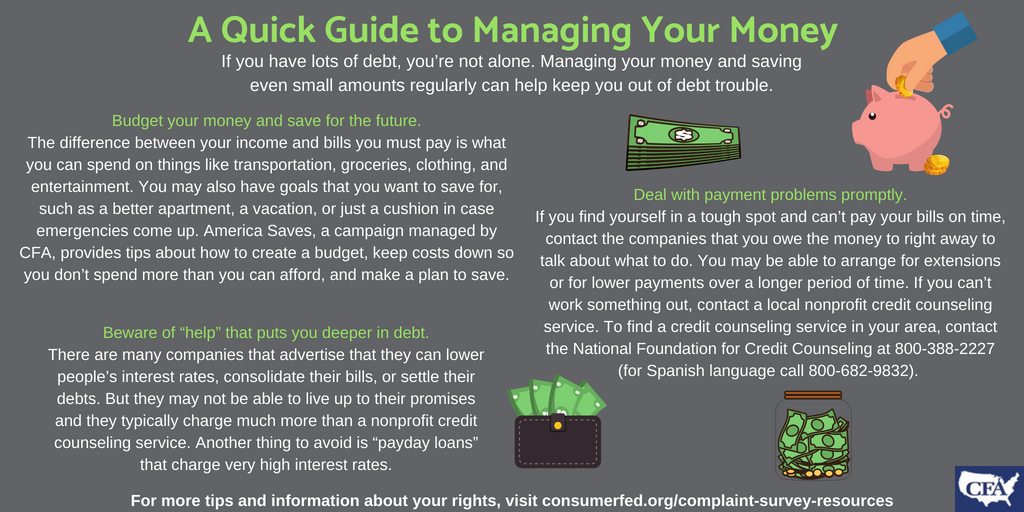 This blog is one of a series of articles contributed by state and local consumer agencies in connection with the annual survey about consumer complaints conducted by Consumer Federation of America. The survey report provides "real life" examples of complaints and tips for consumers. Have a consumer problem or question? Find your state or local consumer agency at https://www.usa.gov/state-consumer.