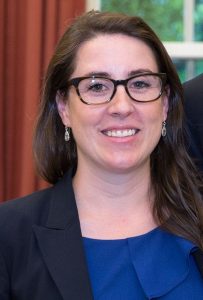 Leandra English is the Director of Financial Services Advocacy and Outreach for the Consumer Federation of America (CFA). Among her responsibilities are addressing the devastating impact of high cost lending on consumers, representing consumer financial concerns on Capitol Hill, and, with CFA's financial service advocates, addressing a variety of banking and credit protection issues. Additionally she works on the mobilization of CFA's state and local organizations, and others, to address the financial challenges facing low and middle income consumers.
Prior to her work for CFA, Ms. English worked in a variety of roles to stand up the Consumer Financial Protection Bureau. She previously served as Acting Director, Deputy Director, Chief of Staff, Deputy Chief Operating Officer and Deputy Chief of Staff for the Bureau. She also served as Principal Deputy Chief of Staff at the Office of Personnel Management, Senior Advisor and Chief of Staff to the Deputy Director for Management, and Special Assistant to the Director at the Office of Management and Budget. She began her career at The Hamilton Project in the Economic Studies Department of the Brookings Institution.
Ms. English received her B.A. from New York University and her M.S. from the London School of Economics.