ATVs are More Dangerous on Roads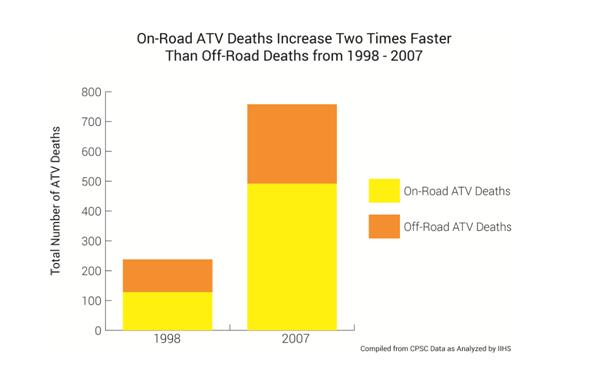 In spite of warnings from manufacturers, federal agencies, and consumer and safety advocates
that all terrain vehicles (ATVs) are unsafe on roadways, for several years an increasing number of
states have passed laws allowing ATVs on public roads, and additional states and counties are currently considering such laws. The majority of ATV deaths take place on these roads and action is needed to reverse this dangerous trend.
In response to this problem, CFA has brought together a coalition of individuals and organizations dedicated to reducing deaths and injuries caused by All-Terrain Vehicles.
As part of our efforts to reverse the trend toward increased ATV use on roads, our coalition works together to educate the public and decision makers about the dangers of allowing ATVs on roads.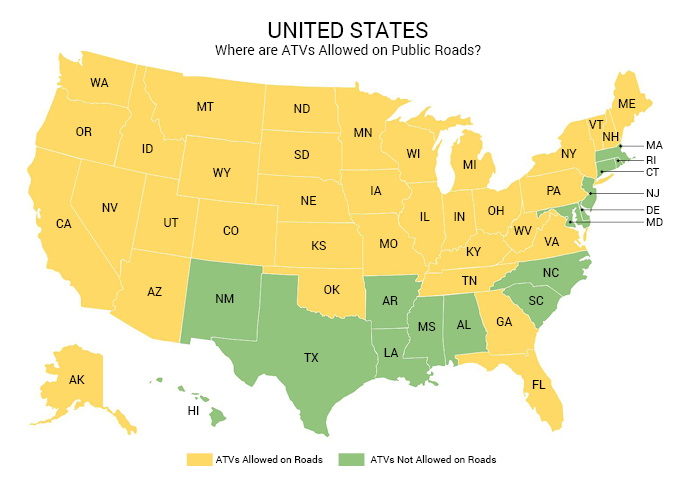 Download Full Chart of State laws
Resources
CFA Report: This report analyzes the law regarding ATV use on roads in 50 states and the District of Columbia and shows a trend toward states legalizing, and implicitly endorsing, ATV use on roads.  CFA calls for immediate action at the municipal, county, state, and federal level to prohibit ATVs on roadways.
IIHS Report:  IIHS analyzed data from the National Highway Traffic Safety Administration's Fatality Analysis Reporting System, which has data about on-road ATV-related deaths.  IIHS found that during the period 2007-2011, there were 1,701 ATV rider deaths in on-road crashes.
Fatalities
By tracking news reports, coalition members compile an ongoing spreadsheet of ATV fatalities.  As of January 31, we identified 22 OHV fatalities in 2016, mostly comprised of ATV and ROV deaths.
Review our 2015 spreadsheet where we identified 504 fatalities, comprised mostly of ATVs and ROVs.
Review our 2014 spreadsheet where we identified 530 fatalities, comprised mostly of ATVs and ROVs
Monthly Coalition Fatality Data Report
Each month the OSC generates a data table of year to date fatality data for all OHVs (including ATVs, ROVs, unknown OHVs, and custom built OHVs), ATVs, ROVs, UTVs, and unknown OHVs.
Click here for the monthly report for all OHV fatalities, comprised mostly of ATVs and ROV fatalities, which includes data from January 1 to April 30, 2016.
Coalition Members
Coalition Letters
Our coalition members have signed onto letters opposing proposed ordinances, laws and polices that would endanger the public by increasing recreational ATV access to roads.
Colorado
Brush City Council 8/8/2015
Colorado General Assembly 2/24/2015
Mesa Colorado Board of County Commissioners 10/14/14
Indiana
Tippecanoe County Commissioners 6/12/15
Tippecanoe County Indiana County Commissioners 4/17/14
Iowa
Louisa County Board of Supervisors 12/15/15
Humboldt County Board of Supervisors 12/18/15
Cherokee City Council 10/19/15
City of Swisher 6/8/15
Belmond City Council 5/29/15
Iowa Independence City Council 4/16/2015
Clayton County Iowa Board of Supervisors 4/01/2015
Sac County Iowa Board of Supervisors 5/1/14
Kossuth County Board of Supervisors 5/1/14
Kansas
Garden City Kansas City Commission 1/21/15
Girard Kansas City Council 8/28/14
Maine
Millinocket Maine Town Council 8/20/14
Minnesota
Winona County Commissioners 1/29/16
St. Louis County Board 9/8/15
Crosslake City Council 8/8/15
Redwood County Board 6/8/15
Le Sueur County Board of Commissioners 7/22/15
Nevada
Elko County Nevada County Commissioners 5/1/14
New Hampshire
Hopkinton Select Board 9/8/15
New Mexico
New Mexico House Transportation and Public Works Committee, 03/26/2015
New York
New York Senate 6/12/15
Brasher Town Board 5/29/15
New York State Assembly A04971-A Ways and Means Committee 6/19/14

North Dakota
Jamestown City Council 10/27/15
Jamestown City Council 7/8/15
Oklahoma
Oklahoma Senate Public Safety Committee 5/1/14
Oregon
Oregon House Committee on Transportation and Economic Development 2/24/2015
Pennsylvania
Hampton Township Pennsylvania Council 10/6/14
Letter in support of New Castle City Pennsylvania City Council's Proposed Ban 5/27/14
Tennessee
Tennessee General Assembly 1/21/15
Utah
Governor of Utah, 3/26/2015
Vermont
Mount Holly Vermont Select Board 4/8/15
Mount Holly Vermont Select Board 5/1/14
Washington
Klickitat County Board of County Commissioners 9/23/15
Dayton City Council 7/22/15
Okanogan County Board of Commissioners 6/19/15
Forks City Council 5/29/15
Washington Acting Forest Supervisor 3/26/15
Winthrop Washington Town Council 8/20/14
Supervisor Laura Jo West Colville National Forest 7/7/14
Asotin County Washington County Commission 6/13/14
Omak City Washington City Council 5/27/14
Benton County Board of County Commissioners 5/20/14
Clallum County Washington Board of County Commissioners 5/14/14
Okanogan County Washington County Commissioners 5/12/14
Kittias County Washington County Commissioners 5/1/14
Supervisor Mike Balboni Okanogan-Wenatchee National Forest 5/1/14
Wisconsin
Plover Town Board 1/29/16
Douglas County Board of Supervisors 11/17/15
Wisconsin Price County Board of Supervisors 3/26/15
Crystal Lake Wisconsin Town Board 11/12/14
Eagle River Wisconsin City Council 9/11/14
Pepin Township Wisconsin Board 8/20/14
Salem Wisconsin Town Board 5/1/14
Press
Despite High Death Toll, Push Is On To Open More Public Roads to ATVs – See more at: http://www.fairwarning.org/2014/03/despite-high-death-toll-push-is-on-to-open-more-public-roads-to-atvs/#sthash.bnP7o50j.dpuf
Press Releases